When I see Meena Chapriya, I think of my mother – Actress Aishwarya Rajesh
Writer Meena Chabbria thanks Aishwarya Rajesh for visiting this function
Meena Chabbria, who holds a premiere position in the prestigious PVR banner, has written an autobiography.
The book launch of Meena Sabbria's book "UNSTOPPABLE" was held recently in the presence of special guests like Aishwarya Rajesh, Sineha Nair, "MIC SET" Sriram, "AUTO" Annadurai, producer Yuvraj Ganesan.
Who is this Meena Chabbria?
Married at the age of 17, had 2 children, completed his graduation in psychology, then started his corporate career with INOX, working for a salary of 8000 rupees. After meeting the Chairman of PVR Group, Meena Chabbria becomes Assistant Manager of PVR. Following this, Meena Chabbria is helping to brighten the lives of many women through the movement "UNSTOPPABLE ANGELS".
Celebrities who attended his book launch said:
As writer Meena Chabbria speaks,
Thanks to actress Aishwarya Rajesh. Thank you for visiting such an ordinary event.
Thanks to producer Yuvraj who came here after the success of Good Night.
There are no words to say about Annadurai. As Anand Mahindra said, Annadurai is "India's Professor of Management".
For a long time I was thinking that I will not get a platform of my own. Now, even though I am not acting, I am very proud to have created a platform for myself.
It took me 20 years to realize that I was going down the wrong path. Through "UNSTOPPABLE ANGELS" I hope to uplift many women.
I have been in the film industry for 19 years. He said that the first film pooja I attended was "MIC SET" Sriram's film pooja.
When talking about Auto Annadurai,
I am not new to the stage. But, this platform is new. I personally have a lot of respect for journalists.
If you see Meena Chabbria as an unstoppable lady than them, it is their mother. His blessings are always needed.
He said, "I bow down to a happy age."
When actress Aishwarya Rajesh speaks,
When I was first invited to the book launch, I said yes.
But then I wondered how I could go without knowing the book and Meena's story. Then I contacted Meena and asked her story. I was very surprised.
Married at 17, divorced at 20, and wondering if a woman can rise to such heights with 2 kids, I remember my mother.
At the initial stage of my entry into cinema, many people used to complain, "What are you going to do?" But the reason we got through it all was because we were "UNSTOPPABLE".
Meena has given that as the title of her book. I wish this book a big hit.
I'm just reading books. I read mostly the script of the film. I think this book should be read.
Don't think that I don't like men because I act in women-oriented films. They even asked me if I was a feminist, but that's not all. Men have their flaws and women have their flaws.
As Sriram spoke on the mic,
I have heard a lot about madam Meena. The word "UNSTOPPABLE" is best suited by Meena Chapria madam.
I am very proud to think that I am talking to someone like him.
When I contacted him to meet Meena madam one day, he said that I am going to America for further studies, dear, we will meet after coming. It is proud to think how far a person can reach even at this age if he is willing to study.
He said it was a great pleasure to attend the launch of his book.
Actress/Producer Sneha Nair speaks,
I am obliged to speak here. I have traveled with Meena. Both of us have had a lot of ups and downs in life. We have overcome all that and reached this height.
Working with men is not an easy task, and no women can avoid it.
When Meena said that Aishwarya Rajesh can be invited for this function, she said that no one else could be right except him.
While producer Yuvraj speaks,
When I started Good Night, no one came forward to support us. After the release of the first look, the support given by Meena Chapria madam is unforgettable. Thanks for that, he said.
After that, Meena Chabbria, Aishwarya Rajesh, Mike Chet Sriram, Yuvraj, Sneha Nair all published the book "UNSTOPPABLE".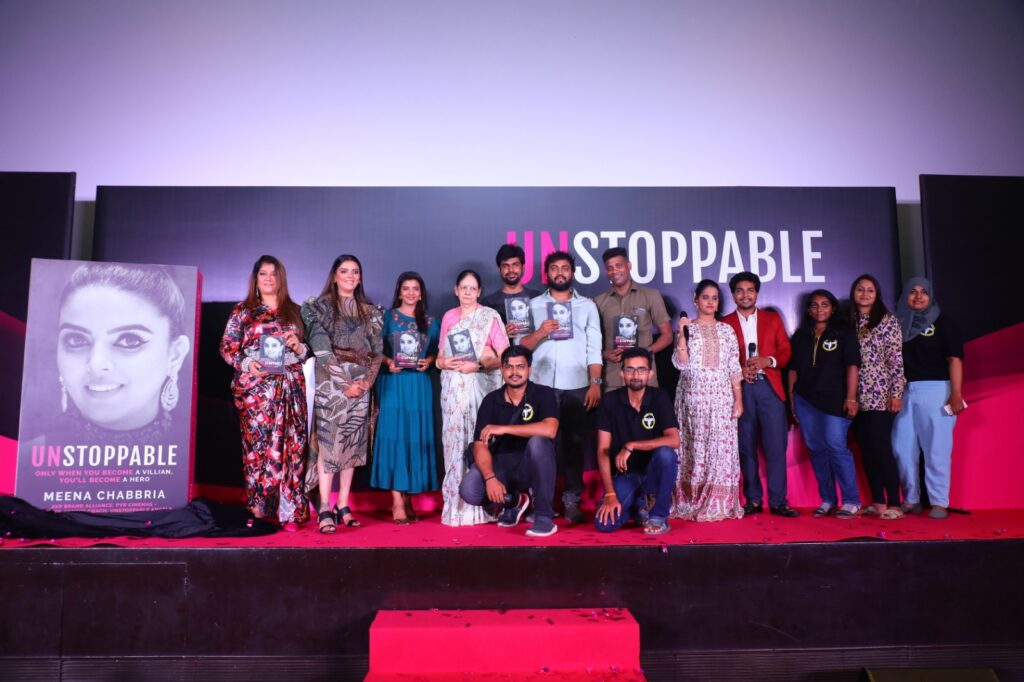 Meena Chabbria is indeed an UNSTOPPABLE, stable and strong willed woman of substance and sensitivity who will stop at nothing to accomplish what she wants to accomplish!