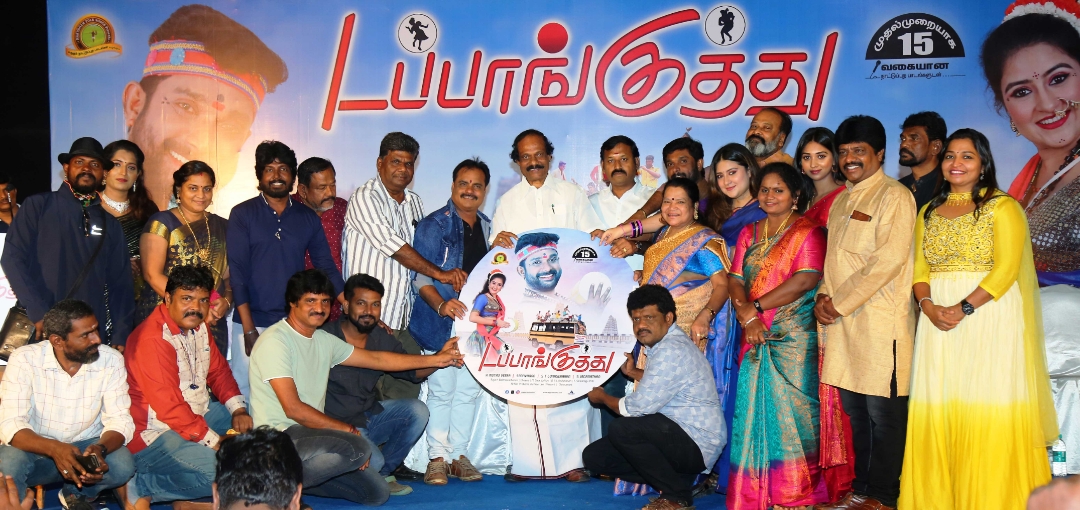 'Dabanguthu' music and preview release
Bharathiraja's 'Therkatti Ponnu' actor Sankara Pandi is playing the lead role in the film 'Tabanguthu' and the music preview has been released. Dindigul I., a bar speaker, actor and producer, was present at a special music launch event held in Chennai for this purpose. Leoni, Tamil Film Producers Association Secretary Five Star Kathiresan and many celebrities from the film industry and folk artistes were present as special guests. The music of the film was composed by Dindigul. Leoni's launch was attended by visiting special guests and local artistes.
Producer S. on behalf of Marutham Country Company. Dabanguthu is a film produced by Jagannathan. The film's story, screenplay and dialogues were written by S. D. Gunasekaran writes, R. has studied the technique of rural art. Directed by Muthu Veera. In this film, Shankara Pandi of 'Therkatti Ponnu' fame is playing the lead role, and two actresses Deepthi and Durga have acted as his pairs. Street performers have also performed with them. Raja K. Saravanan has composed the music for this film, which has cinematography by Bhaktavachalam. Editing works by D. S. Action Prakash and Nathan Lee have handled the fight training for Lakshmanan. Public Relations : S. Selvaraku.
Speaking about the film 'Dappanguthu', the director said, "There are many types of ancient Tamil musical forms such as Themmangu, Talattu, Oppari, Villuppattu, Kummi, Nalungu, and Natu. The company that released all these as sound recordings was Ramji Cassettes. We have selected 15 songs from the hundreds of songs released by this company and used them in this movie," he said.
Actor Shankara Pandy said, "Dappanguthu is a movie based on Madurai that realistically describes the simple life of street artists. I have played the lead role. I am happy for this. Madurai is being portrayed as a scene of violence by the Tamil screen world. But originally Madurai was an artistic city. Madurai is a city that has continuously cultivated arts for more than 6000 years. The street art form living in the area… the life of those artists is said to be a simple work.
All the songs featured in this film are already released and hit songs. I have progressed to this point by singing these songs and acting in street plays. I would like to take this moment to thank all those who have created the work so that even 2K kids can know the art form of street art of that time.
Dindigul I. Leoni said, "It was Jaganathan of Madurai Ramji Cassette Company who laid the foundation for standing in front of you today at this level of fame. My bar was being held in Wattalakundu area. After that, they coordinated my Pattimanara speech at the Neelakanda Vinayagar temple festival in a town called Peravurani. Who is Leonie then? No one knows. The show initially had only six people in attendance. The title of the show is aptly titled Best Song Kannadasana? Pattukottai? When I was speaking and singing in that bar, more than 15 thousand people gathered there in half an hour because the whole town had microphone sets.
Maniraj recorded and published half of my bar under the name Alangudi Cassettes. It was through that that my voice came to be known to the outside world.
At this point it was Ramji Cassettes who officially headlined a panel, had me and my crew speak, recorded it and took it around the world. Since then they have spoken on about 15 topics and spread my fame all over the world till today
Madurai Ramji Cassettes Co. Dabanguthu was the first film produced by the company.
How the word Dabanguthu came to be known is because the Narikkurura people wear dalta drums around their necks and sing songs to the rhythm of them. Seeing this, the two Chief Ministers, MGR-Jayalalitha also wore it around their necks and popularized it by singing the song 'Nanga Pudusa Katikkitta Jodithanunga..' in a movie.
Folk music is integrated with our life.
Kalaivanar NSK was the first to introduce folk songs in Tamil films during the period when Carnatic Sangeet reigned supreme. A wonderful artist called 'Civilized clown to serve the country..'
In 1957 K. V. Mahadevan's music composed by Mahadevan and featured in the film 'Vannakkili', the country song 'Chithadai Katakittu..' is popular till date.
Karakattam got a movie called 'Karakatakkaran'. A film called 'Villuppatakkaran' came for Villupat. The song student got a movie called 'Enga Uru Patukaaran'. But
'Tabanguthu' is the first film to be released focusing on an art called Terukuthu. Street furniture is only within twenty feet. A group here, a group there, running and dancing. These street dance performers sing all kinds of songs like this song. Only street artists can make people laugh for 10 to 11 hours.
This art has catchy lyrics. Especially 'It has rained and the whole town is wet…'. It is difficult to develop street art to divert men's mind at night time when their lust is at its peak… tell them the art form and make them laugh. The sacrifice of those artists is admirable.
I request everyone to watch and support this film which is being made to appreciate the hard work of street artists. " said.