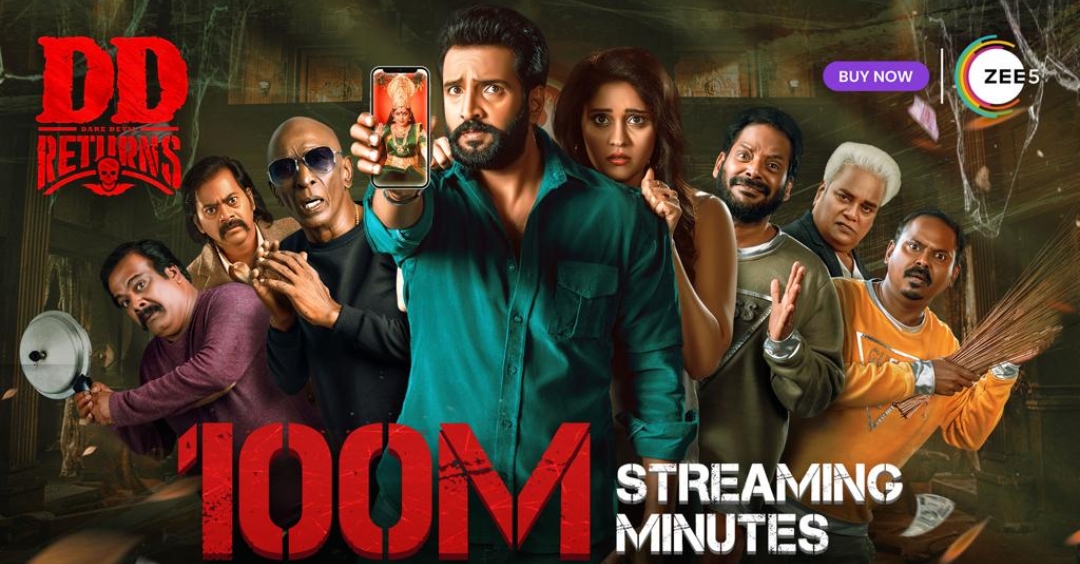 "DD Returns" film has crossed the fastest 100 million viewing minutes on ZEE5 platform!
"DD Returns" crossed 100 million viewing minutes at lightning speed!
ZEE5 has set up an exclusive scary room at Marina Mall to celebrate the launch of "DD Returns".
Celebrated by fans as India's leading streaming platform, Zee5, the recently released movie "DD Returns" has crossed 100 million view minutes at a record speed.
Produced by C Ramesh Kumar under RK Entertainment, directed by S. Directed by Prem Anand and starring actor Santhanam, the movie "DD Returns" was released as a comedy film. The film, which was a huge hit in the theatres, was recently released on ZEE5.
Starring Santhanam, Surabhi, in lead roles, along with Motai Rajendran, Redin Kingsley, Pepsi Vijayan and many other leading stars.
Starring actor Santhanam, the film was made as a horror-comedy film for everyone to enjoy. The cinematography of the film is by Deepak Kumar and editing by NP Srikanth. Music composer Afro had composed the music for the film.
The film was made with comedy mixed with sarawedi comedy to keep the fans laughing till their stomach hurts for a long time.
The movie which became a blockbuster hit in the theaters is currently creating many records on the ZEE5 platform as well. The film has crossed the record of 100 million view minutes at the fastest time for a film released on ZEE5 platform so far. The film which has received great response from family fans is expected to create many more records.
To celebrate "DD Returns" crossing 100 million viewing minutes, ZEE5 has set up an exclusive Scary Room at Marina Mall, East Beach Road, which recreates locations from the movie "DD Returns". A discount of 100 rupees is given to the public who participates in this. People visiting Marina Mall visit this innovative scary room with their families
The ZEE5 platform, which has countless hits, has been entertaining fans with brand new movies and new web series. Stay connected with ZEE5 and celebrate your entertainment with excitement.