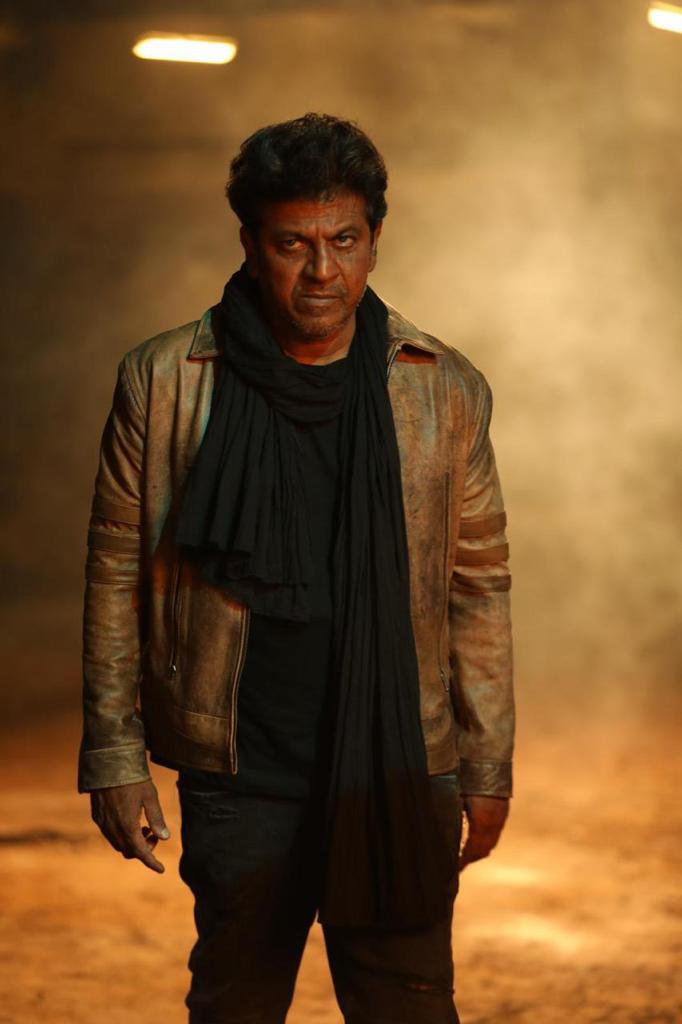 Dhanush released the trailer of Shivaraj Kumar's Ghost
Shivaraj Kumar's Ghost trailer that impressed the fans
Karnataka Chakraborty Shivarajkumar's pan-India blockbuster "Ghost" is an action thriller genre full of action-packed fight scenes. Director Srini is working very carefully to make this film an action film full of great fight scenes.
Leading political leader and producer Sandesh Nagaraj is producing the film under Santosh Productions. The movie "Ghost" will be released in Kannada, Telugu, Hindi, Tamil and Malayalam on October 19th on the occasion of Dussehra. The special feature is that Shivraj Kumar has dubbed directly for Tamil.
The trailer of the highly anticipated movie "Ghost" was released by the team on October 1st. SS Valamvaram is the leading director in India. Rajamouli released the Telugu trailer of "Ghost" on his social media pages. In Tamil, actor Dhanush posted on his social media page and congratulated the film crew. The trailer is filled with thrilling fight scenes and an action-packed background score.
This trailer takes us into the world of "Ghost". Sivarajkumar's other level screen persona and director Srini's work is a feast for the eyes. Along with this, the fiery dialogues have reflected the mass aspect of Sivarajkumar on screen. Music composer Arjun Janya has given an excellent background score for the trailer. Sivanna's youthful look is a treat for fans. While the anticipation for this film has already increased, the trailer has increased the anticipation for the film even more.
Leading Bollywood distributor Jayantilal has acquired the license to release the film on behalf of Kada Ben Movies. The movie "Ghost" has top technical artists working on it.
Accordingly the lyrics are by Masti and Prasanna VM, music by Arjun Janya and cinematography by Mahendra Simha. The production design work was done by P.R.O. done by Mohan B Gere. For the Telugu version of this film, B.A. Raju's team is doing the promotional work. Produced by Santhosh Productions, Ghost is releasing in languages including Kannada, Telugu, Tamil, Hindi and Malayalam.
Cast Details:
Starring Sivarajkumar, Anupam Kher, Jayaram, Prashanth Narayanan, Arsana Jois, Sathyaprakash, Thattanna and others.
Professionals Profile:
Production Company: Santosh Productions (31st film)
Presented by: Santosh Nagaraj (M.L.C.)
Producer: Sandesh N
Story and Direction: Srini
Music: Arjun Janya
Cinematography: Mahendra Simha
Lyrics: Prasanna VM, Masti
Fighting practice: Chetan D Souza, Venkat (Hyderabad), Arjun Raj, Mas Mata
Cinematography: Deepu S Kumar
Production Design: Mohan B Gere
VFX Supervision: Mohammad Abdi
VFS: Asoo Studios (Tehran)
Colorist: Amir Valigani
T.I. Studio: Future Age Studio
Sound Effects: Rajan
TDS Mixing: Manjari Studios
Post Production: P.R.K. Studios
Co-Directors: Amokavarsha, Prasanna V.M.
Board of Directors: Kiran Jingal, Srinivas H.V. and Manju HG.
Drone Camera: Raj Mohan
Camera crew: Manu Prasad, Suresh and Niwas
Associate Cinematographer: Mahesh
Online Image Collection: Saran
Additional BGM: Agasthaya Rock
Costume: Shantharam, Bharat Sagar (Sivarajkumar)
Make-up: Sidhanand, Honne Gaudreau
Manager: Suresh K Mysuru
Assistant Managers: Rakesh Rao, Karthik N.K.
Cashier: Prasad B.N.
Ad Design: Ghani Studios
Public Relations : Satish Kumar
Film Branding: Arsana Dinesh
Advertisement: Shruti Ill, Sandesh Nandakumar, Nisha Kumar, Raghavan Laxman
Digital Advertising: SIL Studios
https://youtu.be/2cVhOZlqcAw?si=ZmIxZXFJ3429zwc6