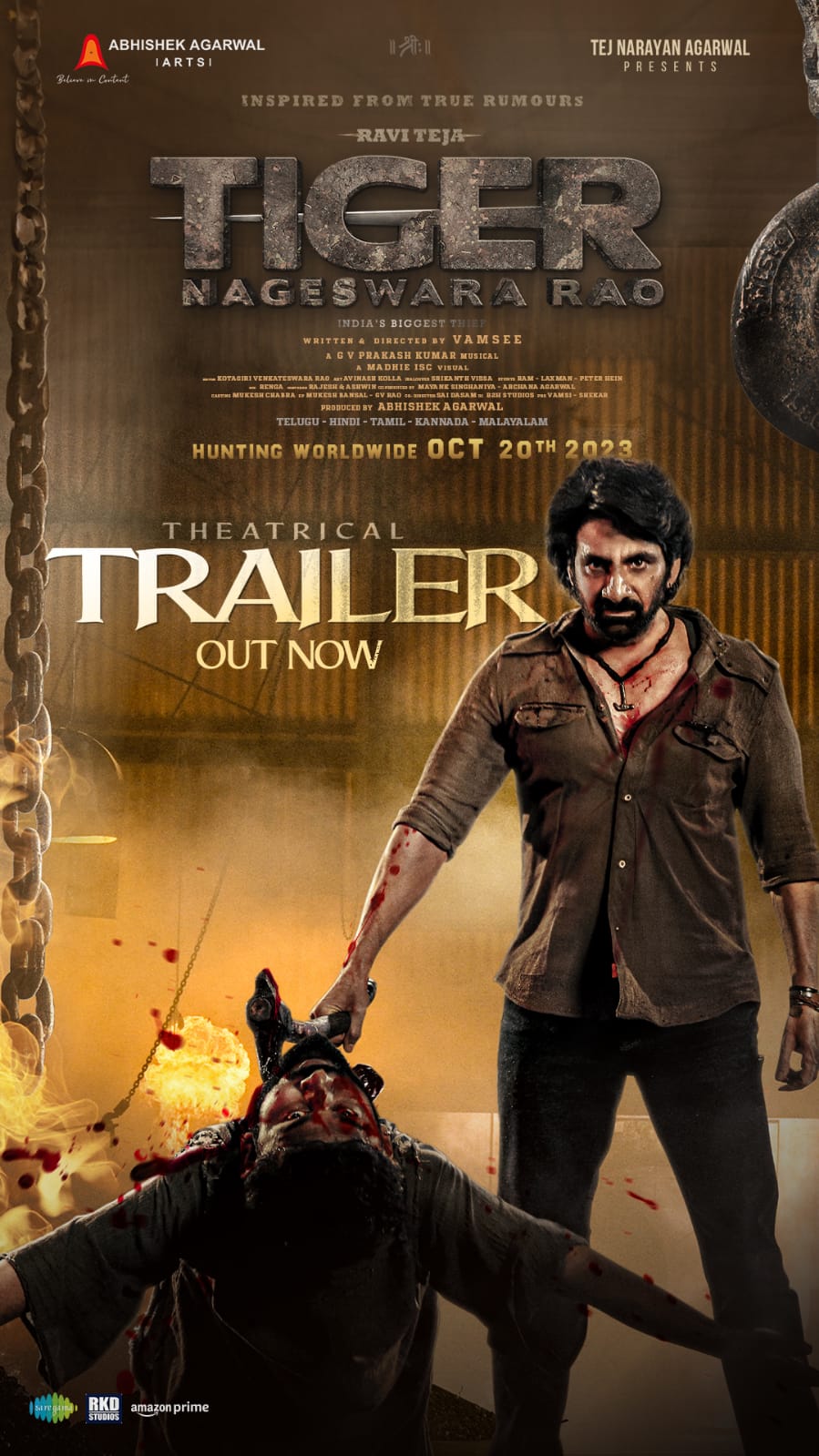 Mass Maharaja Ravi Teja, Vamsee, Abhishek Agarwal Arts' Pan Indian Film Tiger Nageswara Rao Roaring Trailer Unleashed
The Tiger's Hunt Begins in another 17 days. The highly anticipated Pan India film Tiger Nageswara Rao starring Mass Maharaja Ravi Teja in the titular role with the very talented Vamsee helming it and the successful production house Abhishek Agarwal Arts that delivered Pan India blockbusters The Kashmir Files and Karthikeya 2 producing it will grace the theatres on October 20th. Produced prestigiously by Abhishek Agarwal, the movie features several noted actors in important roles and well-known technicians taking care of different crafts.
The makers who introduced all the prominent characters of the movie, one by one, for the last few days have arrived with a roaring trailer to transport the viewers to the perilous world of Stuartpuram which is the base for most-wanted thieves. The trailer was unleashed in a grand event in Mumbai.
While there was a system to rob, the arrival of Nageswara Rao changed the methods. He has a hunger for power, he's greedy for women, and he has a lust for money. He also has a habit of giving warnings before bashing someone or robbing something. However, there is a badass cop who's dying to eliminate Nageswara Rao. Stuartpuram Nageswara Rao's story ended with his arrest, but Tiger Nageswara Rao's story begins from there. What follows is the bloody hunt of Tiger Nageswara Rao who becomes a national threat.
The two-and-a-half-minute clip shows the crucial moments in Nageswara Rao's life. Ravi Teja looked young, dynamic, wild, and brutal in the titular role. He goes all out to play a completely massy role, and his transformation is incredible. Every actor was given a space and scope to perform. Nupur Sanon and Gayathri Bharadwaj appeared as leading ladies, while Renu Desai, Anupam Kher, Nasser, Jisshu Sengupta, Hareesh Peradi, and Murali Sharma are the other important cast and their presence is definitely a valuable addition.
Tiger Nageswara Rao is an action-packed entertainer and director Vamsee brings uniqueness to the table in terms of story-telling. He presents it in a magnificent manner that befits Ravi Teja's star charisma. The production design of Abhishek Agarwal Arts is top-class. The action choreography is world-class. The visuals captured by R Madhie are grand and terrific, while GV Prakash Kumar's elevates the heroism. Avinash Kolla's artwork deserves a special mention. The dialogues by Srikanth Vissa are powerful.
The trailer further exaggerates the prospects of the movie. Mayank Singhaniya is the co-producer of the movie that will have a Pan India release in Telugu, Tamil, Kannada, Malayalam, and Hindi languages.
Cast: Ravi Teja, Nupur Sanon, Gayathri Bharadwaj, Renu Desai, Anupam Kher and others
Technical Crew:
Writer, Director: Vamsee
Producer: Abhishek Agarwal
Banner: Abhishek Agarwal Arts
Presenter: Tej Narayan Agarwal
Co-Producer: Mayank Singhaniya
Dialogues: Srikanth Vissa
Music Director: GV Prakash Kumar
DOP: R Madhie
Production Designer: Avinash Kolla
PRO: Yuvraaj
Marketing:First Show