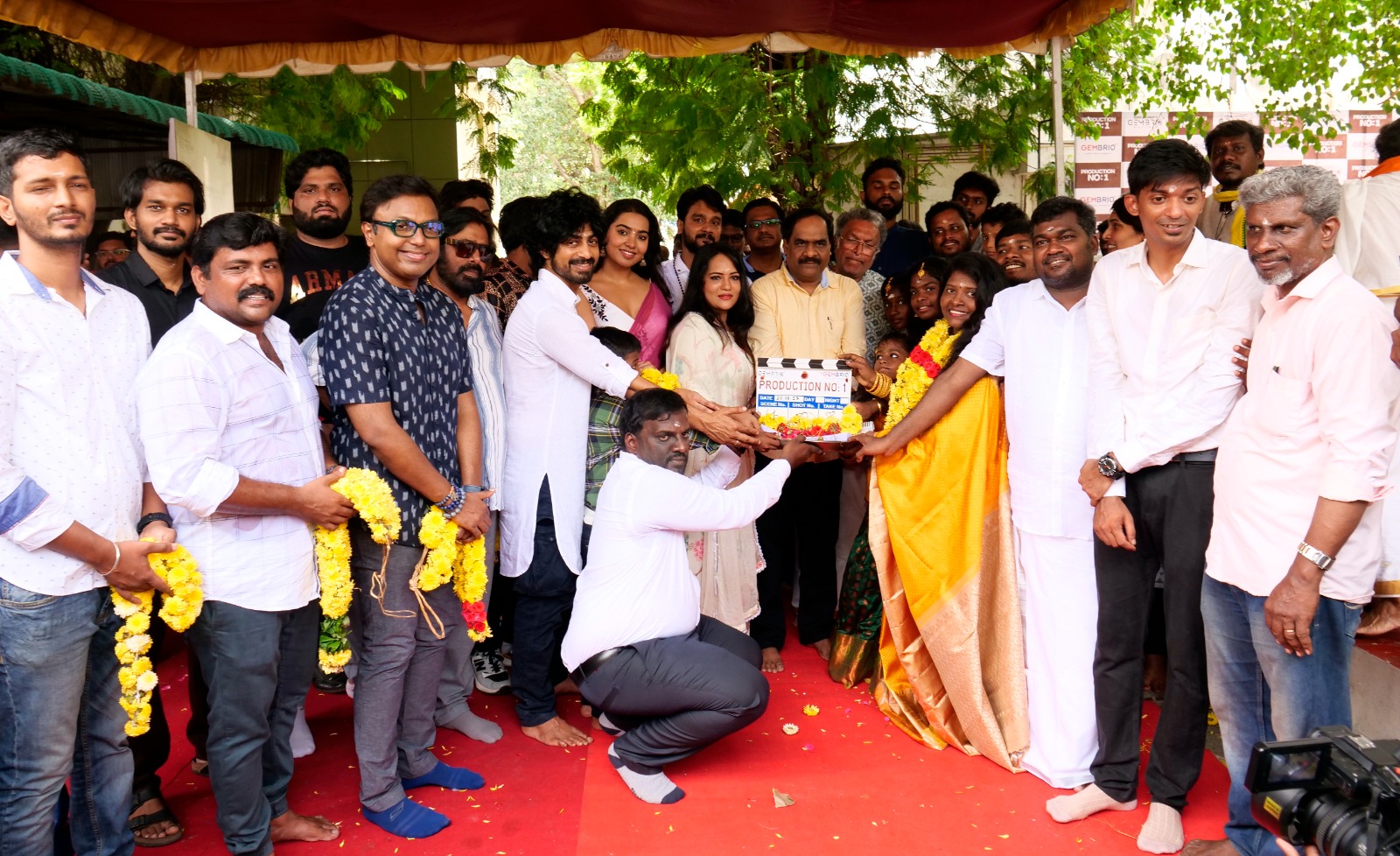 Starring Arjun Das, Shivamika Rajasekhar, Directed by Vishal Venkat, Produced by Sudha Sukumar, Co-produced by Surender Chikamani, Cambrio Pictures
(GEMBRIO PICTURES) Company's first production launched with Pooja!
Production No 1 by GEMBRIO PICTURES has just started!
Produced by Sudha Sukumar under GEMBRIO PICTURES, starring Arjun Das, Shivamika Rajasekhar, Kali Venkat, Nasser and directed by Vishal Venkat, director of 'Silwat Sila Bhanni', a commercial entertainer drama about life's quirks, the film crew was present at LV Prasad Lab today. It started auspiciously with the pooja.
The film crew shared information about the film in the presence of journalists.
Producer Sudha Sukumar spoke at the event.
"Our company is doing well in many digital sectors. Now we are entering the film industry. This is the first film we are making. Director Vishal Venkat is a great director and his first film is a good example of that. My team and I have heard doubts about the story of the film 10 times. But every time he would patiently explain the story to everyone. This movie will give people a great experience. The actors we have chosen will suit the characters of the film. This will be an important film especially for Kali Venkat sir. Congratulations to actor Arjun Das and Shivamika. I am a huge fan of Iman sir. His songs will literally make us forget. I request that the songs of this film should be the same. Congratulations to all the artists and actors who will be working in the film.
Actor Kali Venkat said,
"I have heard the entire story of this film. But the director did not believe me and again sent me the story of the film. I have faith in the director. This film will be an important film for me. I have already acted with Arjun Das. But there are no scenes like belonging to both of us. But, in this film, we are happy to travel together. Congratulations to the producer. Your courage and faith will be our support. Thanks to everyone."
Actress Shivamika Rajasekhar said,
"The director has written a wonderful story. It is a pleasure to act with Nassar sir and Arjun Das. I am also a big fan of Iman sir. Waiting for his song. Thank you to everyone who came to greet us."
Music composer Iman said,
"I am delighted to be associated with GEMBRIO's first film production. I heard the story of this film during Koran. I wish Arjun all the best for Aneethi. Congratulations to all the actors of the film. The director has not only focused on the story but also on the small details of the film and has put a menakedal for it. I hope the movie will definitely turn out to be a good movie. The songs of the film will surely be your favorite. Congratulations to the film's producer Sudha.
Director Vishal Venkat said,
Thank you for bringing my first film to the public. You are the reason I got this place. I hope you will support this film as well. My success is due to my technical team and I am thankful to them. This film will be a good character for the actors I have chosen in this film. Congratulations to all of them. Iman sir was like a brother to me. I have discussed many things with him. My thanks to him. Thanks also to Arjun Das and Shivamika. This film will be a landmark film for them. This film is also about humans. It will also be an entertainment film. Please give your support to our young team. Thanks to everyone."
Actor Arjun Das said,
"In this film, a lot of fun awaits. I am going to work with a great actor like Nasser. I am a fan of Iman sir. It is a pleasure to act in a film composed by him. Congratulations to Shivamika. Vishal came to Madurai and told the story. He said 3 hours. I said ok right then. I have completely surrendered myself to him. Thank you for your support of Aneethi. Support this movie too. Thanks to the producers and everyone who made this film a hit.
Actor Nasser said,
"Congratulations to the producer. This movie will definitely make you happy. It is because of the director you chose. Director Vishal Venkat surprised me. From day one in his first film, he captivated me. Very clear in his work. Congratulations to all the actors. You will get a new identity with this film