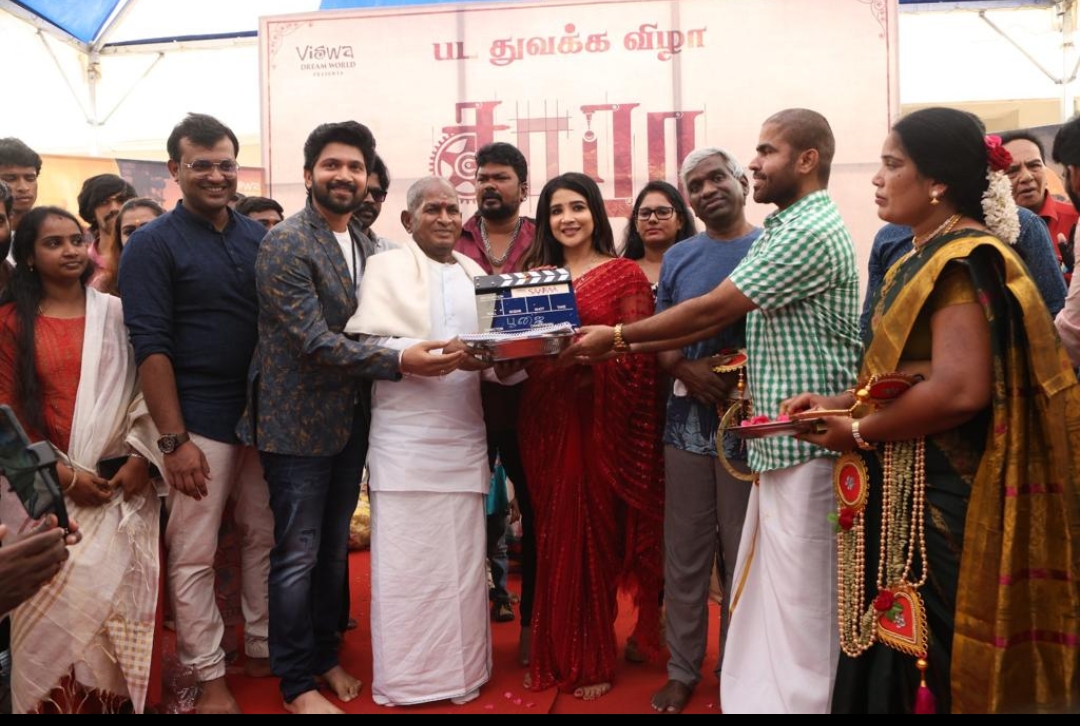 Produced by Viswa Dream World, Parapara Thriller movie Saara Uday started off nicely with Pooja. !!
Sakshi Aggarwal and Vijay Vishwa starrer 'Saara', a different thriller film, started off nicely with a pooja!!
Produced by R Vijayalakshmi and Chellammal-Kurusamy G under Viswa Dream World and directed by Rajith Khanna, the movie "Saara" starring heroine Sakshi Aggarwal and hero Vijay Vishwa started today with a pooja attended by the film crew and celebrities.
Musician Ilayaraja attended the event and congratulated the film crew.
In this event
Music composer Karthikraja said…
Thank you to all those who came here and greeted me, Happy Ganesha Chaturthi to all who came, Thank you to my father who started this puja by lighting the lamp. This movie is going to be a different movie with all the emotions and I hope it will definitely be a good movie thanks.
Kathanayakan Vijayvishwa said..
Happy Ganesha Chaturthi to all. Thank you to everyone who came to the Pooja of Saraa movie. I am very proud to be acting in Karthi Raja's music. I am acting for the first time with Yogi Babu in this film presented by Vishwa Dream World Company and I am very happy to act with Sakshi, Ponvannan, Ambika, Robo Shankar. Thanks to everyone
Heroine Sakshi spoke..
Happy Ganesha Chaturthi to all. My first thanks to the director who chose me for this film. Thank you Karthikraja sir, Ilayaraja sir, and everyone who came and the journalists. This movie will be a new experience.
Actor Robo Shankar said…
Happy to be at Sara's movie launch. Music maestro Ilayaraja sir, my heartiest greetings to all the director producers, thanks to everyone who came, I hope Vijay Vishwa will give a good movie through this film, my best wishes to him and the crew.
Mittal Selva is a stunt master…
Hello to all journalists, this is the second film in which actress Sakshi and I are teaming up. There are a lot of fight scenes in this movie. Everyone is waiting for this movie. This movie is going to be a suspenseful thriller, I pray to Lord that this movie will turn out well. Thanks.
Actress Rekha Nair spoke…
Congratulations to everyone for coming to "Saara" movie pooja. My best wishes to Vijay Vishwa and the team as he plays the lead role. Thanks to everyone who came.
Director Rajith Khanna said…
A lover who left everything for himself in a difficult situation? Or a friend who sacrificed his life for himself? The film is about who the heroine saves. The story of the film is set to take place in the backdrop of the construction of buildings, and the film will be a commercial hit with lots of action sequences. Vijay Vishwa is playing the lead role. The film stars Yogi Babu and Roboshankar in lead roles. This movie will definitely be a good experience and you all should support this movie. Thanks to all the journalists.
The film is going to be an exciting thriller film with a different screenplay focusing on the female character. The film stars Sakshi Aggarwal in the lead role and will be a breakthrough film for Sakshi Aggarwal in the action avatar and Vijay Vishwa is playing the lead role in the film. Yogi Babu plays a pivotal role, Robo Shankar, Ponvannan, Ambika and Rekha Nair are in the lead.
Technical team details
Produced by – Viswa Dream World
Producer – R Vijayalakshmi and Chellammal – Gurusamy G
Cast – Sakshi Aggarwal, Vijayvishwa, Ponvannan, Ambika, Yogibabu Robo Shankar.
Directed by Rajit Khanna
Cinematography – J. Laxman
Editor – SP Ahmed.
Music – Karthik Raja
Art Director – Suresh Kalleri
Fighting Trainer – Intimidation Selva
Lyricist – Snegan, Arun Bharti
Production Manager – Sundaram Shivam
Photo by Suresh
Costume Design – Rajan
Makeup – Kari Sultan
Public Relations – A Raja
Video link – https://sendgb.com/1mBs4vuWzYa
Thanks Regards
A Raja PRO