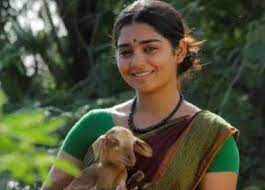 Produced by-Madras Digital Cinema Academy
Directed by-V.Jayaprakash
Cast-Gouri G. Kishan, Marimuthu, Pranav, Vetri Mithran, Arulmani etc
Censor Rating- U/A
Running Time-122 Minutes
Rating-***
Set in the earlier decades, this rural tale focuses on the plight and predicament of a self-made young girl, Ugammai, the character, brilliantly enacted by Gouri G.Kishan who wages a lone battle against the powers that be in that village in her mission to maintain self-respect.
The period setting has been brought out well by the director who has also managed to maintain a reasonable tempo right through the proceedings!
Late Marimuthu has executed himself well in a character that is basically good but who is forced to change colors when the situation demands it!
The film's pace is further enhanced by the songs and background score of Ilaiyaraja and his presence is really an asset to the film.
Gouri G.Kishan has put her heart and soul into the character and her performance here should take her places.
K.V.Mani, the cinematographer has presented the rural backdrop in a realistic manner…
An humanistic, emotional that is worth a watch.