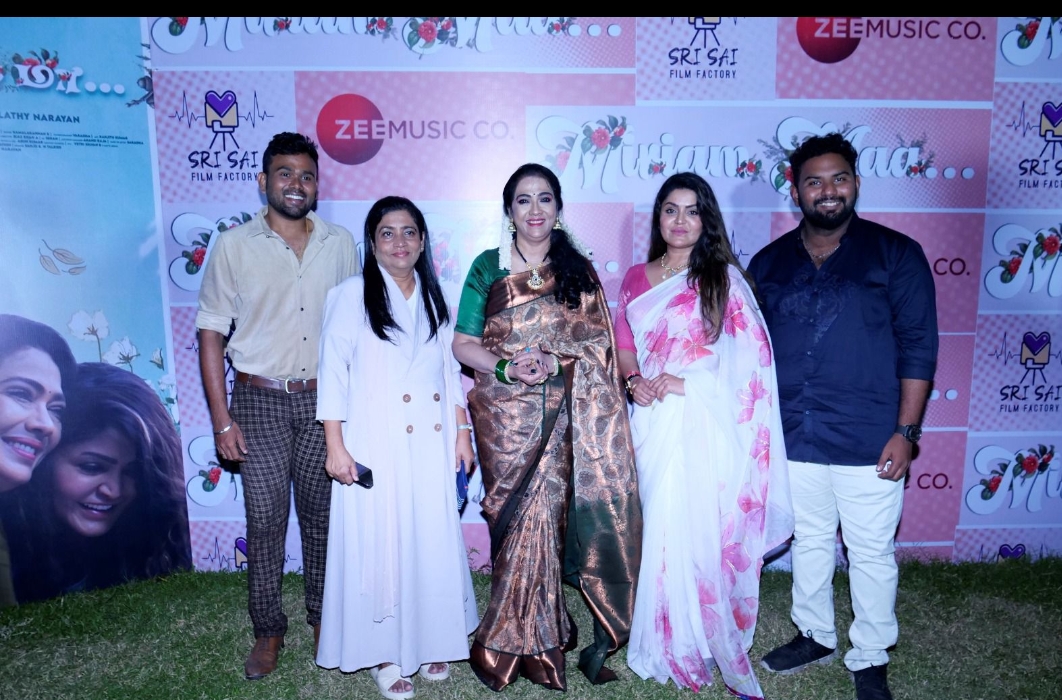 "I will keep acting till I live" – Actress Rekha in Miriam Maa Audio Release
"Money is not important, character is important" – Actress Rekha in Miriam Maa Audio Release
"If you don't want a small budget film then the newbie directors can't come" – Director Malathi Narayanan in Miryam Maa Audio Release
"Didn't think I'd get evicted" – "Bigg Boss Vijay Verma" on Miria mMaa Audio Release
Debutant director Malathi Narayanan is producing and directing the movie "Miriam Maa.." Actress Rekha is playing the lead role in the film on behalf of Sri Sai Film Factory. The songs of the film starring VJ Ashik, Eshil Durai, Sneha Kumar, Anita Sampath, Malathi Narayanan and others are composed by A.R. Rehana has composed the music. Youngsters from the group Moon Rocks have composed background music. The film's trailer-only music launch was held in Chennai, with Jason Williams handling the cinematography and Ranjith of Yathisai fame working as the art director.
Speaking at the event, actor Aashiq said, "I feel that the project of this Miriamma film has been completed very quickly. Because the first look poster of some films will release on Vijayadashami this year and the film will release on Diwali next year. It's normal to do that here. But I would like to thank and congratulate the director Malathi Narayan for completing the work of this film so quickly. Rekha madam is very pleasant to deal with. They would share the food they brought to the shooting site with everyone like a communal meal. There is a sense of motherhood in it. I know Ezhila very well since the release of Senchitale En Pradanaai in 2017.. Just watching the trailer of the movie made me feel that the movie is going to be good. AR Rehana is my favorite music composer and it is a great honor to have her as the music director for my film. Ranjith has been intimidating in art direction since Yathisai. That threat continues in this film as well. My thanks to Vijay Varma who came to this program even after calling me at the last moment for my friendship. You, friends of the press, should give full support to such small investment films. I request you to take this film to the people and make it a huge success.." he said.
When actor Eghil talks about the need for small investment films, you have so many friends from the press supporting this small investment film. Thank you. The film's director Malathi Narayanan is a doctor who studied and settled in Ireland. It is a great achievement for him to come here and direct and produce a Tamil film and bring it to release in an excellent manner. I am in awe of the speed at which he works. AR Rehana's songs were played on the set and the song shoot took place while listening to them. Thanks to him for best songs. Kudos also to the Moonrock team for providing the background music. The story of this movie is definitely different. You all should support this film." He asked.
"Moon Rock," the team behind Miriamma's soundtrack, said, "It's very emotional. It is a matter of pride to think that journalists who have written the names of great composers will write our name as a composer. Please support the film to make it a success."
Speaking about the film's music director AR Rehana, "I got into the film only because of the introduction of the cinematographer Jashan. Director Malathi Narayanan is as active as a bee and will see through all the available work. Apart from production and direction, he also takes on small tasks on the set without shying away. The story is very different and actress Rekha said that she likes the story very much. Actress Rekha is like a close friend to me and my best wishes to the team of Moon Rock who have composed the background score for this film. I hope this film will be a huge success," he said.
Actress Rekha said, "It's great to meet friends from the press after a long gap. I have been acting in cinema for more than thirty years. It makes me happy and proud to think of this. I thank God for giving me such an opportunity and you, the press friends. I also thank my fans who are above my life. It makes us very happy and proud when someone calls us by the name of the character we played in a film. In Tamil, characters like Jennifer Teacher, Ranjani, Uma were like that for me. Similarly, in Malayalam characters like Rani and Meenukutty were formed as the name suggests. Definitely in that order!