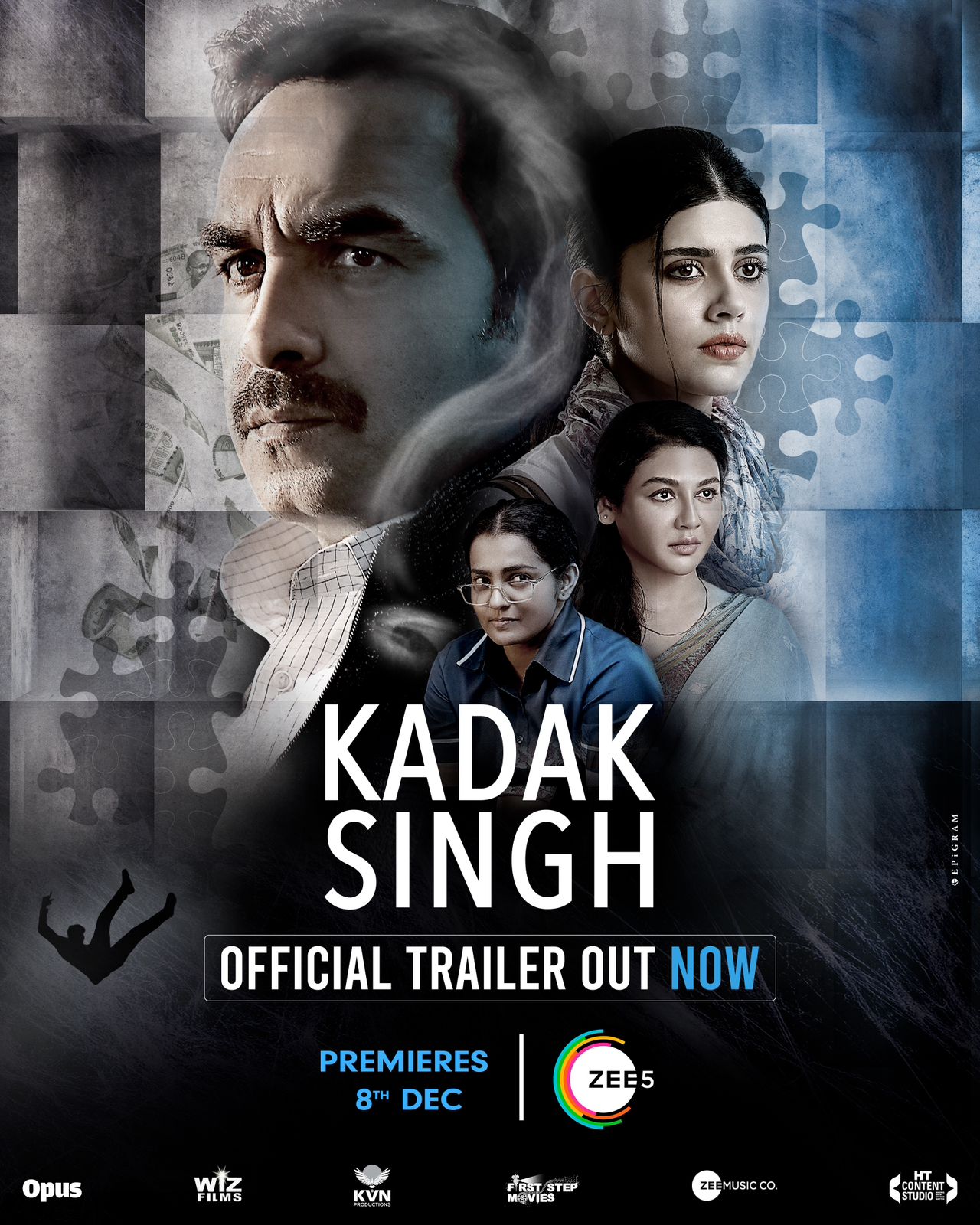 ZEE5 unveils the much awaited trailer of Pankaj Tripathi starrer 'Kadak Singh' in Goa, the opening ceremony of the 54th International Film Festival of India (IFFI).
~Directed by Aniruddha Choudhury and starring Pankaj Tripathi, Parvathy Thiruvodu, Sanjana Sanghi and Jaya Ahsan, this movie will release on 8 December 2023 on ZEE5~
National News, 21 November 2023: ZEE5, India's largest domestic video streaming platform and multi-lingual storytelling platform, unveiled the trailer of the much-anticipated Pankaj Tripathi starrer 'Kadak Singh' at the opening ceremony of the prestigious 54th International Film Festival (IFFI) in Goa. At one of the most respected and prestigious film festivals in Asia, attended by government officials, dignitaries, top stars from all over India and film buffs from across the globe, the trailer received a rousing reception, further strengthening the film's credibility. And more importantly, Kadak Singh is going to launch its global release at IFFI, Goa at 'Gala Premieres' and the event is attended by important personalities, with all the cast and crew participating amid great interest and anticipation. The movie is slated to release on 8 December 2023.
Directed by National Award-winning director Aniruddha Roy Chowdhury, Gadak Singh stars a host of National Award-winning actors, including Pankaj Tripathi, Parvathy Thiruvodu and Bangladeshi actor Jaya Ahsan in the lead role with Sanjana Sanghi and Paresh Bahuja and Varun Buddhadev in key supporting roles. A Viz Films and KVN production in association with Opus Communication, Gadak Singh. Produced by Viz Films (Andre Timmins, Veeraf Sarkari and Sabbas Joseph), HD Content Studios (Mahesh Ramanathan) and KVN and co-produced by Shyam Sundar and Indrani Mukherjee.
The film follows the life of AK Shrivastava alias Kadak Singh, a joint director in the Financial Crimes Unit, who is currently battling regressive amnesia. The film opens with AK being hospitalized and being told conflicting stories about his past, forcing him to separate truth from fiction. Between half-forgotten memories, he is determined to uncover the truth behind a mysterious joining of a medical clinic and a significant financial crime, all while protecting his family from being torn apart. It is also the story of a dysfunctional family and their coming together due to an unexpected series of events that lead to emotional ups and downs. The film shows the importance of relationships in different forms and how these relationships provide different perspectives that help the story move forward.
Trailer Link – https://youtu.be/zP0AsKwd_Fo
Actor Pankaj Tripathi says, "Kadak Singh is unlike any other story I have done before. It was such a joy to play such an unconventional and layered character. Additionally, I got to work with some incredible talent including Tony Da, Parvathy, Jaya and the young and passionate Sanjana. Everyone's combined energy and passion truly moved this movie from the pages to the screen. Also, the trailer was launched at IFFI last night and it was very interesting to see people's reaction to the trailer for the first time. We are also screening the film here at IFFI, so I am looking forward to the film also getting a good response".
Actor Parvathy says, "Not every aspect of the filmmaking experience gets a 10/10 score very often. Gadak Singh has been that rare event for me. From getting a chance to create a character under the direction of Tony Tha and sharing screen space with the likes of Pankaj Ji, witnessing the prodigious talent of Sanjana Sanghi, Paresh Bahuja and Jaya Ahsan and being perfectly supported by every department member on the set and the inspiring production team led by Viraf Zarkari who constantly encouraged us, It was truly amazing. In the times we live in, we are in dire need of skilled storytellers to guide us in getting in touch with our humanity. Tony Tha and team created that experience for us at Gadak Singh".
Actor Sanjana Sanghi says, "From the time Ritesh Shah first narrated the story of Gadak Singh, we