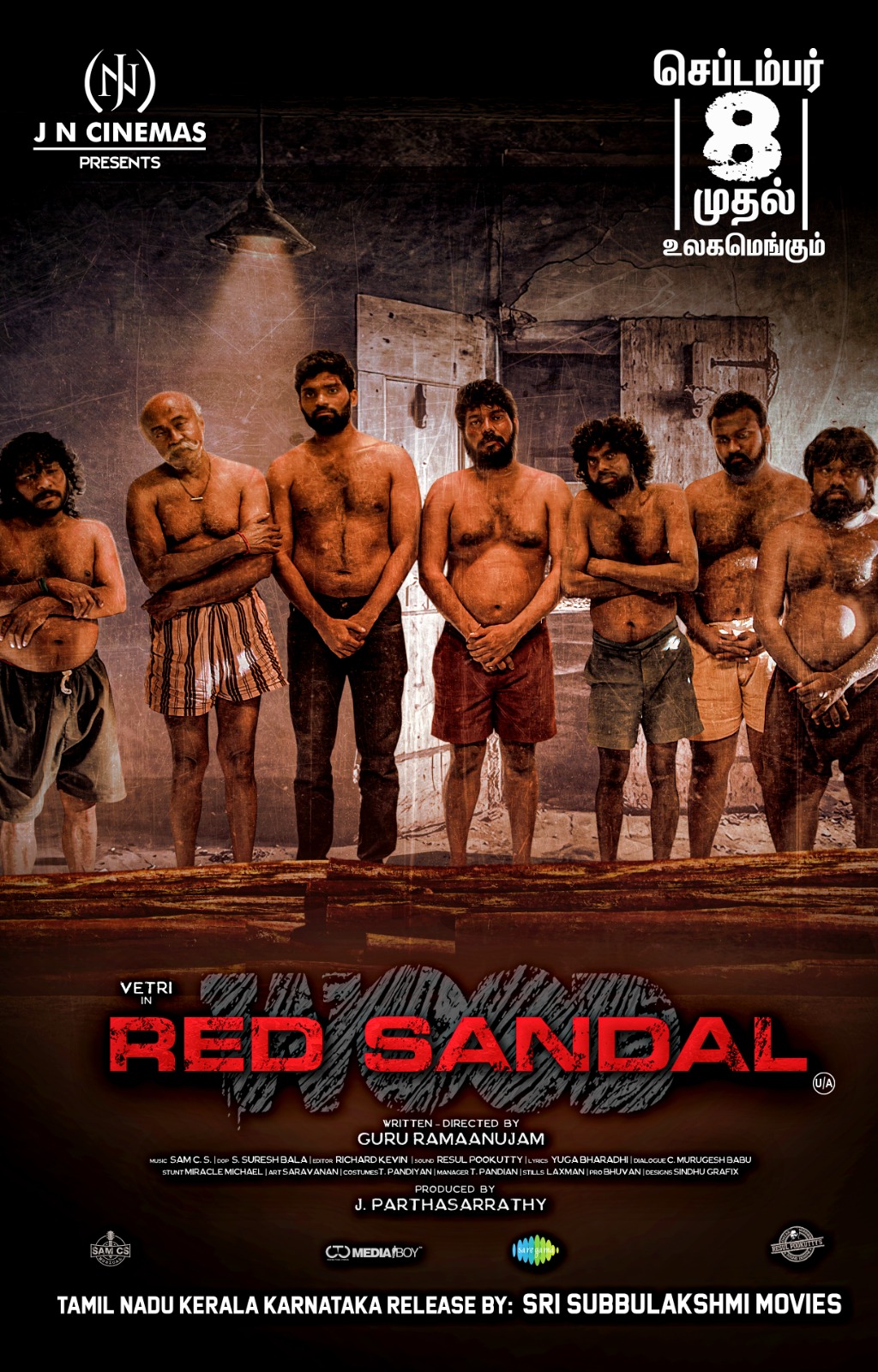 The film "RED SANDAL WOOD" which is based on Tamils who were killed for cutting sheep in 2015, will release on September 8.
The movie "RED SANDAL WOOD" which is based on a true story of Vetri is releasing on 8th September.
"RED SANDAL WOOD" is a film produced by J. Parthasarathy on behalf of JN Cinemas at a high cost.
Vetri played the lead role in this film. Thea Maurica plays the female lead. And KGF Ram, MS Bhaskar, Ganesh Venkatraman, Marimuthu, Kabali Vishwanth, Ravi Venkatraman, Madras Vinod, Vinod Sagar, Boys Rajan, Lakshmi Narayanan, Chaitanya, VG, Abhi, Karnan Janaki and many others have acted. Along with them, producer J. Parthasarathy also played the main role.
Cinematography – Suresh Bala
Music – Sam CS
Songs – Yugabharathi
Sound Design – Oscar winner Resul Pookutty
Editing – Richard Kevin
Fight Training – Michael in Miracle.
Production Supervision – Pandian
Public Relations – Manavai Bhuvan
Produced by – J. Parthasarathy
Story, screenplay written and directed by Guru Ramanujam.
Director Guru Ramanujam shared about the film….
This story is based on a true incident in 2015 when 20 Tamils were shot dead by the Andhra forest department in Tirupati forest, claiming that they had gone to Andhra Pradesh from Javvadu hill and Padavedu hill regions of Tamil Nadu to cut sheep.
Fabricated. In the film, hero Vetri goes to Renikunda in search of Karunakaran, the heroine's brother. There, Vetri is arrested by the forest department saying that he has come to smuggle sheep. Vetri learns that some other Tamils are being arrested along with him. They investigate who the kidnappers are behind them. When the investigation does not reveal the identity of the kidnappers, they are shot dead.
Why did they want to catch the kidnapper? Who asked to do the encounter? How did you encounter everyone by committing a human rights violation for sheep shearing that can be punished with normal jail time. In this to Prabha and Karna
The screenplay narrates what happened with scenes close to reality and mind.
The shooting took place in forest areas like Renikunda, Thalakkonam, Dhenkani Fort.
The film will release in theaters worldwide on September 8. Sri Subbulakshmi Movies K.Ravi releases not only in Tamil Nadu but also in Kerala and Karnataka.