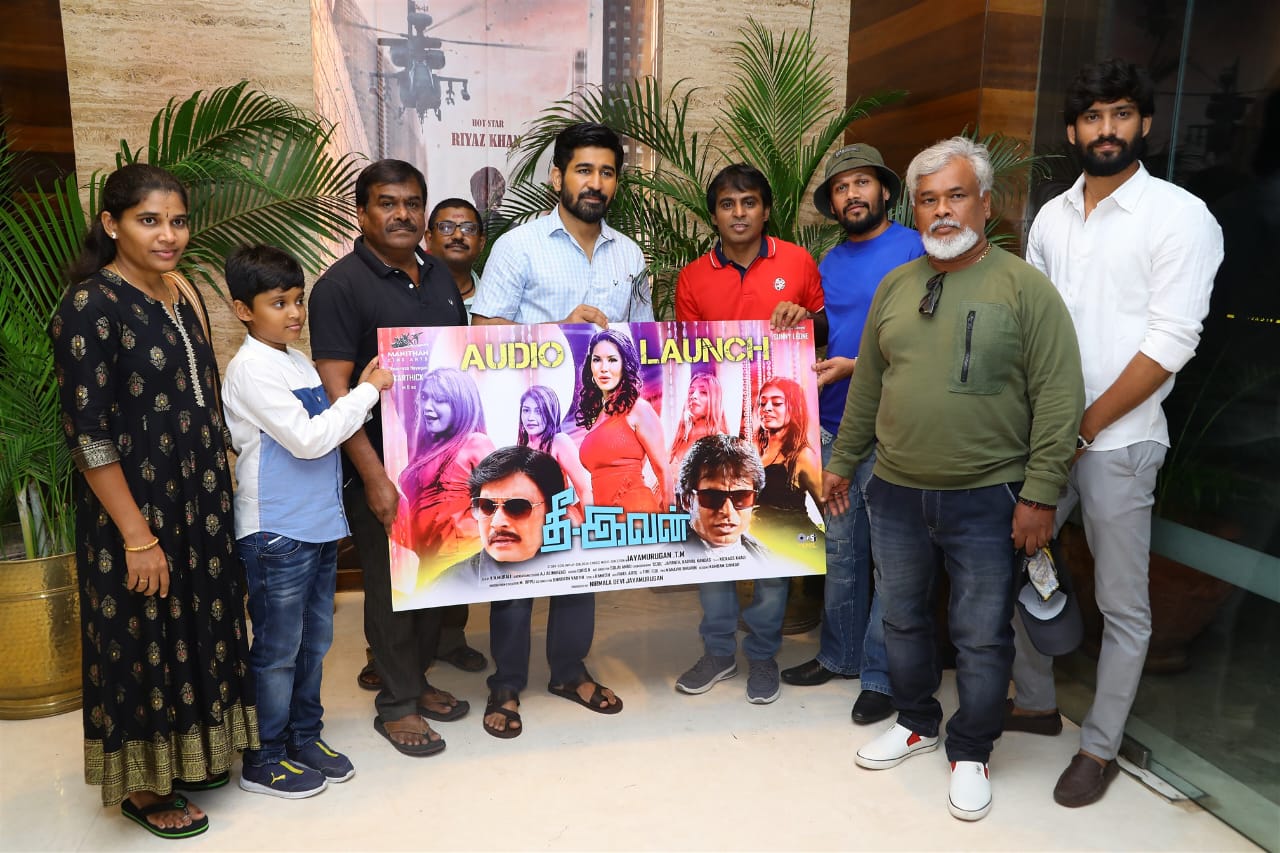 Thee – Ivan music released by celebrities from today.
An uncompromising performance by Karthik in a challenging performance
Dee-Evan is coming to the screens soon.
"Thee-Ivan" movie is the first music today
Produced by Nirmala Devi Jayamurugan and directed by Jayamurugan T.M.
The film stars Navarasa hero Karthik Hollywood Queen Sunny Leone Karthikai Deepam fame Atthika, Sukanya, Sethu Abitha, Maskara Asmita, Yuvarani, Radharavi, Illapasoo, John Vijay, Singam Puli, Saravana Sakthi, Suman.tu, Hemant;, Sridhar, Sarapambu Subbaraj, Ganesh Many have acted including
Director Jayamurugan said about Dee Ivan…
Parashakti Mamannan is a film with a social vision in the Vimithya film series, Thee-Ivan. In this film, Navarasa hero Karthik also casts Navarasams. Anyone can achieve the title of Yar, but no one can achieve the title of Navarasanayaka. Similar to him, you can see that trick in the movie Thee-Evan.
At the same time when it comes to deep culture. It is said that Ambala Getta Jajvaisai Bochu Pombala Getta Vamsame Bochu, according to that, if a boy or girl born in a good family goes beyond the culture. They will say that it will make not only their life but also their offspring a samadhi, and that it is a bad deed to live in a talismanic way. Similarly, Thi-Ivan is a work with a social vision that tells how the lives of those who live an improper life deteriorates and the lives of their descendants deteriorate, and social justice that a good society can be created only if not only the rulers but also the living are good.
Sakthi Films Tirupur Subparamaniam said about this movie, I have seen this movie and it is a very amazing movie. Family Story Karthik and Sukanya are acting together. Karthik has acted very well. The fight scenes have been shot magnificently. Karthik is threatening. Brother Suman.J from Tirupur has lived as a character. As well as the villain actor Sridhar, there is Asathi.
All the songs in the film are wonderful, usually Jayamurugan's film is a rose flower, the songs of the films before and after it are excellent, another special thing is that he is a singer. He will give the best songs to that extent. They have made Sunillion dance for one pot and shot it on a grand scale at a huge cost.
Above all, in this film, a family sendee has been portrayed very well in a heart-touching way. This movie is a must watch with family and I wish it a huge success.
Sunny Leone's Meele Aagayam Belema Patalaam Madhuvili Anandam, New Star Suman.J's Rightum Oduthu On Veil Rankum Odutu, Alimirsa's stylish voiced song, and Senthil Rajalakshmi's punchy song Kalil Salangaikatti Kanchipuram Pattugatti, are visually appealing.
Markandeyan Sivakumar of Tamil film industry after watching the song and trailer of this film, all the characters including Navrasa Nayagan Karthik, Radharavi, Sunny Leone, Atthika, Sukanya, Sumanje are beautifully designed.
All the films adapted to the culture of our land have been successful and this film will surely succeed. Congratulations.
Dee-Evan movie is going to hit the screens soon as a quality film.
Jayamurugan has written the story, screenplay, dialogues and composed the music. T.M.
Cinematography by Y. N. Murali, Cinematography by Mohammad Idris, Background Music by A. J. Ali Mirza, Production Supervision – M. Appu, Public Relations – Manavai Bhuvan. Produced by Nirmala Devi Jayamurugan at a huge cost.
It will be a film loved by all parties and a good work for Tamil cinema, fans never fail to appreciate good works. Jayamurugan T.M said that we hope that the movie will be a huge hit with the fans.