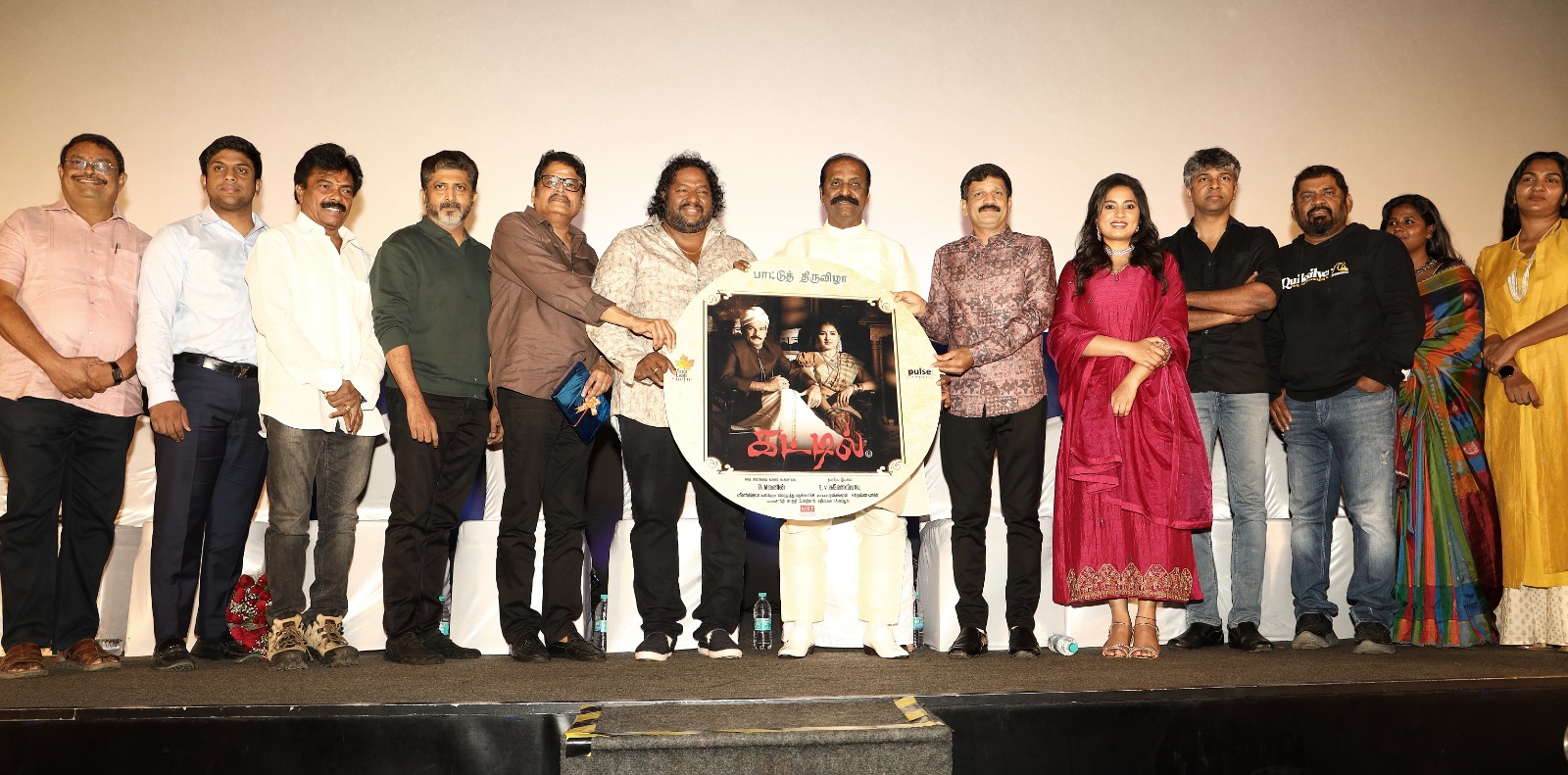 Produced by Maple Leafs Productions, the movie "Kattil" is directed by EV Ganeshbabu and directed by EV Ganesh Babu, based on the story of B. Len, a famous editor of Tamil film industry. The film crew celebrated the release of the film's songs with a song festival.
Many leading celebrities of the Tamil film industry attended the ceremony in the presence of press and media friends and congratulated the film crew.
Vairamuthu said…
Brother Ganesh Babu is my dearest and dearest. How to weigh a love? Time will betray it. He is my beloved who has traveled with me for more than a quarter of a century beyond time, failure and success. It is only good for Tamil cinema if Kattil type films run. It is in films like this that we get new artistes. Big films are projected and Ganeshbabu plays the flute amid gunshots. It is the small images that nurture our thinking that make us fly. If you look at the posters of old films, everything and women are prominent in them, but now you can see women's films in cinemas? The golden age of Tamil cinema is the cinema that gave equal place to women, and Ganesh Babu has brought back that golden age through his bed. It's these kind of iconic films that make people happy and that's what social activists like me aspire to. Kannadasan, when Vali was there, I competed with them and stood with them. I knew that I could not defeat them, but I stood with them as well. Is that enough? Now I am competing with Madankarki. I sent him to Australia to study, he came back after studying science and became a professor, but I didn't think he would compete with me. He has given excellent lines in this film. Congratulations to him for getting the National Award for this film. Ganeshbabu has recorded the pain of memories through this film. Wish him success.
KS Ravikumar said…
Whoever speaks after Vairamuthu sir will not be accepted. Vairamuthu has written songs for 25 of my films. I am glad that I got the chance to meet him in person after a long time. Srikanth Deva is always on the keyboard when Deva composes music for my films. Now he is happy to be famous. Director actor EV.Ganesh Babu has acted in my film. Congratulations to him who has long experience as an actor for producing such a film and becoming a director. My best wishes and thanks to the team of the film.
Lyricist Madan karki said…
EV Ganeshbabu sir used to come to all the functions held at home from a very young age and conducts this function as if it were a function at home. He has brought the bed as a metaphor and a symbol of the past generation. Loved Srikanth Deva's melodious music in this film. His song in Abba lyrics has come out beautifully. The song which means we lived in the temple is awesome. Dad never told or taught me to write songs like this. But I have learned a lot from his songs. His songs have imparted great knowledge. I have learned a lot from each song. Vayava means husband and we used this word because it is a song about a wife saying I am with you to a husband who has lost his wife.
Actress Srishti Tange said…
It was through PRO Satish that I got the chance to act in this film. I didn't like them at first when they asked me to play a pregnant woman. When I was playing a bubbly character, I thought I would not be accepted in this character. When Ganesh sir narrated the story, I understood the weight of this character. Dhanalakshmi's character was very strong. It was a new experience for me. Working with Sir Lenin was still a learning experience. Camera man Ravi sir has made me look good. Srikanta Devao sir has won National Award by EV Ganeshbabu Congratulations. Thank you Vairamuthu sir and Karki sir for giving us wonderful songs. Thank you that this movie will be liked by all of you.
Music composer Shrikant Deva said…
Three songs on the lines of Vairamuthu Aya, we made a huge contribution. Karki has written a song. When EV Ganeshbabu came for this film, he said 3 melody songs and was very happy. Also, I am very happy to have received a National Award for a short film directed by E.V.Ganeshbabu. Thanks to everyone who worked on this film. The film turned out very well. This movie is very important movie for me please support the movie
Producer director actor EV Ganeshbabu said…
Because Kattil film has reached everyone
The reason is the media. Poet Vairamuthu loved his majesty when he saw him for the first time. You know how great he is when you get close to him. You can learn a lot from him just by seeing him up close. We are proud to have him in this film. Kattil brought up the image in one line saying that our gene pool resides within the trees. Lenin sir has written story, screenplay, dialogues and editing for this film. This story is the incident that happened in his life. He has given an excellent story. This is Srikanth Deva's 101st film. I am happy that he got a national award for my short film. Thanks to so many dignitaries coming here to greet us. Srikanth Deva as an Akshay character will continue to deliver what we expect. Srishti Dange is a dedicated heroine. He has done an excellent role in this film. After this film, his life is on the upswing. My thanks to everyone who worked with me on this film.
Director Mohan Raja said…
Vairamuthu sir has been an inspiration to many generations. I am also a huge fan of him. You started brother Ravi's journey with your blessings and he is doing well today thanks. I have been missing Srikanth Deva's music for a long time and I am happy to hear that melodious music again in this film. The camera was great at asking who it was. Ganesh has filmed a wonderful story.
The bed reminds me of the image of Satyajitreya.
Congratulations to him and the crew. Srikanth Deva has been my friend since my early days in the film industry. I am blessed to have his friendship. I wish him great success
Choreographer Metoli Santi said…
The film crew has arrived like a sparrow among the hawks and eagles in the film industry. I thought about the bed, but agreed after telling the story. This film will tell the glory of those relationships in this age where relationships are not respected. Now the song has turned commercial. No melodious songs, I am saddened by this. But this movie has good melodious songs. It will be satisfying. I am not old enough to talk about Vairamuthu sir. He has given excellent lines. The director EV Ganeshbabu sir has created it very wonderfully. Everyone loves the movie. I pray for the success of the film, thank you.
Cinematographer Wide Angle Ravi Shankar said..
Director Ganesh told this story as a story of a family. I liked it. I worked with Vairamuthu in my first film and I am happy to work with him again in this film. Thank you all for supporting this film.
Tanjore Ira Chelian said…
EV Ganeshbabu comes from our Thanjavur and has grown up in the film industry. Vairamuthu sir has given 2 excellent songs. The film and the song will win a national award. My best wishes to the crew.
Jaguar Gold said…
Director actor EV.Ganeshbabu has given a wonderful work. Starting as an actor, he has risen to this position. This film will definitely win the National Award. On behalf of our association, we honor the director with a gold medal. He has made his team win with him. Congratulations to him from all. Thanks.
Semmalar said..
I didn't know that Ganesh sir was going to act when he was narrating the story. He pretended while saying it. I agreed to act as an impression in it. This film introduced me to many important personalities. The film turned out very well. Thanks to everyone.
Technician details
Produced by Maple Leafs Productions.
Story Screenplay Script Editing – B.Lenin.
Production, Motion –
EV.Ganeshbabu
Songs – Kavipperarasu Vairamuthu,
Madankarki
Cinematography – Wide Angle Ravi Shankar
Music – Srikanth Deva
Public Relations – Satish, Siva (AIM)