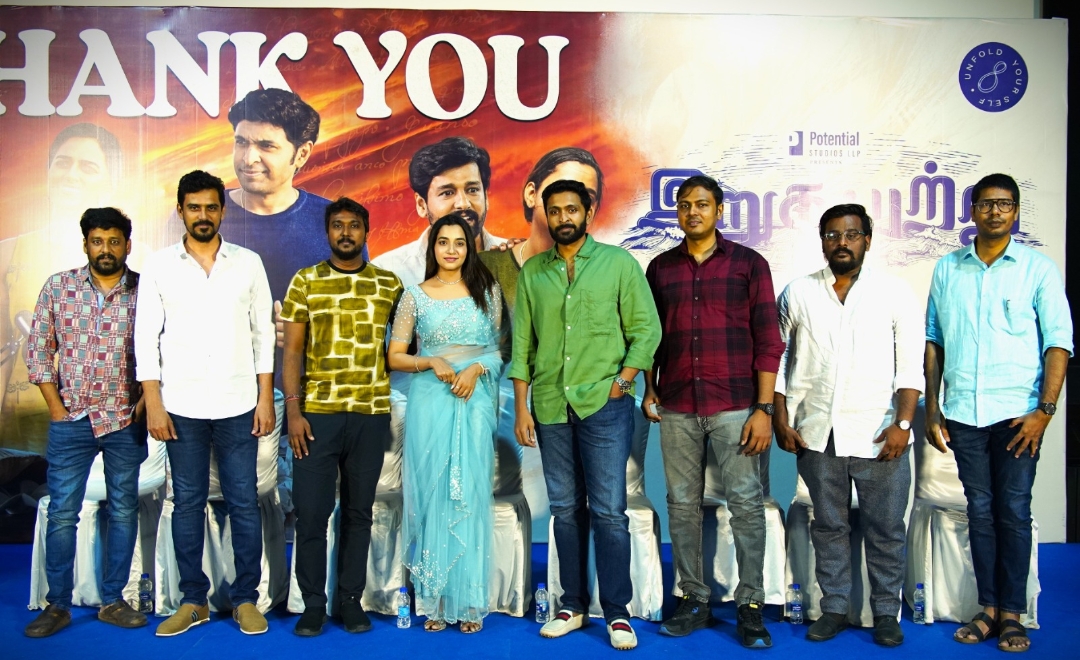 "Adichan Baru Appointment Order" ; Aparnathi, the luscious heroine
"Then Shivaji is not my grandfather?" ; Tearful director Yuvraj Dayalan
"This is happening again after 13 years" ; Vidharth is moved by the 'Irukapattu' victory meeting
"If you have a good story, you can boldly take small budget films" ; Tape producer SR Prabhu
"Who is the real Vikram Prabhu?" ; Confusion for lyricist Karthik Netha
"Success is achieved by expressing regret to fans" ; Vikram Prabhu moved by victory meeting
Produced by Potential Studio Company, which has been producing films with a small budget but with different storylines, the film 'Irukappapattu' released on October 6 has received a huge response from the fans.
Directed by Yuvraj Dayalan, the film stars Vikram Prabhu, Vidharth, Sri, Shraddha Srinath, Sania Ayyappan, Aparnathy and others. Music composed by Justin Prabhakaran. To thank the fans and the media for giving the film a huge success, the crew of 'Irukapattu' participated in a thank you meeting held last evening.
Speaking at the event, lyricist Karthik Netha said, "Justin Prabhakaran is the reason why I wrote songs in this film. Although I have already written with him in many films, I can say that the song writing in this film is special. I wrote the songs according to the visuals of the film. Balaji Manikandan has beautifully edited the necessary scenes to facilitate that. The director and I had a healthy discussion while making each song. I really liked Vikram Prabhu's costume in this movie. After seeing him in this film, I am confused as to whether this is the real him or the one he saw in Danakaran. Sri and Sania Ayyappan couple have beautifully reflected the youth of today. Thanks to producer SR Prabhu for a good story among producers who make films for profit
Egan, a costume designer, said, "Working in this film was a bit different for me, who had previously worked in period films like Sarpatta Paramparai and Tangalan. For each character, we designed a model suit for their profession. Even those clothes brought them closer to the fans," he said.
Film editor Manikanda Balaji said, "Producer SR Prabhu has been giving good films to this community. Many couples who watched the film expressed their feelings while talking to me. That's how much this film has affected them," he said.
Actress Aparnathy said, "First of all, I would like to thank myself for acting in this film. The audience who saw the film did not complain about anything. Many people are connecting with me and sharing their feelings after watching the film. As Vadivelu said Adichan Baru Appointment Orda happened in my life through this film. When I tried out for cinema my father's friend's son asked me what are you going to 'tear' to the cinema. But today he bought a ticket to watch this movie in Dubai and 'tore it' and went inside and watched the movie.
Now I see success in cinema. I actually cried at the climax of this movie. I came and cried because I thought that the director is trying to get a job like this. Acting in the film was a challenge. Santosham worked with music composer Justin Prabhakaran. It had the same power that Maina had when looking at Vidharth. Vikram Prabhu has balanced the emotions perfectly in this film. Director Yuvraj hired Sri well." He said that.
Actor Vidharth said, "When Maina released, I met all of you and shared the success. After that, for every film I acted in, I expected the producer to come and say it was a hit. It happened 13 years later in this film. After the release of the film, the phone calls continued. Each call takes over an hour to complete. It was the idea that this success should go to director Yuvraj. Most of the comments on Instagram were love and tear symbols. I am proud to be a part of such a film. Last two days I came from Ayurvedic diet in Coimbatore. I was in Coimbatore for a treatment and I was informed that there is such a thank you meeting. I left Coimbatore immediately as I was waiting for this moment," he said.
Actor Vikram Prabhu said, "My wife's birthday is on October 6, when the thriller is released.
I said that I will dedicate this for him. I have also made a dedication. Then I said,
He said that you also look almost like the character seen in the film.
When I saw this film in the theatre, I could relate to all the characters in the film. Any film should be able to connect with us in some way.. or should take us to a complete sense of entertainment.. We strive for the same for every film. Only certain films reach people. No matter which town I go to, there is a picture of my grandfather in the houses there. I'm happy that Irukapattu has also gone to such places. I have apologized to them several times for not giving some films properly to the fans. It is that regret that has given this victory."
Director Yuvraj Dayalan said, "I slept peacefully on the night after the press screening on 3rd October. Till then it was our film. After that you took it as your picture and took it to people. After watching a movie, they say it is good, super. But saying thank you for the first time was new to me. Many people are expressing their feelings like the wife apologized to her husband after watching the film, the husband spent two hours talking to her after a long day, and if the film had come earlier, we would have saved our relationship. I think they almost made me a psychologist.
When Jyothika Madam spoke about Gokul, the cinematographer of the film, she gave a very high build-up and spoke. It is true.. If only Gokul was born as a girl, I would have married him. Costume designer Poornima has tried something new for the characters in the film rather than the usual outfits.
I thought of him as the last choice for Shraddha's role in the film. Because I tried to find an actress who could play the same character with difficulty. But this character has been created for Shraddha to the extent of saying it is super. Out of the total dialogues of the film, only 38 percent of the dialogues are for Shraddha Srinath. My thanks to Smriti for her beautiful dubbing voice in the shoot and for her beautiful voice.
I went to Justin Prabhakaran Studio with bed for re-recording. Another director of this film is the film editor Manikandan Balaji. He understood exactly what I said and gave full shape to the film.
How much actress Aparnathy is praising me now. But she is the actress who tortured me.. She didn't just fall on her feet.. I begged that much. Whatever scene I'm shooting, I like to stay under wraps. But he would come after acting in a serious scene and joke with me and try to change the mood. But for Sania Ayyappan, whatever scene we are shooting will be in the same mood when he cries I cry too..
Vidhartham and I worked together in a film 13 years ago. After ten days of shooting, when Vadivelu's film came to me, I had no choice but to abandon the film. Vidharth also accepted it with a big heart and sent me away. I have given him this picture as a thank you for his generosity.
Sri came to see me as an assistant director. After that he agreed to act in it. While acting in the film, he would talk about how bad I have been in a personal way. After watching this movie, don't think that you can make a romance and love movie with him. As for Love Chinau, he does not know how to act. If anyone wants to make a love film with him, ask me and make a film. He has hired me to that extent, Mr.
A lot of people were hesitant to play the role played by Vikram Prabhu. Because it was a multi-starrer film. Not only that, they thought it was a heroine-centric film. But Vikram Prabhu agreed saying that it is my responsibility to act in this film. We shot a seven-minute scene where he and Shraddha were to act in one shot. It was only when Vikram Prabhu started acting that I decided to shoot it once again. But when he finished his performance, the people around him applauded loudly. However, Vikram Prabhu once again played that scene for me, even when he asked if it was not right, so many people clapped when he said that another take could be done.
He and I have a bond since childhood. My father was an ardent Shivaji fan. He would show you a picture of Shivaji as a child and say that he is your grandfather. I also tell everyone that he is my grandfather. The headmaster of the school called my father and questioned him believing Shivaji to be my grandfather
I am After that I cried when he told me that he was not my grandfather. Ours is a family that grew up watching Shivaji. My father wept profusely the night Shivaji died.
With the cooperation of the producer SR Prabhu, I was able to make the film completely as I envisioned. He handled things very coolly even though I was tense. Producer S.R. Prakash Babu sir is one of those who I think some people should bow down to. Seeing everything that is happening today, I feel like my film is releasing only tomorrow," he said.
Producer SR Prabhu said, "There was a little hesitation before the release of the film. Usually when we take big pictures we take the picture without thinking whether it will run or not. But if someone tells me to make a small film, I will say make a good film. Then many people will be angry with me. But after the impact of Corona, everything changed. There was doubt whether the film would get public support if the film was made with a small budget and that too within four crores. Because fans come to theaters and watch smaller films. Even if it is a thriller, young people will come to watch the film. Through them the film will spread out. But there was a doubt whether they would come like that for a family film. But with the success of the film, people have given me hope that if it is a good story, I can make small budget film too!