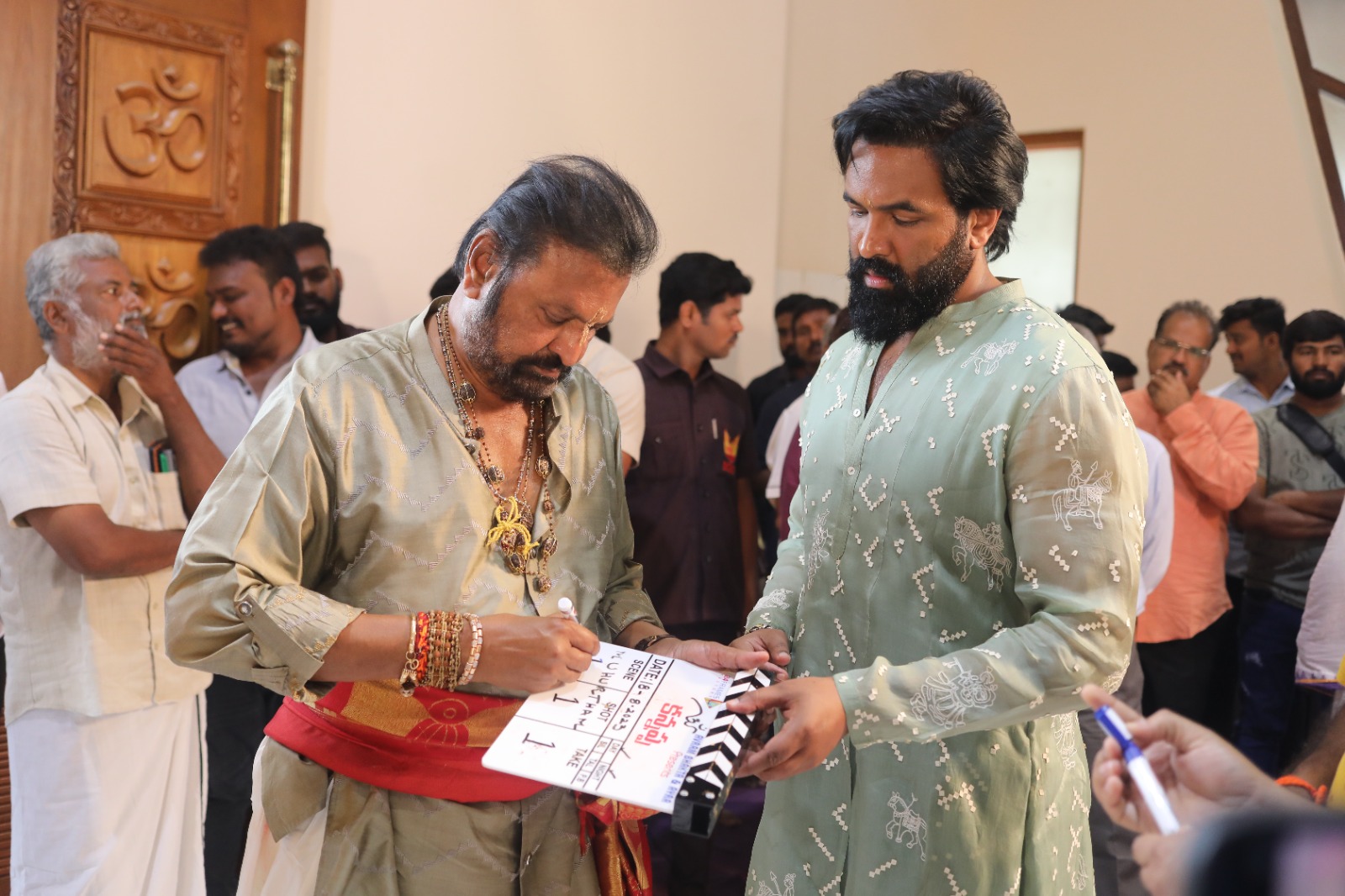 Mohan Babu is one of the most notable film personalities of Tollywood who can handle lead roles, characters with shades etc – all with the same ease!
Mohan Babu has co-starred with both NTR & ANR! And with other Telugu stars too!
His children too are as talented and versatile as their Dad!
Actor Vishnu Manju's dream movie 'Kannappa – A True Indian Epic Story' has begun!
Telugu cinema's leading actor Vishnu Manju's long-time dream film 'Kannappa – A True Indian Epic Story' kicked off today with a pooja at the Sri Kalahastri temple.
Actor Vishnu Manju, who has been trying to give people the timeless history and devotion of Kannappa, an unwavering devotee of Lord Shiva, in a grand screen epic, has done various researches for the last two years. He has collected many surprising and miraculous information about Kannappa's life and the glories of his devotion and has started the work of giving a grand pan-Indian film with them.
Produced by Dr. Mohan Babu under the banner of 24 Frames Factory and AVA Entertainment, the film is going to be a grand epic with huge budget and Vishnu Manju playing the role of Kannappa. Nubur Sanon plays the heroine of the story. Along with them many leading stars are playing important roles.
Noted writers Baruchuri Gopalakrishna, Thota Prasad, Thotapalli Sainath, Burra Sai Madhav have penned the story of the film. Music is composed by Mani Sharma and Stephen Devasse. Cinematography by Sheldon Shaw, Chinna serves as art director.
Mukesh Singh, who directed the hugely popular series 'Mahabharat' which aired on Disney Plus Hotstar, is directing 'Kannappa – A True Indian Epic Story'.
Not only the leading technical artists of Indian cinema but also the leading technical artists of Hollywood cinema are working in this film which is not only one of the most important films of Indian cinema but it is going to be a huge work that will attract the people of the world.
Commenting on the film, actor Vishnu Manju said, "It is with great excitement and pride that I have started my beloved work 'Kannappa – A True Indian Epic Story'. This film is a masterpiece and a labor of love that has been carefully nurtured over the years. The deep story of 'Kannappa' has held a special place in the hearts of cinema buffs for generations. The timeless story of Kannappa, an unwavering devotee of Lord Shiva, has been deeply revered throughout the ages.
This film stands as a testament to my insatiable passion. It has been meticulously crafted with a cast of renowned actors from various Indian film industries and a massive release. It will be one of the most eagerly awaited ventures in Indian cinema.
Kannappa's astonishing transformation is also included in this story, which brings to the masses the light of unwavering devotion and its greatness. Initially an atheist, he underwent a profound transformation and became a staunch devotee of Lord Shiva. His devotion resonates across contemporary and cultural boundaries, cementing his status as one of history's most exceptional devotees. I am proud and consider it my privilege to bring this extraordinary tradition to the people.
Undoubtedly, the amalgamation of unparalleled talent, the writers' narrative expertise, meticulous craftsmanship and unwavering commitment to uncompromising technical standards will propel 'Kannappa' to new heights of artistic brilliance. The culmination will be an unforgettable masterpiece that resonates through time and a devotional work that will fascinate the present generation, 'Kannappa – A True Indian Epic Story'." said