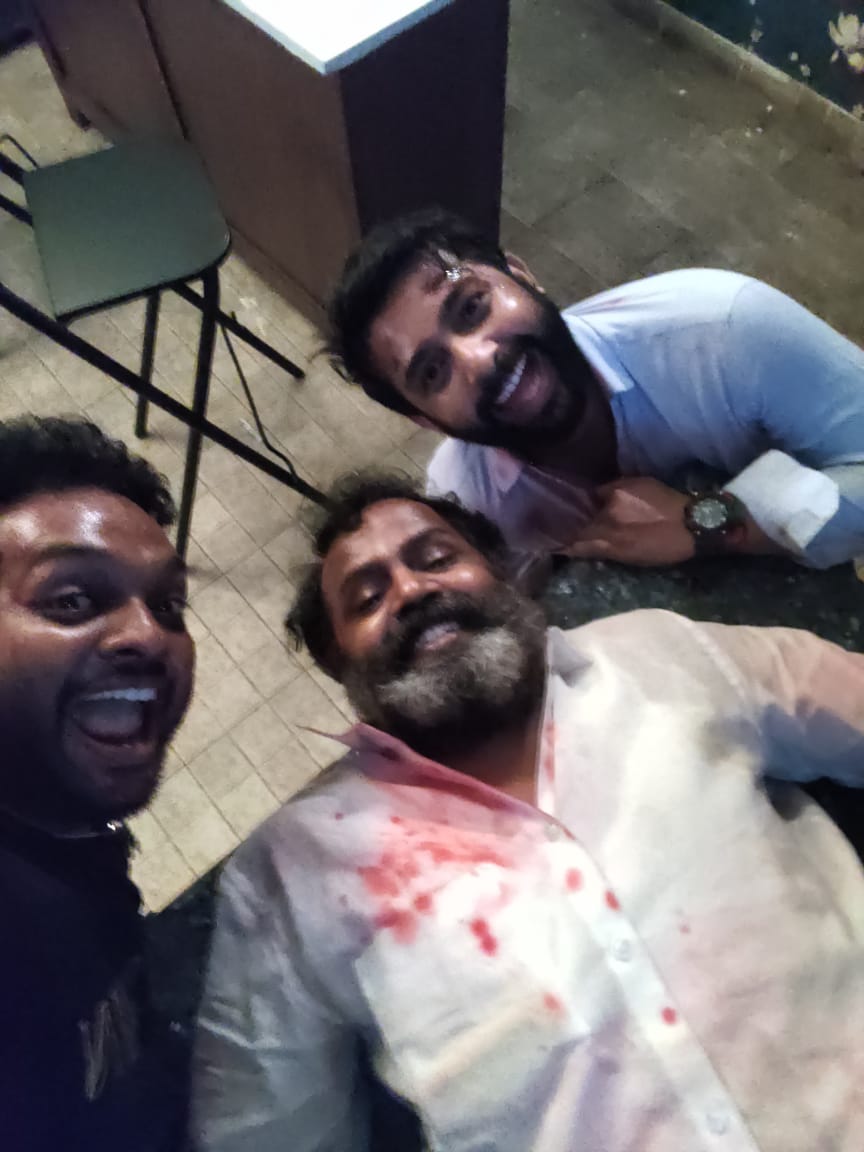 Get ready for a Dark-Comedy in an Indian 'Hangover' movie style!
'Enakku Ende Kidaiyaadhu' – A Dark-Comedy Laced with Crime-Thriller!
Producer Karthik Venkatraman of Hungry Wolf Entertainment And Production LLP is producing a new-fangled comedy caper titled 'Enaku Endey Kidaiyaathu'. The film is directed by Vikram Ramesh, who has written the story, screenplay, dialogues, and has played the lead role as well.
Producer Karthik Venkatraman is playing another lead role in this movie. Swayam Chitha is playing the female lead character, and the others in the star-cast include Sivakumar Raju, Pichaikkaran fame Murali Seenivasan, Sakthivel and many more prominent actors.
Thalapathy Rathnam of Super Duper, Rippapabari movies fame is handling cinematography. Kalacharan of 'Unekkena Venum Sollu', 'Birbal' and 'Theeviram' movies fame is composing music.
Stunt director Prakash (All in All Azhagu Raja, Chandramukhi 2, Yaathisai fame) is choreographing action sequences for this movie. Muganvel is overseeing editing works for this movie, and art work is designed by Surya,
The movie has been filmed in a span of 35 days across three different locations of Chennai. While the postproduction work is currently progressing at brisk pace, the official announcement on the film's release will be made soon.
Producer-Actor Karthik says, "With immense passion for acting, I undertook training under Theatre Lab Jayarav Master. Although, I acted in few movies, I didn't get proper recognition. Eventually, with the help and support of my close friends, I got into production of movie, and this is how the inception of 'Hungry Wolf Production' happened.
I came across director Vikram through one of our mutual friends. He has worked at IT firms in China, but out of passion for cinema, he decided to get into acting and direction. Although, we approached some of the new actors, who have done 1-3 films, they were negligent in accepting our offer. Hence, we decided to go with the fresh faces for this movie.
Both myself and director Vikram have played the lead characters in the movie. All the other actors in the cast have some decent experience in the field of acting with some movies in their filmography. Even then, we decided to start the shooting after proper rehearsals.
'Don't get drowned in troubled waters by interfering in unwanted issues' is the core concept of this movie. Five minutes into the film, the audiences will draw them deep into the premise. Basically, I am a hardcore fan of Hollywood director Hitchcock. He is a specialist in making engrossing movies with single location like a house with many characters. We have crafted this film with similar premise of entire story happening inside a single house.
Significantly, we rented a house that is usually given for the serial shooting, and completely transformed the look with additional set works. Although, the house would be familiar for many serial watchers, they will not recognise this house for we have completely changed its appearance. We have shot the entire film in 35 days.
Although, we are new entrants in the field of production, we ensured that we stick to the principle of 'Captain Vijayakanth sir', where everyone is given equal treatment and respect including food and hospitality, with the settlement of remuneration on the regular basis.
There would be many alcohol appearances and references in the film, but we had to use them for the purpose of this story. We will make sure that it doesn't happen in our forthcoming productions. We have not tried conveying any message in this movie.
Vikram's engaging narration and unique story were the main reasons behind the creation of this movie. Hence, we decided that he has to direct this film. Since most of the assistant directors follow the pattern and working style of their mentors, we made sure of roping in fresh assistant directors. The ones, who have watched the film are appreciating us for the fresh content. We would say that this film will be on the lines of Hangover flick with a tinge of Indian style.
Filmmakers like Director Nelson have created a new trend of 'Dark Comedy' in Tamil film industry, and this one will be one such film laced with Dark Comedy and Crime Thriller. This film will offer a never-before theatrical experience for the audiences.
'Action Reaction' Jenish is releasing this movie.