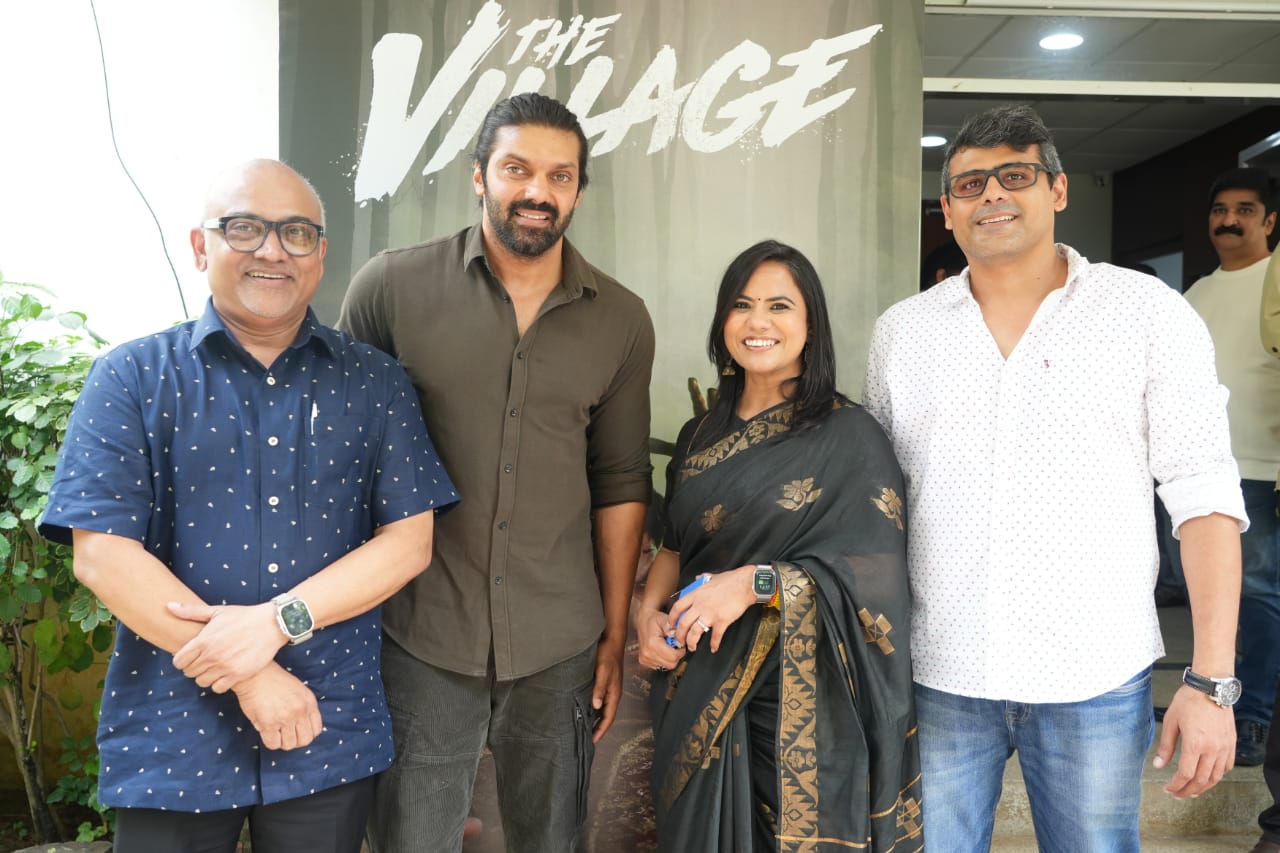 Trailer Launch of "The Village" Series by Prime Video
The Village is a horror thriller Tamil original series produced by B.S. Radhakrishnan, directed by Milind Rao and starring actor Arya, presented by Prime Video and produced by Studio Sakthi Productions, on November 24.
The first complete horror original series in Tamil, the trailer launch of "The Village" series was held with great excitement among the crew.
In this festival..
Prime Video India & South East Asia, President Aparna Purohit said..
It is with great pleasure that Prime Video presents The Village Series to you. With this series we are going to take our audience to the next level. This series is an unforgettable journey. A very emotional journey. Started 4 years ago. It took 2 years to complete the writing. The moment it started to take shape beyond Kovi, after Arya sir said OK, this series became really big. Usually no one has seen horror series here. That way it will definitely be a very novel experience for you. All the crew have worked hard. Thanks to everyone.
Producer B.S. Radhakrishnan said…
Very happy, four years ago Milind sir said we can do this. The journey that started then, as Aparna madam said, it took 2 years to write this story. Many stories happening in different places, what is the focal point that unites it and how is interesting. It became a great work only after Arya sir came. Regarding this work, Arya said, Milind and our vision and faith in the story is the reason to act in it, thanks to him. Here, as in Amazon US, they worked with full commitment. They gave great support. Thanks to all.
Director Milind Rao said…
This is very new for Tamil. No one here has ever made a graphic novel into a movie. Arya sir is also very new. It was great that he agreed to do this. We have made the graphic novel as close to us as the story takes place near Thoothukudi in Tamil Nadu, in our language. It was a full night call sheet so everyone worked very hard. Big thanks to all the actors. Music is very important for this series and Girish Gopalakrishnan has given the music which is very loud. Visuals are also good thanks to the cinematographer. Thank you to all the technical team for their hard work.
Actor Arya said…
No project on Amazon Prime would be okay without Aparna Ma'am. He has done it OK and that is the great thing. Thanks to him, he is the reason why so many originals come here. When Milind told this story, can you take this? I asked that first. He has written a huge visual, a bigger budget than the film, can we shoot all this here? They made such a big budget OK in Prime, and Milind took it like he said, that's happy. Milind doesn't say OK to any scene easily, this is a tough one to pull off. Everything from prosthetic make-up to sheeting location was very difficult. 3 years long journey. A huge party should be held to finish this. We have suffered so much. And it was a new experience for me. Never acted such a demanding horror story. It was a completely different concept and I worked on it. The story is that Naren sir is looking for my child and wife along with him. But a lot will be sub-flat. With each episode you'll be anticipating what's next. Visuals and sound are very important in this kind of story and Milind has brought it. It took so long to finish all the visual effects and bring it to you. Very happy to see now. All of you will definitely like it thanks.
Actress Pooja Ramachandran spoke..
After a long time in Tamil, I am back and happy. I was surprised how Milind chose me for this role, it was a dream to do this kind of role, I was very happy to get this role. The opportunity came before I got pregnant. I acted in a lot of action scenes and I asked the director to take it in three months, and I am happy that he did. Night shoot is usually difficult and this was more difficult than that but Milind sir handled it coolly. I am happy to be a part of this series. Everyone has suffered and the series has come out great. Thanks to everyone.
Actor Jayaprakash said..
I was the only one who acted very easily in this series. Because I am the one who puts the childish spin on everything and Arjun does it. The director's work is enormous. Everything has been put together beautifully. Amazon looks after all of us very well
Guys, I was all sheeted in an AC room in a five star hotel, and others have suffered terribly in the jungle. This is the biggest innovative series for Tamil, you will love it.
Actor Arjun Chidambaram said..
You have seen me in a different form in films like Nerakonda Prabhi, Ponniin Selvan, and you will see it in a new way in this one. It was a very new experience. Even Arya has acted in a scene and she is stuck in it. I hope you all like it, I don't have any difficulty in the film, I don't even need to walk, I'll be in a wheel chair. My character is like that, whether I perform well in this film or not, the director is responsible, everything will go to him, I am eagerly waiting for the release of this series, thank you.
Actor John Kokken said..
Hello everyone, hello to my Guru Ajithkumar, this series is a new experience for me. Arya has also acted again in this film after Sarbhata Paramaparai and we have fought in this too. I am happy that my son-in-law also acted together. The real heroes are the mutants in this story. The costume itself weighed more than 20 kilos and they acted with different prosthetic make-up. The action scenes have been done terribly. Thank you, this series will be a new experience you have never seen before.
Actor Adukalam Naren said…
Everyone has said about the series, we suffered a lot but now it's a pleasure to watch. It's the freshest I've ever played. It's new to India and everyone likes it and we all hope it's huge.
Pri
Actor George Marian spoke
Thanks to all. Thanks to the director who gave me an opportunity, I have played a villager in this serial. Very good experience thanks to all the co-actors thanks to everyone.
Actor Thalivasal Vijay said,
The first day I came to the shoot, there was a lot of shooting and that's when I got to know the director. After I spoke and acted well in the scene, he would casually ask for one more. I thought that he is doing this only to me, but it is the same with all the actors, all of them have many years of experience but the director asks one more from all of them. He was clear about what he wanted on screen, and without making anyone angry, he would put on a happy face and get us the job. Excellent director. This series will be fresh and will give you all a surprise. I hope you enjoy it, thank you.
Actor Ashwin Kumar spoke
Thanks to Amazon and the director for giving me this role. Thank you very much Arya sir. An innovative experience. Everyone took good care of me. Everyone said that they have suffered, hardship is bound to happen but now it is nice to see. We have done so many action scenes, pain is not worth it, only if you have a passion you can do it. Everyone is a hero in this. Thanks to all. Thank you for all your love.
Actress Kalairani spoke
Thanks to Amazon and director for my first web series. Everyone said they were struggling, I had to go first and come last, it would take 2 hours to put on makeup. The makeup artist everyone took good care of me and were always around. They have worked very hard. The director came to see me in person and told me the whole story. Then his film Nayanthara came out, my favorite film, and I immediately met him out of curiosity. I loved the story, they told me everything, starting with how I should speak. A role I have never played before, you have never seen a series like this. Thank you all for liking it.
Actor Gokul said..
Arya sir is the reason why I got a chance in this film, thanks to him. happiness If you ask the director for the bathroom, he will tell you that you can go after two hours. If you put on make-up, you will not be able to remove it until the end. We have taken it very hard. But the series is something new to watch. Thank you for all your love.
Child star Aajiya said
The village series, in which Arya sir Ponna has acted, will be quite an adventure. They wake up telling jokes while sleeping on sheets and leave. I had fun this series was perfect. You all will love it. Arya sir took good care of me. Thanks to all.
The highly anticipated Tamil horror original webseries The Village Series is composed by Girish Gopalakrishnan, with lyrics penned by Madurai Soldier (Sian Saheer, Senthil Kumar), Icky Perry, Snehagan, Guru Ayyadurai and Shilpa Natarajan. Pearl Sculptor (Kali
[11/17, 20:07] Gold: Muthu), Sinthuri Vishal, Madichiyam Bala (G. Murugan), Guru Ayyadurai, Madurai Soldier (Cyan, Senthil Kumar), Icky Perry, Girish Gopalakrishnan, T. Prathima Pillai, Shilpa Natarajan have sung.
Directed by Milind Rao, The Village Tamil Original Series Produced by Radhakrishnan under Studio Sakthi Productions, The Village Series is based on the graphic horror novel by Ashwin Srivatsangam, Vivek Rangachari and Shamik Dasguptavin. This graphic horror novel was published by Yazhi Dream Works.
The Village Series tells the epic story of a man's struggle to save his family. On behalf of Studio Shakti, the series is produced by B.S. Produced by Radhakrishnan. The screenplay for the series is written by Milind Rao, Dheeraj Vaithi and Deepthi Govindarajan. In this series, popular Tamil actor Arya, Divya Pillai, Aahya, Adukalam Narine, George Mayan, B.N. Sunny, Muthukumar K., Kalairani S.S., John Kokkan, Pooja, V. Jayaprakash, Arjun Chidambaram and Thalivasal Vijay along with many leading actors.
The Village Series will release on Prime Video from November 24 in India and 240+ countries in Tamil, Telugu, Malayalam, Kannada and Hindi with English subtitles.