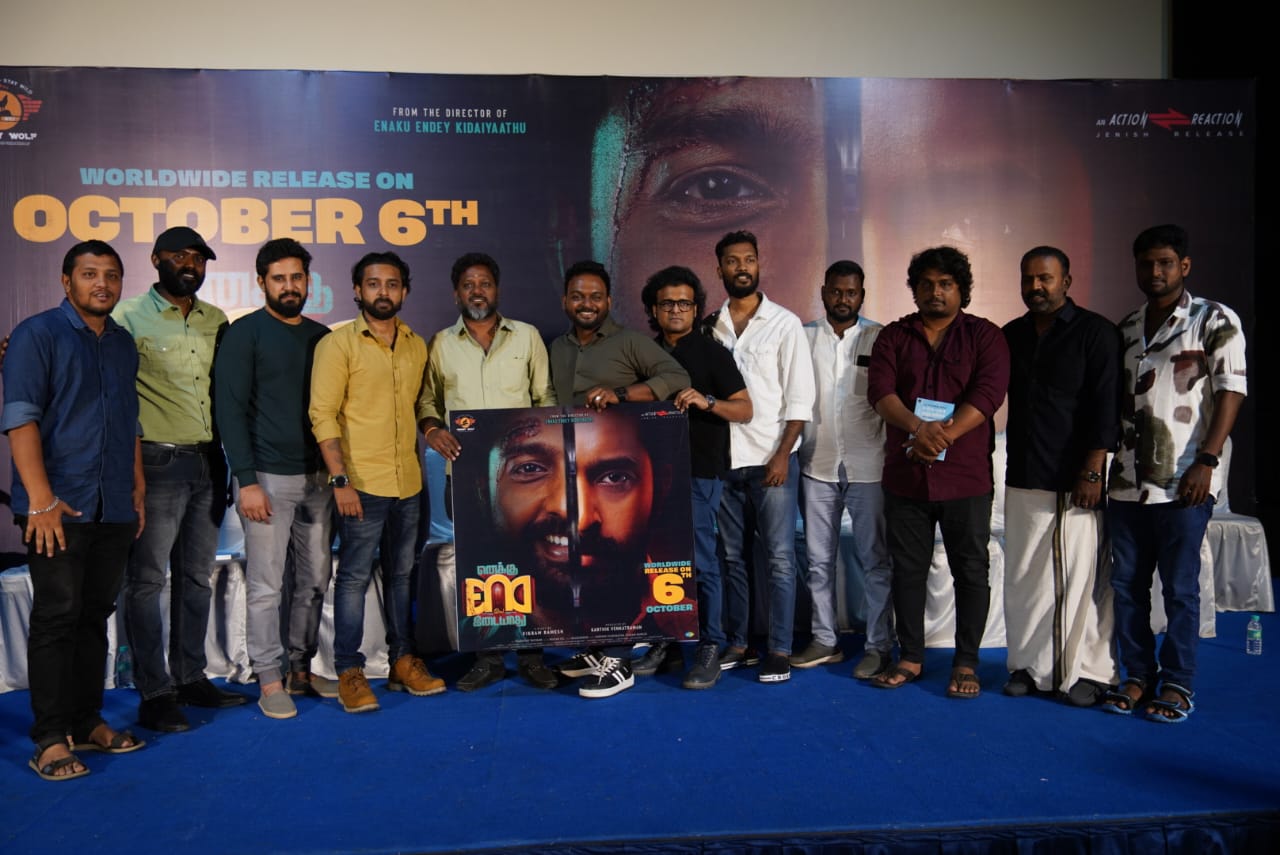 Was Vishal correct in saying that people who want to make small films should not come? ; Heated debate at the film event of Enakku Ende Kidaiyaadhu!
"No one has the right to say who should produce pictures"!
Heroine who skipped 'Enakku Ente Naai' film festival as she has gone to act in big films
Produced by Karthik Venkataraman under Hungry Wolf Entertainment And Production LLP, 'Enakku Ende Kidaiyaadhu' is a film. Debutant director Vikram Ramesh has written and directed the story, screenplay and dialogues of the film and has also acted as one of the main characters in the film.
Producer Karthik Venkataraman is playing another lead role and Swayam Siddha is playing the female lead. Also Sivakumar Raju, Pichaikaran fame Murali Srinivasan, Sakthivel and many others have acted.
Thalapathy Ratnam has done the cinematography for this film. Kalacharan has composed the music for this film. Stunt director Om Prakash, who has worked in films like Chandramukhi 2 and Yathisai, has designed the fight sequences of the film. Cinematography by Velmughan and art design by Suriya.
The film will hit theaters on October 6. Jenish is releasing the film under Axon Reaction. In view of this, the pre-release promotion of this film was held today at Prasad Label, Saligramam, Chennai. In this event, only the film crew participated without any celebrities from cinema as special guests.
Producer Karthik said, "Though basically a lawyer, I trained as a theater artist due to my passion for acting. I have made this film for the past seven years. In these seven years, every time I tried to start this film, there were some hiccups and the attempt got postponed. However, I cheered myself up by telling myself the title of our film, 'Nanaku Nte Naai'.
The story that Vikram Ramesh told me when he met me was unique. Before starting the shooting of this film, I was determined on a few things. No one should scold anyone on the set. Do not show anger. The day's wages should be given to the workers working on the shoot without asking them.. I was determined that everyone should be provided with equal food.. I followed it relentlessly throughout the 35 days of shooting and achieved this in the first film.
There is a small fight between three people in this film. We invited Om Prakash as it would be better if we had a stunt master for this. He made it a great fight scene. In a film like Yathisai, the person who created the fight scenes with more than 300 people also beautifully designed the fight scene for just three people.
Recently, when actor Vishal was speaking, he said that he is making small films with three to four crores and asked no one to come. This is a kind of sanathana.. No one has the right to say such things," he said.
Talking about producer Karthik's mentor Shakti, he says, "It is my passion for literature that has brought me to this place. Vikram Ramesh is not like the first film director.. According to producer Karthik, no one likes bad words wherever he is. He will not treat anyone with disrespect. Mainly one who wants everyone to succeed as a team rather than as an individual. "Looking at the talent of Kalacharan, the music director of this film, I was surprised how he remained unknown for so long," he said.
Jenish, the distributor who has released and acquired the rights of the film, said, "In the recent event, actor Vishal said that people who make small films should please not come to the cinema and instead buy property in that castle. I see it as an advice given by him. He says so from his past experience as a producer. As he said, today there are many difficulties in releasing small budget films and selling them on OTT platforms. I saw good profits even by distributing pictures taken in lakhs. Whereas the recently released film which was made on a budget of 5 crores collected only 10 lakhs. It should also be seen that small budget films like Tata and Good Night have collected well," he said.
Cinematographer Thalapathy Ratnam said, "Recently, there have been a lot of thriller films. Many will have the idea of what can be done in this new. But the screenplay will be new in this film. We all worked with double dedication in this film because of Karthik's character, the producer of the film. After the shooting, the music director and the editor changed it in a different way," he said.
Music director Kalacharan said, "I was the last technician to join this film. In fact, they came to me only after shooting the entire film. Even for the songs, they brought the montage scenes in advance and told me to compose songs for them. At the same time, they gave me the freedom I needed.
Gopi and Abhishek Raja of Parithapangal fame have sung two songs in this film. Abhishek Raja has already sung some independent songs in my music."
Art director Surya said, "They came looking for us during the shooting of this film and gave us the salary. As told, they completed the film in 35 days. Rather than a production company, it would be more correct to say that it is a family like the sky," he said.
Actor Sivakumar Raju said, "When I was called to play this role, I was skeptical at first. But they encouraged me and encouraged me to act. Had to act in fight scenes for the first time. It was during recursion that I realized that cinema is not a game," he said.
Director Vikram Ramesh said, "I have visited many production houses. But this is an opaque company. Before telling the story, this is the budget.. I am going to play the hero. I have already said that my friends will also work with me in this. The producer also happily agreed without imposing any conditions. Not only that, they started the film within a week of telling the story without much delay.
Sivakumar Raju has played the role of Mastan in this film. He has the experience of acting in many short films and earlier we had decided to cast another famous actor in this role but at the last moment we decided to let him act. Instead of telling the song situation for this film, I told the whole story of the film. Srini, the lyricist, wrote beautiful songs to suit it.
A film needs a good story.. a good production company.. if these two are present then anyone can make a film. When the fans come out after watching this movie, they will only say that the movie is good. Why the heroine of the film did not attend this promotional event, we were not able to contact her. It is said that he is PC in big films like Indian 2, Captain Miller.. It seems that he will act in big films from now on.
Shekhar, the character of this film, will face many problems in one day… Just when he thinks that his life and the story of this film will be over, another new thing will continue again. That's why we gave this film the title I don't have a card: he said.