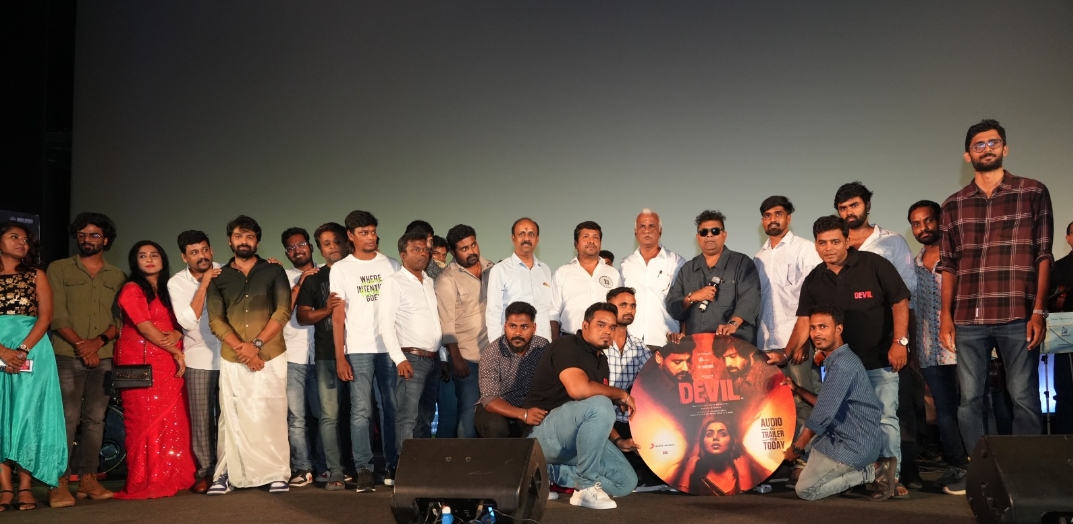 Devil Movie Music and Trailer Release Event
I have told Thiagarajan Kumararaja not to come" – Director Mishkin in Devil Music Release
I am nothing in front of Mysskin" – Director Bala
If there's one place I'll end up on this musical journey, it's Ilayaraja's feet" – Mysskin!
Mysskin's Treasure for Tamil Cinema – Vetrimaaran
The movie "Devil" is jointly produced by S. Radhakrishnan and S. Hari on behalf of Maruti Films and Touch Screen Entertainment. Aditya, who directed the movie Savarakkathi, has directed the film. Vidharth, Poorna, Adith Arun, Subhasree Rayaguru and Myshkin are playing the lead roles for the film, which is composed by first-time director Mysskin. The trailer and music launch of the film was held in Chennai.
Writer Jayamohan, who participated in this event, said, "I am a commenter on all things in this world, but if I am to say that I am not qualified to talk about only one thing, it is definitely about music. Because I don't know anything about music. As a layman I like the songs and the background music in the film. I wish this film, which has been composed by my favorite Devil, a huge success."
As writer Devi Bharati speaks, "I am a little unwell. I have been in literature for many years. I have written novels, short stories, essays etc. I worked as an editor in Kalachuvadu magazine. I can't talk much now because I'm not feeling well. I will get well soon. After that I hope films will help me. He spoke.
90-year-old music pundit Ramamurthy, a disciple of music genius Bhimsen Joshi, who was a mentor to director Mysskin and taught music, said, "Even this morning, we both practiced together for two and a half hours. We have discovered a new type of raga called Swati Sindhu which is a combination of two ragas. I have taught music to at least 10000 people over 53 years. Saindhavi and Vijay Prakash are my students…but I would say Mysskin is my best student. Because he practices for eight and a half hours a day. When I call, he doesn't talk, just the sound of him practicing. When all the seven chakras in the body are working, music comes automatically. That's what happened to Mysskin. "Congratulations on the success of my best student's film," he said.
Director Kathir said, "Truly Mysskin is a devil, because he works like a devil when working for me. All assistant directors will fall asleep. Mysskin and Vetrimaran just keep talking. We have been talking about the book Casual Affair since dawn. Mysskin must have read it at least 25 times. He is now crazy about music. I certainly hope that Myshkin will be as successful as a composer as he is as a director. Congratulations to Mysskin and the crew."
Director Vincent Selva says, "Mysskin came and met me while shooting for Youth. Then he gave me a cassette which contained 15 tunes. Listening to it was like Raja Sir's tunes. The songs heard today in Devil music release are like Ilayaraja sir's songs. Mysskin is an ardent fan of Ilayaraja. Myshkin has a good knowledge of music. Editor Lenin knew very well where music should not come. Next to him is Myskkin who gets it right. We wish him success in this new venture." He spoke.
Producer Thanu says, "May this day be a happy day. Directed by director Aditya, you can see the quality of this trailer and the hard work behind it. I was amazed at their hard work. I recommended distributors that I know to buy the film and release it. Mysskin takes up any matter after careful consideration and understanding. I hope he will be successful in this new field as well."
Whenever I pass by RA Puram, I always go to Mysskin's office when director Sasi is speaking. Whenever I go like that, I immediately meet Mysskin. But when I went a few months ago, the assistant directors asked me to wait unusually. After some time, when Mysskin opens the door to his room, he hears the sound of tabla playing from inside came I looked at Mysskin like what happened to him. It makes me very happy and happy. I wish the film a success."
When director Karunakaran was speaking, I was also working as an assistant director to director Kathir. I have never seen such a music launch party for a film. The composer himself has proved his talent before our eyes. I wish the film's director Aditya and director Mishkin my best wishes for success." He said.
Director Bala said, "I had gone to Ilayaraja for the soundtrack of my film. Then I remember something Ilayaraja said about Mysskin. At that time I did not know who Mysskin was. Don't even know about the film he took. There was a man running briskly around in shorts, a pair of unrelated shoes and a t-shirt. When he left, I asked Ilayaraja who is that…? I asked him to wander here and there wearing shorts and shoes. Ilayaraja said that he is Mysskin, don't take him for granted, he is a great intellectual. I don't know from what angle he said that. But Mysskin was truly an intellectual. When you see him, he looks like a devil. I even registered his number as Wolf in my phone.
In Vanangaan, he acted as the director and not as an assistant director. I have asked him to direct the scene in which he is acting. When I finished driving I saw that scene. It had gotten better in a different way. I said ok. But Mysskin said, "Look and tell me if it's okay for you to come again." I doubted why he was saying this because he had come to his senses. I looked again. There will be about 20 actors in the scene. In that meeting he had to take off his cooling glasses and stand with his head bowed and his hands clasped. While standing like that, I noticed that a woman in the crowd was blinking like she was looking at the camera and realized that he was telling me to look again. I didn't sleep for a week. I kept wondering how Ivan even found this small bug and how we missed it. Truly I am nothing in front of Mysskin.
Director Vetrimaran said, "Mysskin is a rare treasure for Tamil cinema. Most of his films are a journey into the dark minds of human beings to find light in them. So is his music. It seems to me like "Journey into the darkness in the search of light". This will be the first audio release where the composer and the musicians take center stage. This audio release is special in that respect. We all have seen how Mysskin's songs have gone viral. Similarly, everyone knows his passion for music. According to Vincent Selva, he has even contributed to the background score of Vijay's film Youth. It takes a Courage, Confident and Commitment to fully learn music after such a long time and perform it on stage in front of all of us. Mysskin has all three. This is why he has achieved this. So I wish him success in this musical journey as well. Similarly, my congratulations to director Aditya, who has been assistant director to Mysskin and is directing a film in his own style." He spoke.
Director Arun Matheswaran said, "The background music in Mysskin's films is a novel experience without any imitation. That's how he composes music now, it's a different experience. A uniqueness is evident in it. I don't feel like talking much. I wish Mysskin success as a music director and Aditya a success as a director." He spoke.
Music critic Shaji says, "It does not surprise me to see Myshkin as a composer on this stage today. Because as far as I'm concerned, Mysskin is always with music. His first acquaintance with me started with a discussion about music after he had done two films. Mysskin would listen to Western classical music 24 hours a day like a madman. Have you heard this song suddenly called at three in the morning..? He will start talking. Mostly we listen to Tamil songs. But he is very fond of old Hindi songs, minus scale music and Ilayaraja music.
Riya has admiration. Such an intensive music listener. I'm also a music listener, but I can never compose music for the life of me. It requires a great deal of dedication. Call me during corona time and buy a harmonium from Calcutta. He asked how to buy. I might buy a triple reed harmonium, Mysskin, but I'm at a loss as to how to buy one at this time. But he bought it and showed it. He always practices with that and a musical piano in his office. So he is the one who can go deeper in music. That is why even at this age he is learning Hindustani and Carnatic music with a master.
Similarly, worldwide directors like Charlie Chaplin, Woody Allen, Clint Eastwood and David Lynch have also turned composers. I think that's a stretch. Similarly, I acted as a madman in director Aditya's Savarakathi. In the movie Devil, I played the role of a priest who gets them married. There is not much difference between the two characters. But it feels guilty to see that all this stuff is happening only after I got married. He did not get this opportunity because he is younger brother of Aditya Mysskin. I didn't know that Aditya was Mysskin's younger brother for almost a year. This is the success of his hard work. I wish the film success."
Radhakrishnan, the producer of Devil, said, "My greetings to all who have come for this music release. We thought we should make this film. Bhai and later our friend Hari joined us in the early stages and we made the film better. Thanks to director Mysskin for agreeing to compose the music. I request you to support the film and make it a success."
Another producer, Hari, talks about a film with a different story line, like " Love Today". We hope it will be successful. Please support.." he requested.
Murali, executive of the Producers Association, said, "The quality of Mysskin sir's films is increasing day by day. Due to this, the respect for Indian films is increasing worldwide. I wish the film success.
Director RK Selvamani said, "My congratulations to director Aditya, because he has got a job with a devil. So he has succeeded in the first step. When I was called for a music release, I was not interested in a film. But after looking at the color and design of the invitation, when you see that Mysskin is a composer, oh Mishkin has also become a composer..? It seemed that But I was horrified when the music artists played the songs featured in the film in his presence. I also don't know much about music. I will ask Ilayaraja to give it like this song. That's all I know. Earlier it was difficult to make films. But it's easy to release, making movies is easy these days. But releasing it has become very difficult. And earlier even after ten days a film would pick up and become a huge hit. But now the lifespan of a film is just three days. It comes and goes like a tsunami. Although Mysskin was a director, it was his younger brother who gave him the opportunity to compose music for the first time. I wish the film a success and Mysskin's success as a music director."
Actor Vidharth said, "I initially went to Mysskin Sir because I was invited to act in the film. But only after going there did I know that the director was Aditya. It was only after I finished acting in the film that I realized that this film will be a very important film in my lifetime. So thank you Mysskin sir for giving me such a wonderful opportunity. Aditya is truly a great director. Even the best actor has given me a wonderful performance. Even if I don't get to act in Sir Mysskin's direction, I am very proud to have acted in his music. He spoke.
When actor Vasanth Ravi speaks, I am very proud to be on this stage. There's only one reason I'm here. That is my love for Mysskin sir. He always speaks from his heart. He speaks only what he truly thinks. This friendship started during the shooting of Taramani. There was an opportunity to act with him in Rocky. It didn't happen at the last minute. I hope we will act together soon. It's nice to see a brother and sister with such love. My best wishes for the film's success."
Director Aditya said, "When I was in a difficult moment after writing the story of the film, producer Radhakrishnan approached me through Shekhar and gave me a check of two lakh rupees. We started shooting. Later Hari sir also joined himself in the production work. Thanks to the producers who helped the film in every way to make it better. I gave the first story I had written to director Mysskin. He said this story is a good story. But first you gave "Anna Kareena" read. It will be almost 600 pages. Then I read a short story written by Devi Bharti. It affected me a lot. Then Poorna, Vidharth and Arun came into the film one by one. Poorna has acted very well in this movie. I want him to get a national award. Thanks to all the technicians and assistant directors who have been instrumental in the making of this film. Please support this film," he requested.
Director Mysskin welcomed all the special guests who had come to the festival and said, "All stories are the same story, the story of the movie "Devil" is also the same. Black enters a quiet house. The house will crumble to pieces. Again it revives and sprouts. This is the story in everything from Anna Kareena. I was not born into a Christian family; But I have read the Bible many times. Even now I feel like Jesus Christ is standing behind me. I am the one who hangs on the cross. I have tried some songs in the film.
A word I often tell my assistant directors is that I think the most important thing in the world is a pen and paper. That is why I invited writer Jayamohan to speak first. If Ramamurthy, who teaches me Carnatic music and Hindustani music today, is a guru to me, I have another guru too. He is Ilayaraja, I bow down at his feet. As an eight-year-old, while riding on my father's shoulders, I pulled my father's hair and listened to the song, 'Annagiliye Unna Tetheuthe". From that day he was my Gurunath. Then you ask why you came to compose music..? I had a fight with him.. I get a little angry. Can't go back to him. And very combative. Don't know what to do. That's why I decided to make music. Through this musical journey I don't want to go anywhere. If there is one place that I would like to visit, it is Ilayaraja's feet. Ilayaraja and AR Rahman are the greatest musical personalities of this world. They are the composers. I am not.
A mother gives birth to a child. But a director takes the child and leaves it in himself. Two directors who shaped me like that. One is Kadir and the other is Vincent Selva. Both are my Gurunaths. We have evolved from them. Thanks to them. Similarly, the producer Thanu is also a guru who has great care and affection for me. My thanks to him too.
Next to them, I would like to thank Director Sasi and Director Karunakaran, who are directing Telugu films, who always take care of my development and take me with affection.
A film was released and it was hugely appreciated by the fans and on its 11th day I went to Krishnaveni theater to watch the film. After the film, the fans stood up and applauded. This is common in European countries. But the same respect was given here to a great artist. He is my contemporary director Bala. Thanks to director Bala for coming to this event. He may say that he is nothing before me. But the truth is that I am nothing before him.
Some people in cinema say that he won by luck. According to them, if you shake the flowers, the flower will fall immediately, and if you shake the head of the flower, the flower will fall immediately. Success is not that easy. He is not a great director, but a great artist who spends his entire life 24 hours a day in cinema, cinema, cinema. He is my friend who will succeed. The main reason for his success is his immense hard work and profound knowledge. Kudos to Vitri for highlighting the event.
A couple of people I really miss. One is my friend and one of the greatest directors in the world, Anna Ram. As he has the work of the movie 'Seven Seas' there, he is holding himself in his hand and is staggering. Another is Thiagarajan Kumararaja, another great artist of Tamil cinema. The one who said he would come first said he wanted to call at three in the morning and tell me something… why didn't you come to the music launch…? I said… hmmm
Before concluding that if he didn't come, I asked, "Are you happy?" tell me if you think I should definitely come. He said I am coming. I told you not to come. He is as delicate as a flower. I hope he is watching this event.
Arun Matheswaran is well versed in blood and murder and finds another dimension in it. When he came to tell me the story of Rocky, he said, "You bulldoze a man to the ground, exploit him and feed him to the fish. I wish you a bright future. A violence like Takashi Kitano's at its peak cannot be presented aesthetically. He is said to have replied, "He doesn't have the stamina" when asked about Toronto. But our Arun Madhe has that talent. Aesthetics and violence come together for him. Congratulations to him.
An artist should be keenly aware of his criticisms. Analyze it and if there are facts in it, come forward to correct them. I would like to express my gratitude to the music critic Shaji who has been continuously criticizing me and my works. What is going on in this world. Two countries fight in the name of religion. Religion and political party are one and the same. Women and children are killed day by day. Poets are the ones who protect us like protecting a child when we are caught in such dangers. Thanks to them.
Also, thanks to the producers who came as donors for the film and helped to make the film better.
Actor Vidharth is an actor cast on screen. He has a bright future. Thanks to Arun too, who has acted in small roles in Tamil and is now acting more in Telugu films. Vasanth Ravi will definitely be in Tamil cinema for another 15 years..
Director RK Selvamani sir is a personality we used to admire in childhood. Ari 2 would have taken it with the camera itself. But it looks like something shot on Pana Vision. He is an inspiration to all of us. A request to him. I request that 25 junior artistes should be included as a transgender person and I would like to request them to produce the documents for the same. Appreciation of parents and co-borns is an intimate thing. When my brother came to me to be assistant director, I behaved very rudely to him. I threw away the sandal… Then he came to me after working for Parthiban for two years. I accepted.
A film works only if the director's hard work and knowledge is evident. Otherwise it will not run whatever the movie is. People will reject it. Look at the picture. If you don't like it, throw it away. He will come back to you with an even better story. If the film is good, celebrate it and support it," he said.
Trailer Link ▶️ https://youtu.be/JN_LrGSsS7Y