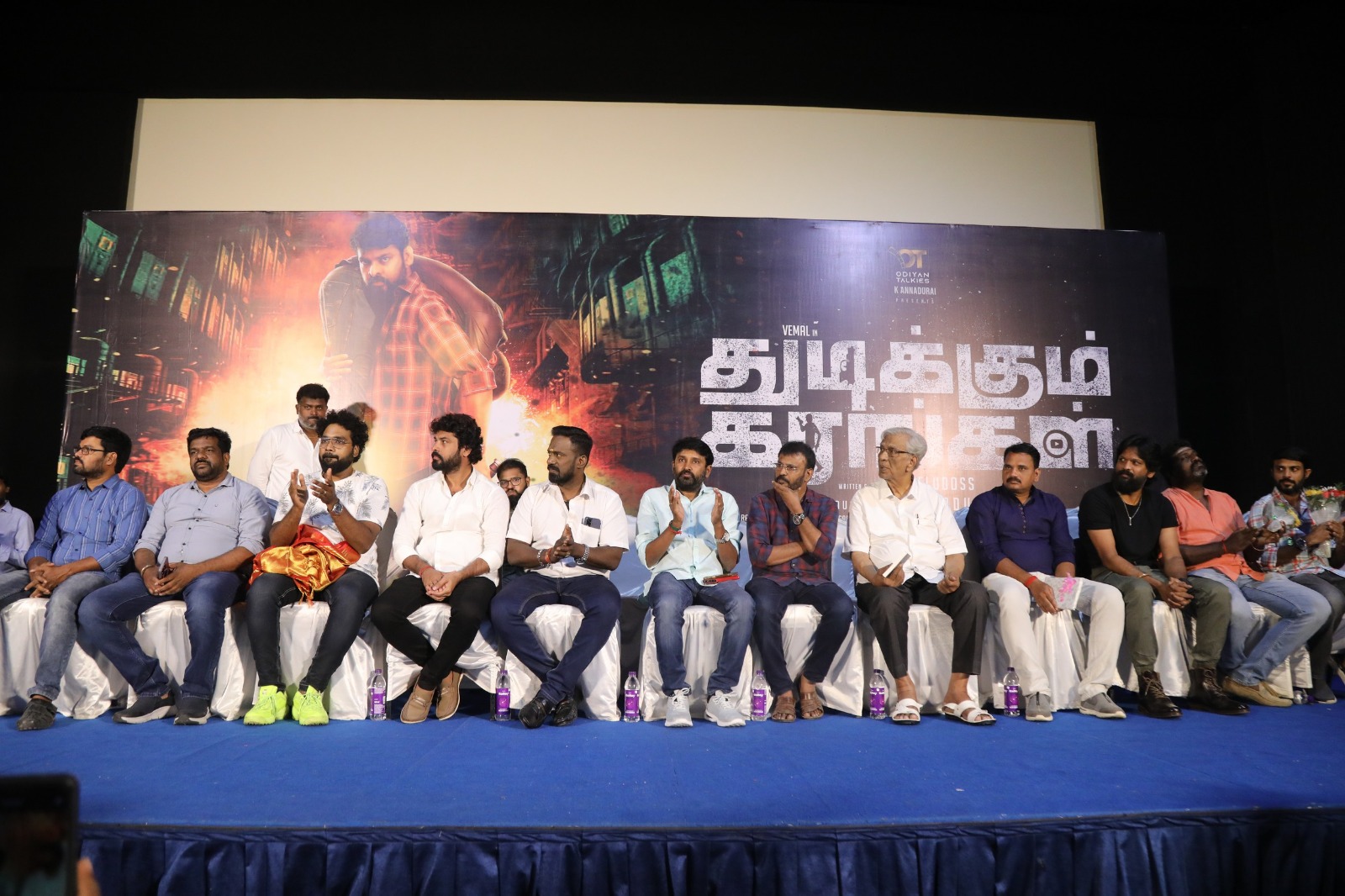 "Before the throbbing arms.. After the throbbing arms.." ; Vimal who broke the truth
"
"They have killed me several times in the last six months"; Robo Shankar Angam at the Throbbing Arms Festival*
"If there is a hero for producers, it is Vimal" ; Appreciation by K.Rajan
"Don't become a victim in the fight that YouTubers start" ; Director Perarasu Warning to Fans
40 years ago Superstar Rajinikanth's movie Thudikkum Karangal was released. Vimal is playing the lead role in a film with the same title produced by K. Annadurai under Odion Talkies. The film is directed by director Veludas. Veludas and Kalidas have also produced the film as co-producers. Starring Misha Narang as the heroine, the film stars Satish, Suresh Menon, Soundarraja, director Shanmugam, Sangi Murugan, Billy Murali and others.
Mani Sharma's brother Raghav Prasad has composed the music for this film and Rami, who has worked with Ramgopal Varma films, has overseen the cinematography of this film. Editing by Lawrence Kishore, art design by S. Kannan and fight training by Siruthai K. Ganesh Kumar. Viveka penned the songs.
The film is slated to release on September 1. Following this, the music launch of Thudikum Karalangal was held yesterday (August 23) evening at Prasad Label, Saligramam, Chennai. Producer K. Rajan, directors Prampara, Vasanthamani, Tirumala actors Robo Shankar, Kalivenkat, Danny Pope and many others participated in this event along with the film crew as special guests.
Speaking at this event, actor Soundarraja said, "Earlier, if you ask children what they are going to be after reading, they would say that they are going to become a doctor or a collector. But the media has become so powerful that if you ask the kids today, they will say they are going to be a big YouTuber.
At the same time, because everyone has become media, bad things reach more than good things. Most of the people believe what WhatsApp and YouTube say. So it is better to know the truth of what is being said.
The protagonist of this film, Vimal, has played the role of a YouTuber. Today the number of visitors to Chennai is high. That's why unhealthy food, especially biryani, is overused here. Director Veludas has conveyed the sensitive subject behind it with an entertaining touch." He spoke.
Director Shanmugam, who attended as a special guest, said, "Nearly five lakh people depend on cinema for work. So the government should focus on this. Director Veludas thought of me as an actor and invited me to act in this film. I didn't get set on the first day. But on the second day I changed myself to suit him. Cinematographer Rami's camera angles are all different as he has worked on Ramgopal Varma's films.
Director Veludas has taken up a topic that should become a headline. Director Veludas captures the essence of the film very well. He will become a great director in future. Similarly, Veludas is not willing to compromise on the budget. In the scene which was to be shot with 500 tempos, on the first day less vehicles came, so he canceled the shoot that day and shot the scene on a grand scale the next day," he said.
Director Thirumalai said, "Only ten people want to rule the film industry. Everyone should come together to prevent this. Producer K. Rajan is fighting for this alone. "Only if a hundred people come together can we drive away these ten people," he said.
Comedian Danny said, "I want to act as a character in a Jaikira film.. Simbu and I acted in an ad film. A lot of trouble and fuss was going on before he even got to the sets. But when he came, things started to go smoothly. It is difficult to see that even the big actors who have acted in the films that are released now have come down to do food reviews in the name of promotion," he said.
Actor Robo Shankar said, "A few YouTubers killed me several times in the last six months before I got sick and got treatment and returned home. How much pain they must have experienced in my house. Can you hurt an artist like this who entertains others?" He expressed his regret.
Producer K. Rajan said, "When big films are successful, the huge amount of money earned from them does not come back to the film industry. But when small films like these become successful, the money will circulate here again for the next film.