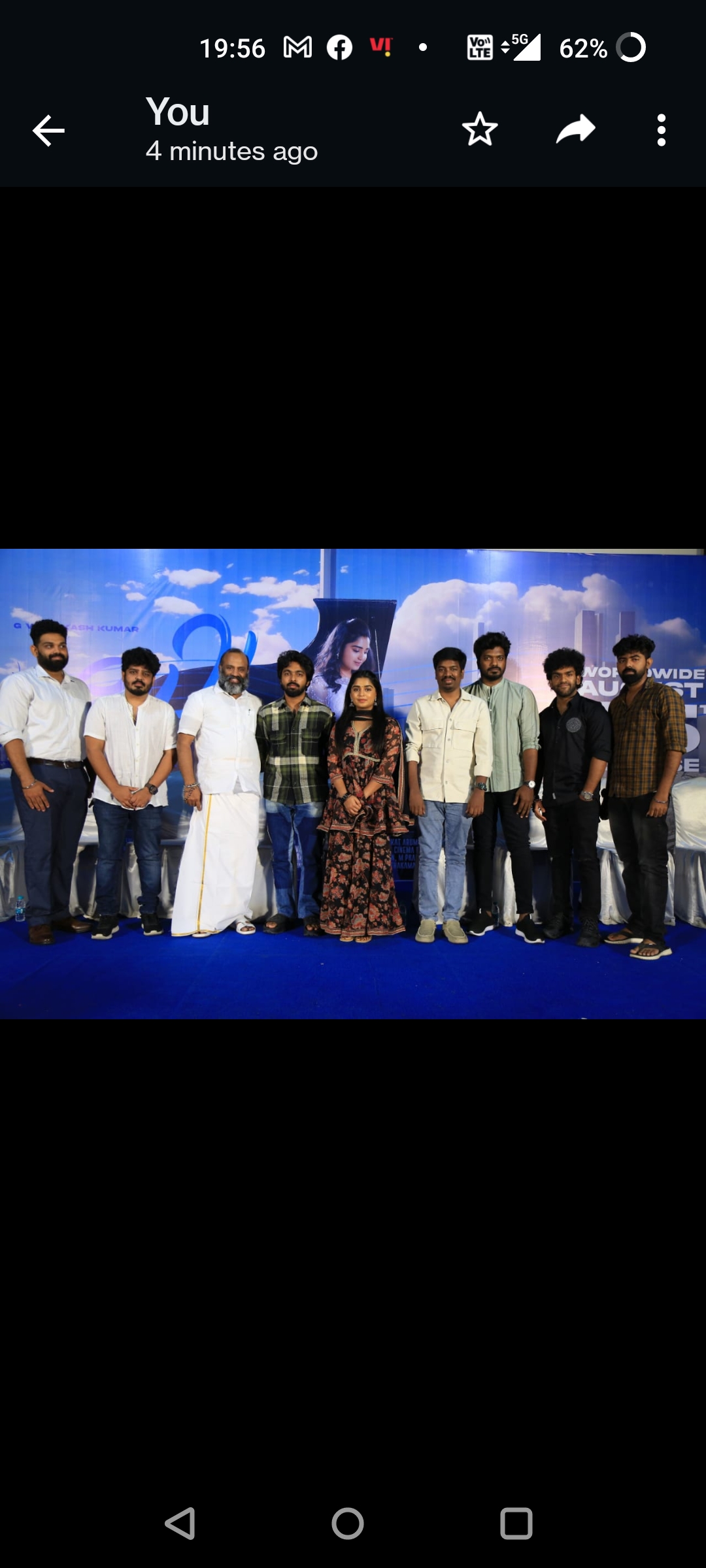 G.V. Prakash Kumar Starrer 'Adiye' Press Meet
Produced by producer Prabha Premkumar on behalf of Mali & Manvi Movie Makers, the film 'Adiye' is directed by Vignesh Karthik and stars G.V. Prakash Kumar, Gauri G. Kishan, Madhumkesh Prem, RJ Vijay, Venkat Prabhu and others have acted. The film has the cinematography by Gokul Pinoy and music by Justin Prabhakaran. Set in the parallel universe and alternate reality genre, the film will hit theaters worldwide on August 25.
In this case, the press conference of the film was held in Chennai. During this, the film's producer Prem Kumar, director Vignesh Karthik, actor G.V. Prakash Kumar, actress Gauri G. Kishan, cinematographer Gokul Pinoy, music director Justin Prabhakaran, cinematographer Muthaiyan and actor Madhumkesh Prem were present.
Producer Premkumar said, "Our company's first film 'Adiye' will be a huge success. Because the team led by director Vignesh Karthik has made a different movie. All the actors in this film have given full cooperation. Especially G. V. Prakash Kumar's collaboration is unforgettable. Whenever asked, he attended wholeheartedly without any hindrance and performed. All technicians like cinematographer, music director gave their full contribution. Our company will grow as a quality production company in Tamil film industry by continuously delivering good films. I request everyone to support this," he said.
Actress Gauri G. Kishan said, "Adiye is the most important film in my film journey. I would like to thank Mali & Manvi Movie Makers for this opportunity. It's a different film. Parallel universe, alternate reality genre has never been attempted in India. The story of this film is complex. But with the complete cooperation of the film production company, we have made the film elegantly. Thanks everyone for this.
Everything in my life has always happened unexpectedly. Just like the opportunity I got to act in 96.. I heard the story through just one phone call and immediately agreed to act in this movie. Usually I listen to the stories and patiently choose and act. But after hearing the complete story of Adiye, I agreed to act. Another reason for that is Gee. V. Prakash Kumar. I am a fan of his music. Although everyone is a fan of his music, his performance in this film will be good. Acting with him was an unforgettable experience. There is also a song in the name of my character in this film. I am waiting with hope that this movie will be a big turning point in my film career. I hope that after the release of the film on August 25th, my character will be talked about by the fans.
Venkat Prabhu is playing an important role in this movie. I am his fan and he has done a great job.
We have played two characters in this film. It was different.
Gokul, the cinematographer of the film, has presented this very complex story in a simple way.
Actor Madhumkesh Prem has acted well in this film even though he is a newcomer. He also faced all the challenges that I faced when I was playing a new face five years ago.
After the corona virus, the number of people visiting theaters has increased. That way, if you visit the theater to watch this film, you will get the experience of seeing and enjoying a new work. " said
Music composer Justin Prabhakaran said, "Composing music for this film was very fulfilling. The director made my job easy. G.V. acted in the film. Prakash Kumar, Gowri, RJ Vijay all did their job well. While watching the film, there was silence in many places without background music… it would be better if it was quiet.
This is my fifth film with cinematographer Gokul. He has framed this story in such a way that it can be understood through different lightings. You will enjoy both different worlds very well.
Film editor Muthaiyan's hard work is visible in this film. This can be said to be his best work. It was his composition.. that inspired me to compose music.
Gee. V. Prakash Kumar can create positive vibes.
Thanks to all of them.
Cinematographer Gokul Binoy said, "Once the director told the story of the film, the challenge was how we were going to present this very complex story in a way that everyone could understand. Film Production Company, Actors, Actresses, Technical College