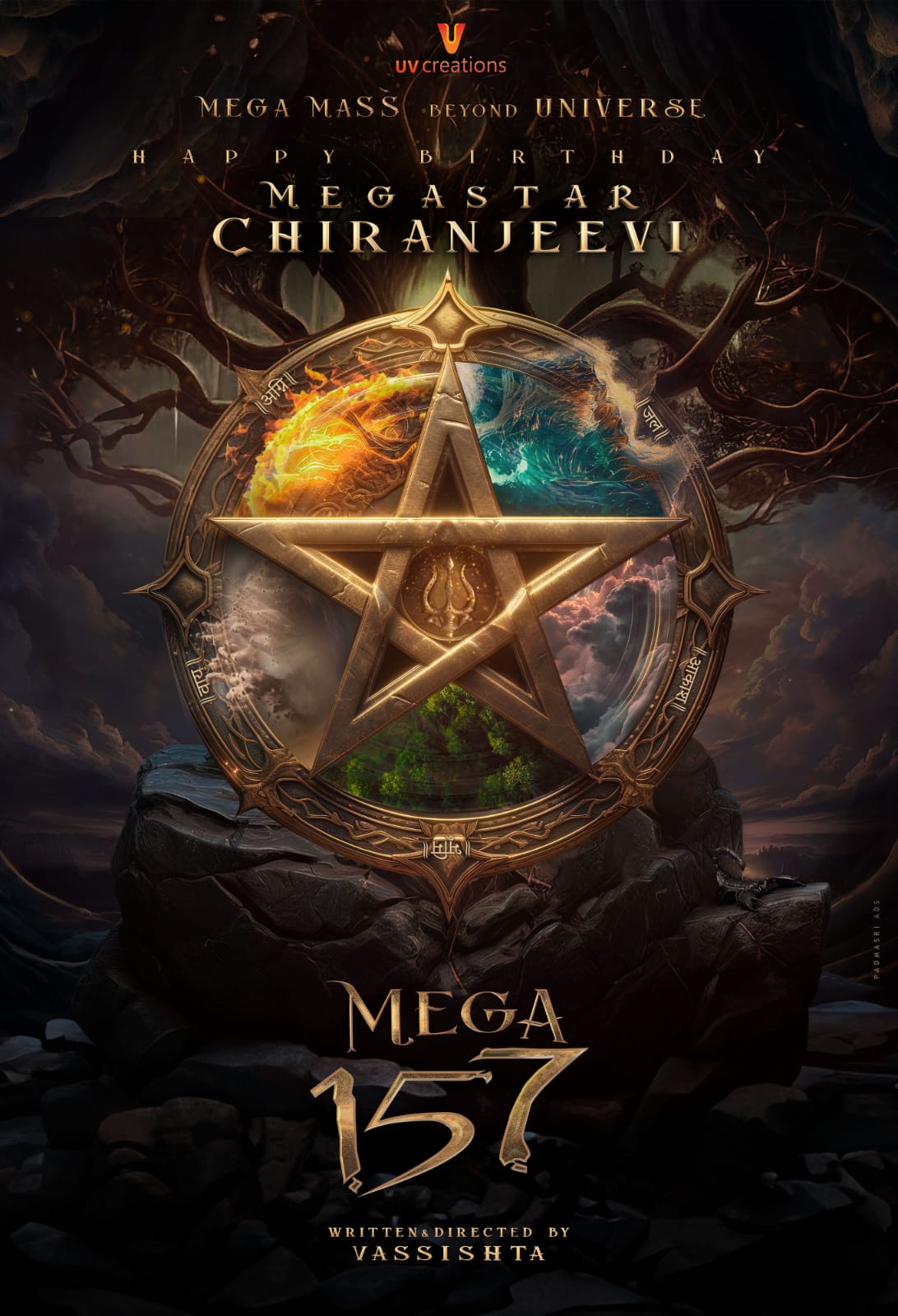 Megastar Chiranjeevi, Vashishtha, UV Creations – Unimaginable Mega Mass Movie – Mega157 Announcement !!
It will be beyond the imagination of the fans. Fans who are keen to see Chiranjeevi in another fantasy entertainer like Jagateka Veerudu Atiloka Sundari, one of the evergreen classics of Telugu cinema, will surely be delighted with this announcement. After a long time, Megastar Chiranjeevi is going to star in a fantasy film and this new film is being directed by Vasishtha, who took us to another world with his Bimbisara. Produced by V Vamsi Krishna Reddy, Pramod Uppalapathy and Vikram Reddy under the successful banner UV Creations, #Mega157 will be the biggest budget film of Chiranjeevi's career.
Vashishtha is going to show us the Mega Mass Universe with the film which has been officially announced today on the occasion of megastar Chiranjeevi's birthday. The mesmerizing announcement poster features the panchabhutas (five elements of nature) like earth, water, fire, wind and sky in a star shape, surrounded by an object with a trident. This amazing poster confirms that we are going to see something that we can't even imagine.
Film is a powerful tool to ease us from everyday reality, a story with fantasy genre can take you to another world completely and if a star like Chiranjeevi acts in such a big movie, it is very interesting and easy to hook us. Vasishtha has proved her mettle in her debut film and with leading production house UV Creations producing the film, #Mega157 is going to be a colossal creation.
Actor : Mega Star Chiranjeevi
Technical Committee
Written & Directed by : Vasishta
Producers: Vamsi, Pramod, Vikram
Production Company : UV Creations.