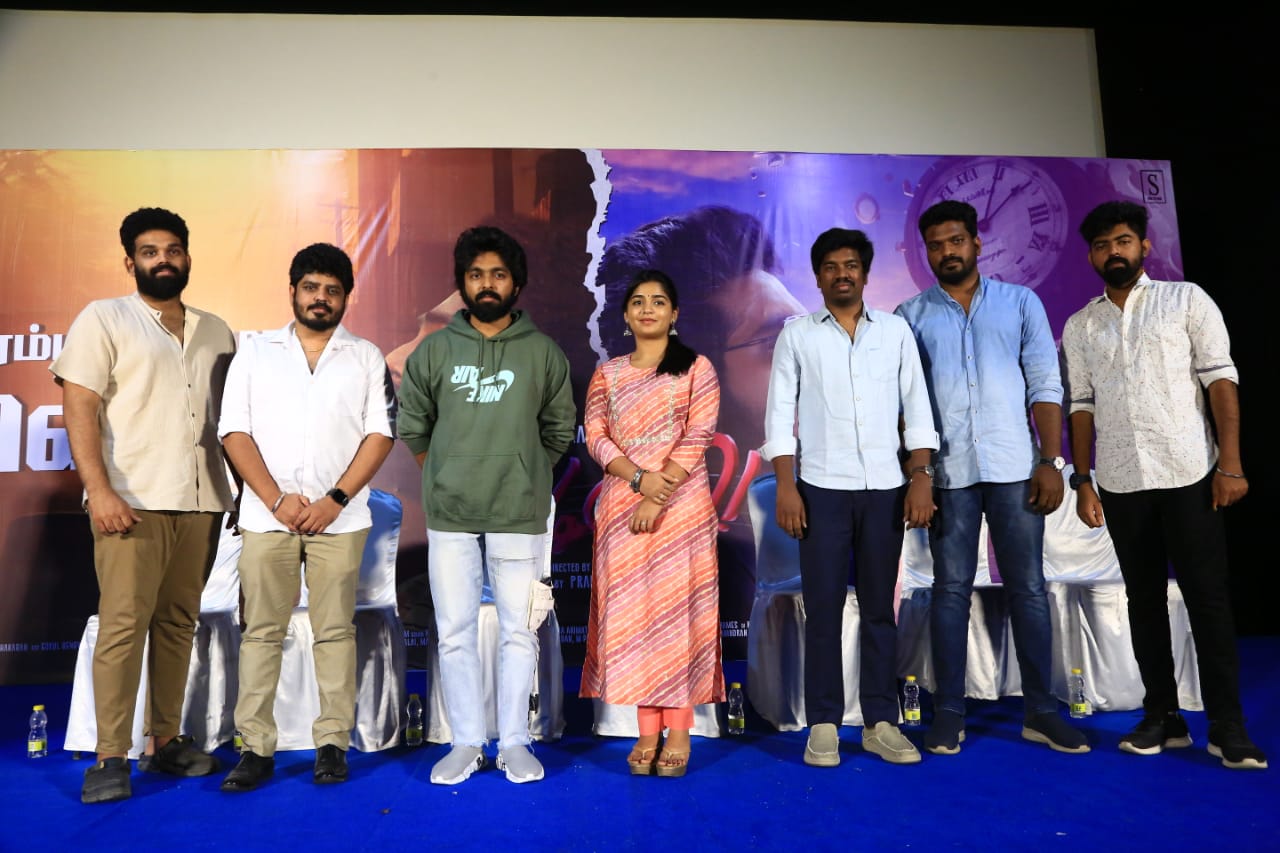 Thank you ceremony of 'Adiyae' film crew
'Adiyae' film team thanked the media and fans*
Produced by producer Prabha Premkumar on behalf of Mali & Manvi Movie Makers, 'Adiyae' released on 25th August. Directed by Vignesh Karthik, this movie features JV. Prakash Kumar, Gauri G. Kishan, Venkat Prabhu and others have acted. The film has the cinematography by Gokul Pinoy and music by Justin Prabhakaran. A huge critical and box office hit, it is still running successfully in theaters across Tamil Nadu and the world.
In this case, a thanksgiving ceremony was held in Chennai on behalf of the film crew to the fans and the media who were responsible for the success of this film. During this, production coordinator Mahendra Prabhu, director Vignesh Karthik, hero G.V. Prakash Kumar, heroine Gauri G. Kishan, cinematographer Gokul Pinoy, music director Justin Prabhakaran and film editor Muthaiyan were present.
Mahendra Prabhu, Production Designer, Mali & Manvi Movie Makers, said, "Director Vignesh Karthik surprised us by telling a beautiful story beautifully. I believe that the reason for the film's huge success is that the fans understood and accepted it accurately.
Our company's mission was to provide people with a good movie. For this, from the production stage of the film.. we created the best quality at all stages. And we planned to release this movie all over the world. In that way, we have released this film in many countries like Malaysia, United Arab Republic, Canada and Australia. The film has received great response there as well. Through this, our company has got the identity of a company that produces quality works at international level. We feel we have succeeded in our goal. I would like to take this opportunity to express my gratitude to the film crew, media and fans for their support.
Our Mali & Manvi Movie Makers' next production will be directed by Ganesh Babu who directed the hit film 'Da Da'. The official for this will be released soon," he said.
Actress Gauri G. Kishan said, "This is the way the media has been giving the film a lot of support since its inception. First of all thanks for that. Sentajini – A character beyond my age. I have acted in it. I am thankful to director Vignesh Karthi for this. I had no doubts when he approached me for this role. I thought it was a challenging character.
After the role of Jaanu, I have played the more compelling role of Sentajini. Sentajini is a character close to my heart. My favorite role too. In some films we have played two roles. But I had many versions of this film. This character was challenging for me as an artist. The story also created great anticipation during the run.
After watching this film, many people on social media praised it as 'You have forgotten Jaanu'. It made me happy.
Thanks to Mali & Manvi Movie Makers for making this movie. I have also acted in Yogi Babu's forthcoming film 'Bode' directed by Simbu Devan under their production.
Director Vignesh Karthik's creative imagination and visual imagination are the key. He has always been a different thinker. I have also worked with him on another work. A related announcement will be released soon.
Gee. V. Prakash Kumar is a co-star who played the two roles of Arjun and Jeeva in this film. We are now good friends after shooting.
A creator can think of an alternate reality. But it is difficult to display it on screen. My thanks to the cinematographer Gokul Pinoy for facilitating it.
'Adiye' is currently running in theaters for the fourth week. I hope this movie will be released on digital platform soon and it will be successful."
The hero of the film is Jee. V. Prakash Kumar said, "First of all, I have to thank the media. After an exclusive screening for the press, the film received rave reviews and reached the masses through social media.
Following this, the film became a huge commercial success as well. It's rare to invest in the current environment and make a film, release it in theaters, be successful, and turn a profit. In that sense, it is good that the film has been successful at the box office as well. After my films 'Bachelor' and 'Selfie', the film 'Adhiye' was also offered to the producer.