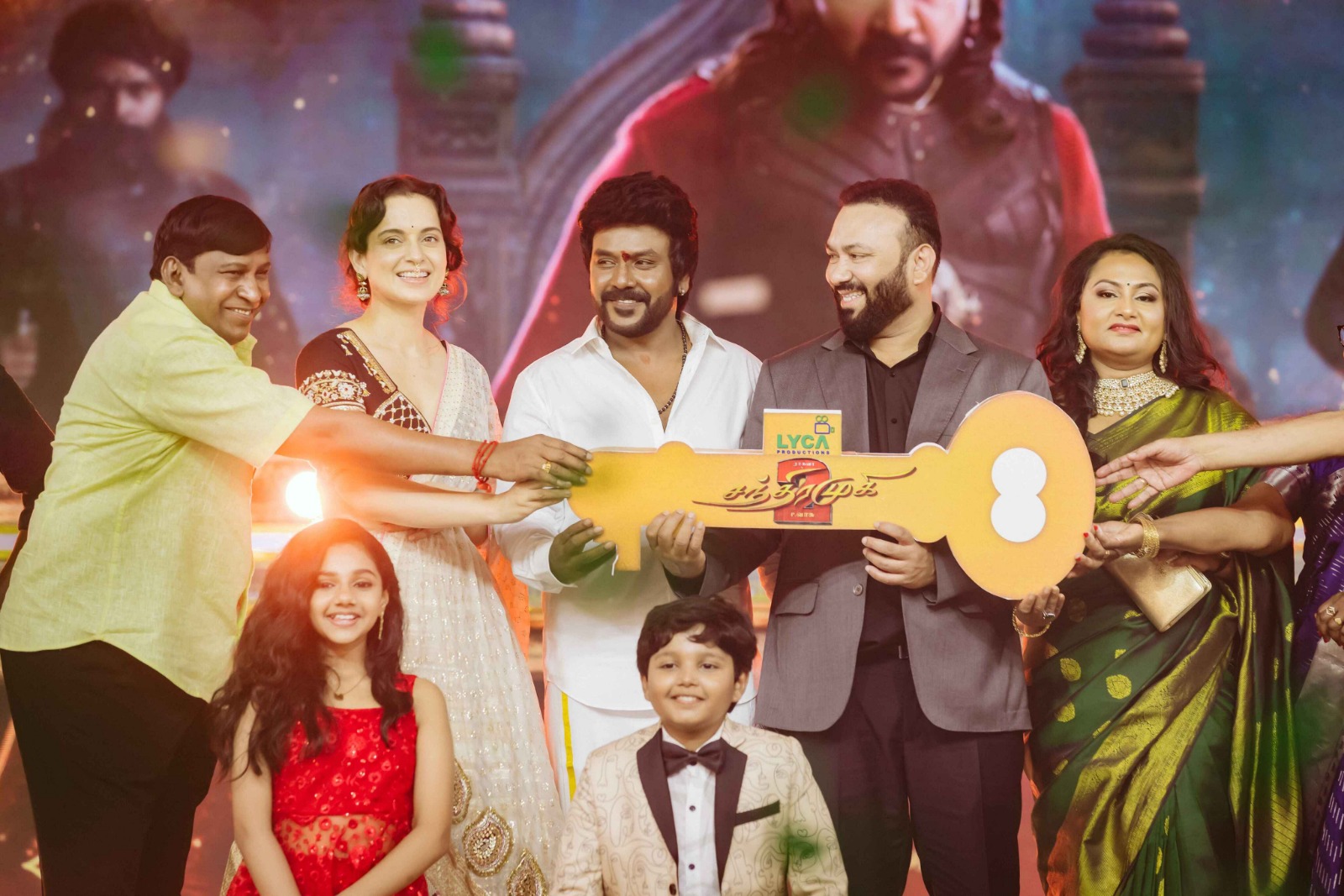 Ragava Lawrence Starrer 'Chandramukhi 2' Music Release
'Oscar Nayagan
' M. M. 'Chandramukhi 2' songs released in Keeravani music
Lyca' Subaskaran donates one crore rupees to Raghava Lawrence Foundation
Lyca's 'Chandramukhi 2' Music Release
The music launch of the film 'Chandramukhi 2', which is being produced by producer Subhashkaran on behalf of Lyca Productions and starring leading star Raghava Lawrence, was held in Chennai on a grand scale. Laika Subhashkaran, who attended the function, donated one crore rupees to Raghava Lawrence's foundation.. 'Chandramukhi 2' is the 65th film directed by Vasu and it stars Raghava Lawrence, Bollywood actress Kangana Ranaut, 'Vaigaipuyal' Vadivelu, Mahima Nambiar, Lakshmi Menon, Srishti Dange, Rao Ramesh, Vignesh, Ravi Maria, Suresh Menon, Subhiksha Krishnan and others. . R. D. Rajasekhar's cinematography for this film has been composed by Oscar-winning music composer MM Keeravani and Thota Dharani has done the editing work to oversee the art direction. This action comedy horror movie is produced by Laika Productions at a huge budget. With GKM Tamil Kumaran as the helmer, the release of the film is going on in full swing.
The music release ceremony of the film, which will be released on September 15 on the occasion of Vinayagar Chaturthi, was held in a grand manner at the private engineering college's theater in the outskirts of Chennai. Producer Laika Subhashkaran, Mrs. Prema Subhashkaran and Subhashkaran's mother Gnanambikai were also present at the music launch event. The festival was celebrated with singing and dancing.
Lyricist Madan Karki said, "I stayed in Mysore with music composer Keeravani to compose the songs for the film. The way each song evolved was interesting and unforgettable. Can we go to his room and start composing? When asked, he said first play chess with me. After two hours, he shared his experiences. After that he created the songs in a short period of time. I am a huge fan of his melodious songs.
He clarified one thing to me and director Vasu Sir. He said let Chaitanya Prasad write songs for the Tamil version of Chandramukhi 2 and Madan Karki for the Telugu version. I wrote the Tamil songs for the Telugu version. Chaitanya Prasad wrote the Telugu songs for the Tamil version. It was a great pleasure for me. I have worked with lyricist Chaitanya Prasad in several film. I sincerely appreciate Vasu. Because the first part of Chandramukhi and the second part have nothing to do with each other except Vadivelu. But he has made Chandramukhi 2 very intelligently by setting the story and screenplay.
A lot of people feel that the songs don't come out in the context of the storyline. Each and every song in this movie is a beautiful melody for me. Beautiful environment. I have written five songs. I am sure you all will like all the songs," he said.
Actress Mahima Nambiar said, "I feel happy. Director B for giving me the opportunity to act in this film. Thanks to Vasu, Lyca Productions Producer Subashkaran and Master Raghava Lawrence. Working with everyone including Vadivelu Anna on the set was an unforgettable experience. He doesn't like Raghava praising Lawrence. A few things must be said though. His most frequent saying is 'Service is God'. Those who serve are Lord Himself..! The hero I met in real life.. God.. Master Raghava Lawrence sir. Now I am very happy. " said.
Actress Subiksha Krishnan said, "I am a huge fan of the first part of Chandramukhi. What is your dream role in many interviews? When asked, I expressed my desire to act as Chandramukhi. What are you really thinking about in your mind..! They say it will happen at some point. That is why I am standing before you on this platform.
There are few back-patters and cheerleaders in the film industry. There are a lot of cheaters. Among the cheerleaders..one of the very few is Master Raghava Lawrence. He shares a lot of useful information about fitness…motivational…career…dancing while working on the sets.
I was amazed to see the dedication of Kangana madam in the song 'Swagathanjali..'. Seemed to learn a lot from you.
In all, it was a grand gala event!