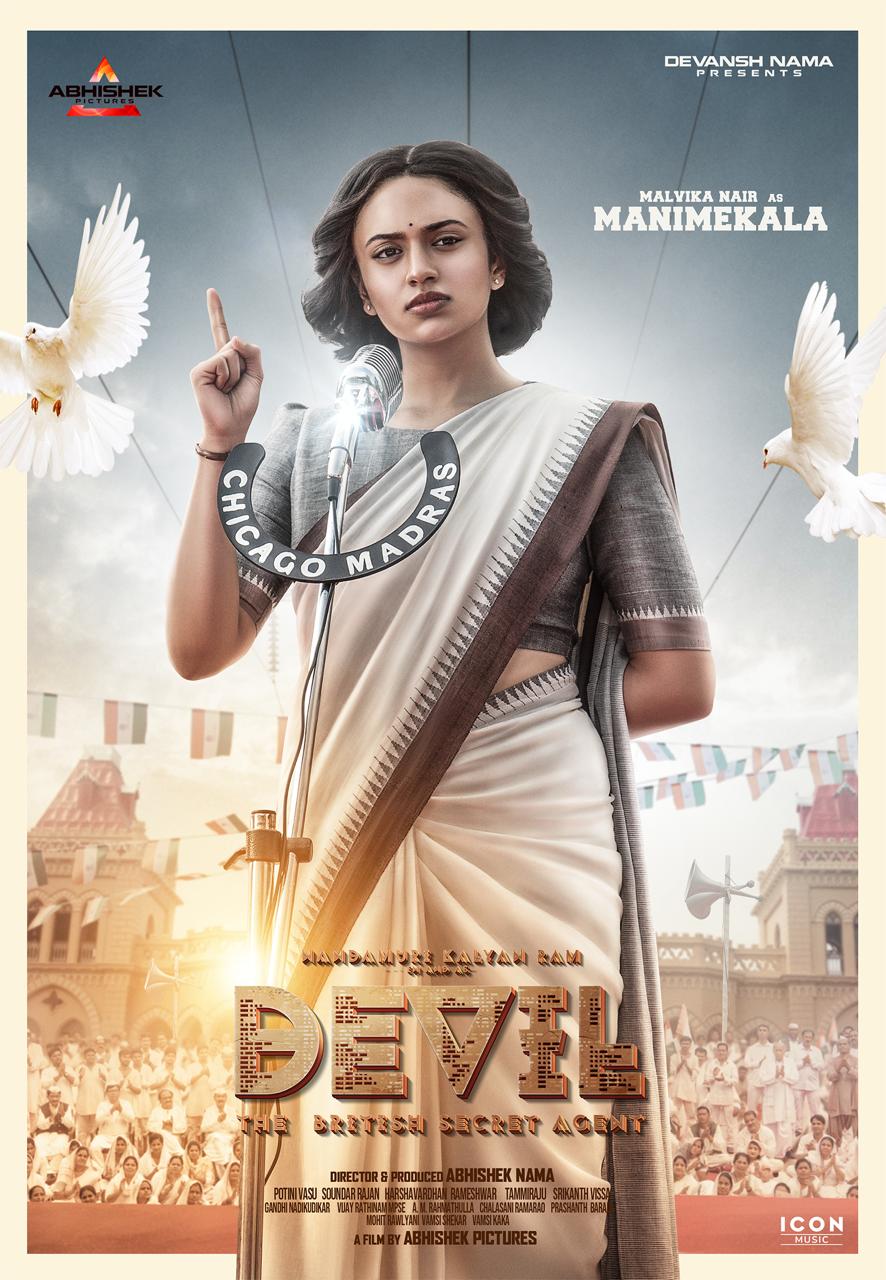 Malvika Nair as a powerful politician in Nandamuri Kalyan Ram's spy thriller 'Devil'
Nandamuri Kalyanram is known for his knack in selecting unique scripts right from the beginning of his career is bringing another interesting film. The film titled stirringly as Devil which denotes the ferocity of the protagonist. And it comes with the tagline- The British Secret Agent. The film is Directed by Abhishek Nama.
The film's teaser was released recently and it made us all to anticipate more from the film. The film will be released in theatres on November 24, 2023. On Sunday, the makers released the look poster of heroine Malvika Nair, who is playing the role of a powerful politician role in this movie.
Malavika Nair will be seen in the role of Manimekala. If you look at the poster of her look, she is seen in a different hair style. She is giving a political speech and the Pigeons which e.brace peace are seen the poster. In the film 'Devil', Nandamuri Kalyan Ram is going to impress as a British secret agent who solves a secret that is very difficult.
Abhishek Pictures, known for their remarkable productions, presents Devil. The production designer Gandhi Nadikudikar has diligently worked to create a visually stunning experience for the viewers. Cinematography by Soundar Rajan.S and editing by Tammiraju are expected to bring the story to life on the silver screen.
The talented team of Srikanth Vissa has beautifully crafted the story, screenplay, and dialogues, ensuring a gripping and engaging narrative for the audience. More details regarding this said-to-be period spy thriller will be out soon.
A film by Abhishek pictures
Cast: Nandamuri Kalyan Ram, Samyuktha and others
Banner: Abhishek Pictures
Presented by: Devansh Nama
Director & Producer : Abhishek Nama
Story, Screenplay, Dialogues: Srikanth Vissa
Cinematography: Soundar Rajan.S
Music: Harshavardhan Rameshwar
Production Designer: Gandhi Nadikudikar
Editor: Tammiraju
Ceo : Potini vasu
Story Development : Prashanth baradi
Co Director : chalasani ramarao
Costume Designer :Vijay Rathinam MPSE
Re-Recording Mix : A M RahmathullaA. M. Rahmathulla
Stunts : Venkat Master
Poster designs : Kanni Studios
Digital Marketing: Walls & Trends
Pro : Yuvraaj
A Film By Abhishek Pictures