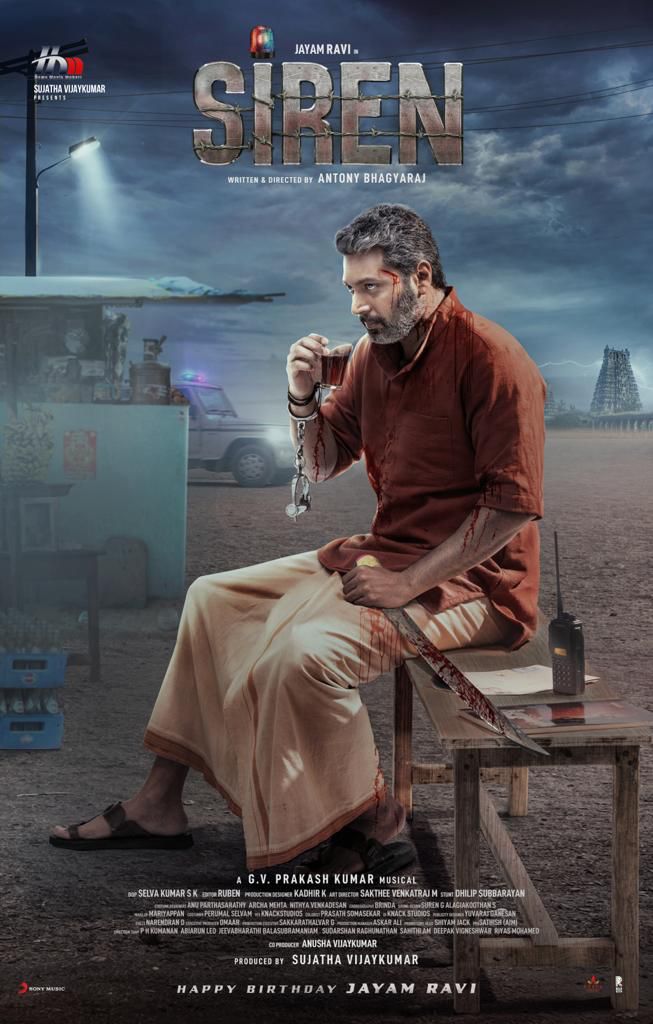 Jayam Ravi's 'Siren' Pre-Face released on his birthday!!
'Siren' Jayam Ravi character's pre-face look!!
Producer Sujatha Vijaykumar's Home Movie Makers is producing 'Siren' that features Tamil film industry's leading and happening actor Jayam Ravi. The film is directed by debutant Antony Bhagyaraj. Marking the special occasion of Jayam Ravi's birthday today (September 10, 2023), the makers have revealed his character look in the name of 'Pre-Face Look'.
Actor Jayam Ravi has carved a niche of excellence by differing in genres, roles and scripts from one film to the other. With the earnest intention of enthralling his fans, the producers have revealed a Pre-Face Look of Jayam Ravi's character, which isn't a mere first look poster, but a special video.
This Pre-face look exhibits a fresh avatar of Jayam Ravi that he hasn't appeared before in the past 21 years of his film journey. The stylish salt and pepper look of the actor leaves everyone enchanted. The actor took scrutinising efforts in moulding his physique for this film by spending quality time of more than one and half years. Well, the results are so evident with the pre-face look, where he shows up like an angry and terrific man. In contrast, Jayam Ravi will be appearing in another look as a cute handsome shade that will be a huge surprise for fans.
Antony Bhagyaraj, who proved his caliber as a fabulous writer in the movies like Irumbu Thirai, Viswasam, and hero is making his directorial debut with this movie.
The film, produced in grandeur, is made at a whopping budget with the elements that will appeal to the interests of family crowds. Jayam Ravi will be appear in two different looks for this film, which will be a sure-footed treat for his fans. Keerthy Suresh is sharing the screen space with Jayam Ravi for the first time. Yogi Babu's character wouldn't be confined merely to the hilarious boundaries, but he has a pivotal role to perform as well.
With the film's shooting completed, the postproduction work is happening in full swing, and is nearing completion at a brisk pace. The official announcement on the film's audio, trailer and the worldwide theatrical release will be made soon.
Technical Crew
Written and Directed by Antony Bhagyaraj
Production: Sujatha Vijaykumar
Co-Production: Anusha Vijaykumar
Music: GV Prakash Kumar
Cinematography: Selvakumar S.K.
Editor: Ruben
Art: Sakthi Venkatraj M
Stunts: Dhilip Subbarayan
Choreography: Brindha
Costumes; Anu Parthasarathy, Archa Mehta, Nithya Venkatesan,
Sound Design: Suren G Azhagiyakoothan
Makeup: Mariyappan
Costumer: Perumal Selvam
VFX: DTM Lavan Kusan
Publicity Designer: Yuvaraj Ganesan
Colorist: Prasad Somashekar
DI: Knack Studios
Stills: Komalam Ranjith
Executive Production: Omar
Production Executive: Chakratthalwar G
Production Manager: Asghar Ali
PRO: Sathish, Siva (AIM)
Motion Poster: Venky (Venky Studios)