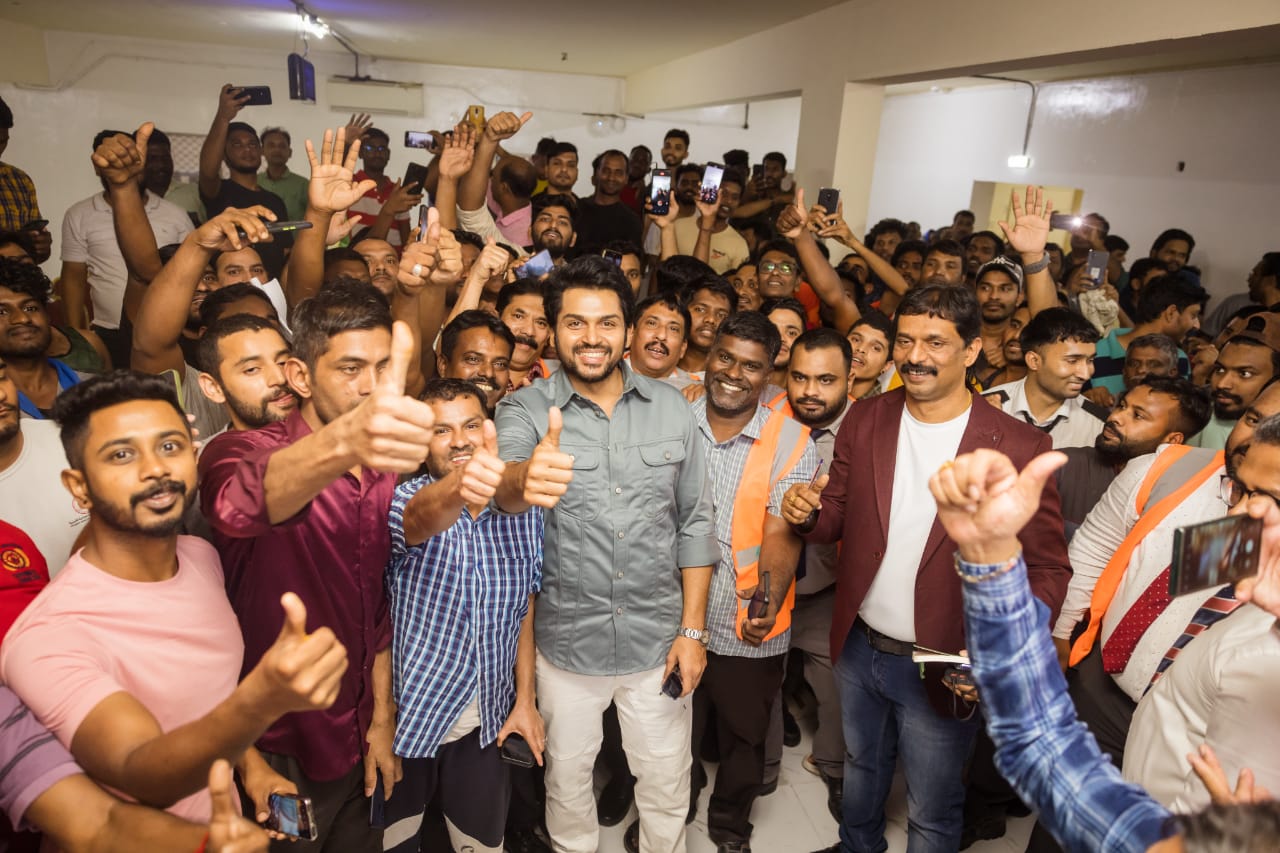 Karthi visits Labour Camp in Dubai, the first actor to visit the workers and celebrate Diwali with them
Actor Karthi is aggressively promoting his upcoming Diwali biggie Japan in various cities including Chennai, Kochi, and Hyderabad. As a next step of the whirlwind promotions, Karthi also visited Dubai and promoted his 25th film in Silicon Oasis Mall. He shared his experience while donning the quirky baddie Japan and how it was challenging, the actor said that the role has flavors of Rolex and Rocket Raja.
Karthi also visited Burj Khalifa as a part of the promotions. Known for his philanthropic activities, Dubai's entrepreneur and film producer Kannan Ravi told the actor about the 'Labour Camp', the place where working-class Indian labourers stay in Dubai.
Knowing the hardships of the workers who stay in the labor camp without basic facilities, Karthi expressed his wish to meet them and celebrate the Diwali festival in advance. After visiting the camp, Karthi came to know that the workers in the Labour Camp stay without air conditioning despite the extreme climatic conditions in Dubai and they stay for years separated from their families to provide them a good livelihood.
Karthi distributed sweets to all the workers who told him that he was the first-ever Indian actor to visit them. Generally, actors promote their films in posh shopping malls and star hotels in Dubai but they haven't met these hard-working people in Dubai. All the workers were very touched and moved by the gesture of the actor, they also expressed their happiness in seeing a film star in close proximity.
The actor has also turned emotional on seeing the tribulation of the workers. Besides Japan, Karthi has an impressive lineup of films to be directed by Nalan Kumaraswamy (Soodhu Kavvum), Prem Kumar (96), and Sardar 2, and he will also soon start shooting for Kaithi 2 with Lokesh Kanagaraj.