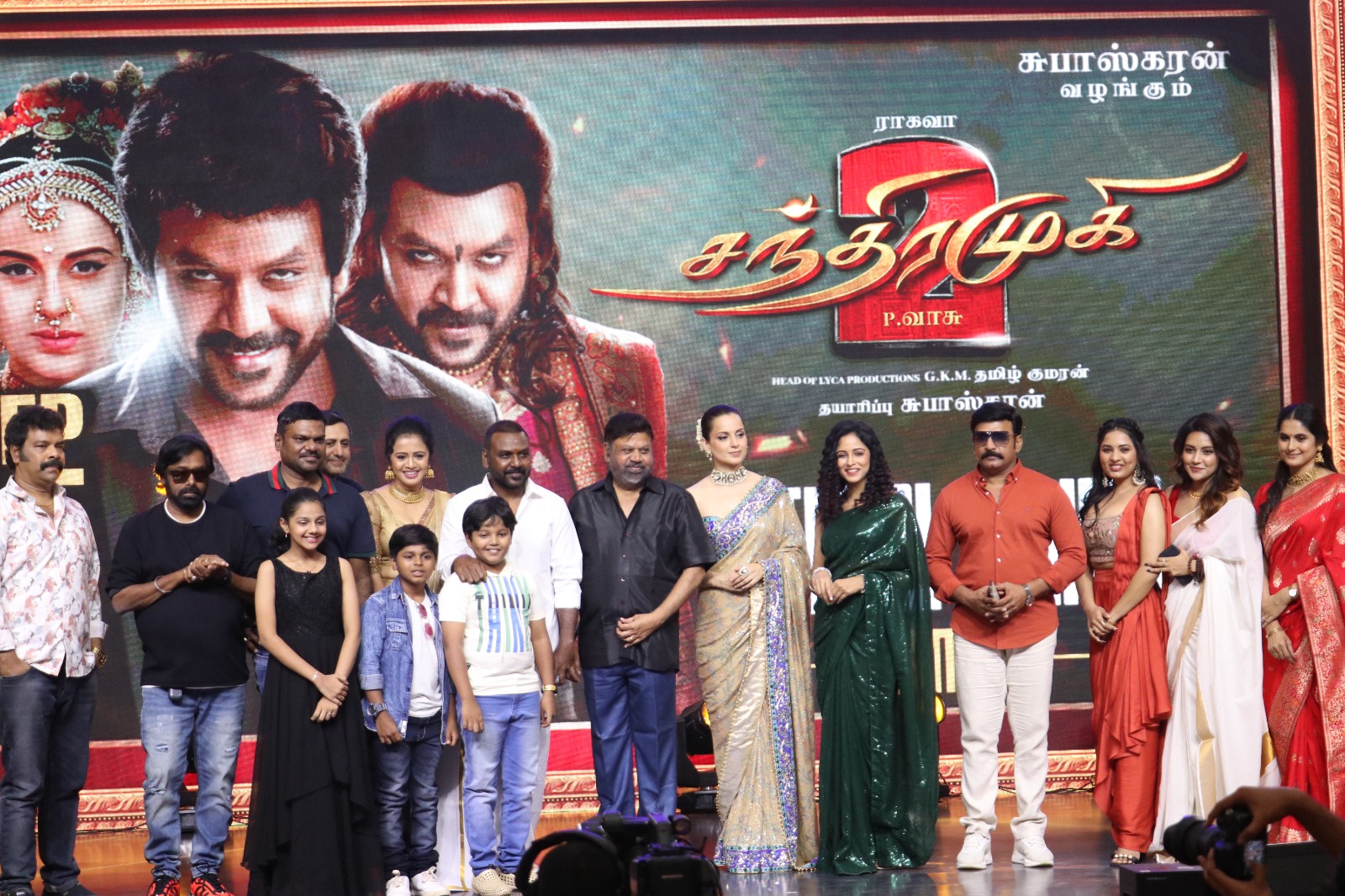 Chandramukhi 2 trailer release
Don't compare Superstar Rajinikanth with anyone- B. Vasu
The trailer of 'Chandramukhi 2', produced by Laika Subhaskaran and starring Raghava Lawrence in the lead role, which will hit the theaters worldwide on 15th September, was released today.
Director B. 'Chandramukhi 2', the 65th film directed by Vasu, stars Raghava Lawrence, Bollywood actress Kangana Ranaut, 'Vaikaipuyal' Vadivelu, Mahima Nambiar, Lakshmi Menon, Sirusti Tange, Rao Ramesh, Vignesh, Ravi Maria, Suresh Menon, Subhiksha Krishnan and others. R. D. Rajasekhar's cinematography for this film has been composed by Oscar-winning music composer MM Keeravani and Thota Dharani has done the editing work to oversee the art direction. This action comedy horror movie is produced by Laika Productions at a huge budget. With GKM Tamil Kumaran as the helmer, the release of the film is going on in full swing.
A preview of the Tamil and Telugu version of 'Chandramukhi 2' was released at the film's exclusive trailer launch event held at a private mall in Chennai. Lyca Productions CEO GKM Tamil Kumaran, director P. Vasu, Raghava Lawrence, Kangana Ranaut, Mahima Nambiar, Srishti Dange, Subhiksha Krishnan, child stars Manasi, Deeksha, actors Ravi Maria, Vignesh, Cool Suresh and other film crews were present.
Actress Kangana Ranaut said, "I have acted in the comedy horror film 'Chandramukhi 2' for the first time. In the Hindi version of this film, I have spoken the background. The background was difficult and challenging to talk about. Especially when talking to each other. I have danced in this film. I have also acted as a ghost.
As far as South India goes, I love rasa rice.
As Raghava Lawrence calls me 'Hi Gangu', I want to call him 'Hi Rahu'. Some of Raghava Lawrence's antics on the sets are to be enjoyed. He keeps it lively by telling jokes and short stories. Acting in this film was a different experience. It is impossible to forget," he said.
Director P Vasu said, "First of all, I would like to thank the fans and visitors who have come to this festival and are standing and cheering tirelessly. Producers, actor-actresses, technicians are my family. When this film becomes a success, 50 percent goes to the technicians and 50 percent to the actors and actresses.
How do you see the technology that has grown so often with me? They will ask. The only example is Cool Suresh. I am updating myself by seeing many people like him. He is not a director. However, he has tried hard and registered his unique identity. It is the duty of people like me to appreciate artists like him.
Similarly, when I was working as a director, Raghava Lawrence told me, 'I am playing in the fourth row. Sir, I long to move forward one row and play in the third row. Raghava Lawrence rose from the fourth row to the first row to dance assistant and choreographer through hard work. After that he worked as a choreographer in a film directed by me. After that he became a hero.. by doing good deeds.. he has a place in everyone's mind. With his efforts.. with his hard work.. he has progressed to this place. A good hearted person who shares what he has with others.
All the fans who watch this movie will first appreciate Raghava Lawrence's performance. After that you will appreciate Kangana's character Chandramukhi. Apart from that, you will also talk about all the actors in the film. Because everyone is given importance.
Subhaskaran is a wonderful boss we have got. If we have to say about him in one word.. ten thousand families live because of him. But Subhaskaran is the one who knows nothing of this. I will tell my assistants and employees about him. The boss is from somewhere.. earns.. sends for us. We are blessed to have him as our producer. It is a great blessing not only for us but also for the Tamil film industry. The only person who gained his trust was our GKM Tamil Kumar.
Subhaskaran was sitting next to me at the audio release function. When the differently-abled artists were dancing on the stage, he called Tamil Kumaran and said only one word. He immediately gave them a donation of one crore rupees on the stage and sat with them. good man They say Dharma Talikakum and that is evident in the success of this film.
'Chandramukhi' moviIf you visited without any expectations and went away with satisfaction, come and watch 'Chandramukhi 2' without any expectations. You will get complete satisfaction. I have that hope.
I want to say one more thing here. Don't compare anyone with superstar. Revolution actor MGR is the only one… Actor Thilakam Sivaji Ganesan is the only one… Vijay and Ajith each have their own identity in the world. Everyone has worked hard to reach this place. People give the fruits of it. Similarly, the people will give the title to it. So no one needs to talk about the title of superstar. It is not necessary. Thank you" he said.
Star actor Raghava Lawrence said, "First of all, we have to thank the superstar. If the film 'Chandramukhi' starring him is not a huge hit, then there is no 'Chandramukhi 2'. For this Superstar-Director B. First of all I would like to thank Vasu-Shivaji Productions. If they didn't make Chandramukhi, there would be no 'Chandramukhi 2'. They have planted a big tree. We eat and enjoy its fruits and benefits.
Actor Kool Suresh referred to me as a superstar many times while speaking because of his love for me. The superstar problem continues today. I have to give an explanation because I have been associated with the superstar.
Has Vijay ever asked anyone… that I want the title of superstar? Or did he announce it somewhere? That I want the title of superstar. Whenever I meet Vijay, he tells me the leader is good? He will ask that first. So Vijay has respect for Rajini sir.
On meeting the superstar, he said, 'Beast is going well. The film is superb. Collection is good. He will say that they told him from Sun TV.
So there is no problem between these two.
I think a little story can be told for this. A coconut tree. A mango tree. Can mangoes grow on coconut trees? Can a coconut grow on a mango tree?
God-ordained destiny is different. But both grow in the same soil. How to separate it.. How to separate two children of the same mother..?
But in the middle, a coconut sprouts from that mango tree..! After saying that, he left. Seeing that, everyone started saying that there is a coconut in the mango tree.
The mango tree knows very well that I will give only mangoes… The coconut tree knows very well that I will only give coconuts.. But there are people doing this business in the middle..! This is what they said. I request them. Don't do this please leave.
We are all brothers and sisters here.. we are one family. We are united. Don't tear us apart.
Who will come and be the next superstar? If asked, 'Coconut grows on a coconut tree. Answer 'The mango from the mango tree sprouts'.
Big thanks to Subhaskaran, the producer of the film. Most recently, he hosted the music launch party of 'Chandramukhi 2' in a grand manner. At that function he donated one crore rupees to my disabled students. Within 15 days of the completion of the event, he releases such a grand preview and holds the festival.
It is an honor to work for Leica. The company's productions feature leading star actors. As far as Laika is concerned, Subhaskaran's idea is GKM Tamil Kumaran who gives it shape.
After watching the preview of Tamil Kumaran, he called me and excitedly told me that the trailer is on another level. I just sat down and watched the preview of the film with you and it's so grand and elegant. My thanks to Tamil Kumaran and the managers working with him who have taken this film to all places.
Director B. I mentioned Vasu on the stage during the last function. He was the director even as I was a dancer. Even after I became a producer.. a director.. he is still a director. He may run my brother tomorrow. If I have a child in future.. he will direct that child too. B is still running with that much energy. Vasu. He will arrive at the shooting location on time and complete the scheduled work.
In this film B. It was a huge challenge for Vasu. It is to remove Rajini's image from my body.
A dialogue takes place in the film. After speaking that verse, I should walk and stand somewhere. When I acted that scene for the first time.. He said, 'Raghava.. Sir, you can see. Avoid it or reduce it'.
After that, you show him the way I walk. Looking at you I said I am acting.
He also showed walking once. Then he said it should be done like that. Then I said to him, sir you are also walking like Rajini sir.
That was the challenge we had. Rajini cannot be separated from us.
However, all the praise and credit for my performance in this film will go to director P Vasu.
I called Kangana madam 'Kangana madam' first. Then after getting to know him I said 'Hi Gangu'. He took it easy and spoke 'Hi Master'. I am proud to have four-time National Award winning actress Kangana acting with me.
Mahima Nambiar, Srishti Tange, Subiksha Krishnan, Gutties, Ravi Maria, Vignesh.. I express my gratitude to all. Thanks also to cinematographer RD Rajasekhar. He has beautifully portrayed the difference between what I see in person and what I see on screen. I thank him for that.
There is a dialogue in the film. That verse spoken by the hunter character. It was in pure Tamil. I was born in Royapuram. I only know a little bit of Tamil. At first I did not want to speak and act in pure Tamil. Then I practiced many times and spoke and acted that verse. " said.