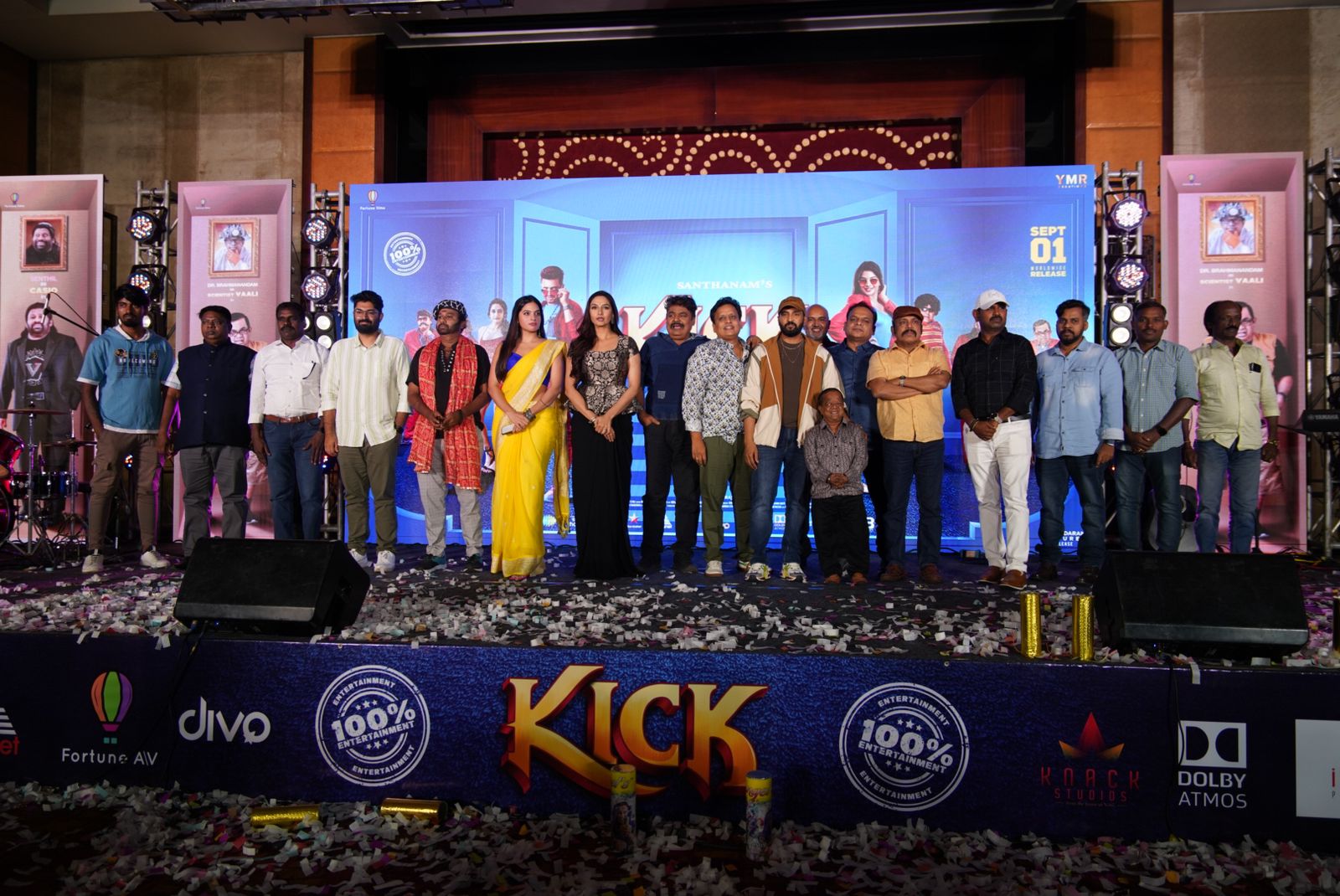 'Kick' is full entertainment film.."
Thambi Ramaiah Annan has done the work I initially did with other heroes in Kick" ; – Santhanam
Santhanam's film 'Kick' is produced by Naveenraj under the banner of Fortune Films. Famous Kannada director Prashanth Raj has stepped into the Tamil film industry by directing this film. Tanya Hope plays the female lead, and the film also stars Ragini Dwivedi, Kowai Sarala, Thambi Ramaiah, Senthil, Mansoor Alikhan, Brahmanandam, Sadhu Kokila Muthukalai, Manophala, Kingang, Crane Manohar and others.
Arjun Janya has composed the music for the film while Sudhakar Raj supervised the cinematography and Nagooran handled the editing. The fight sequences are designed by Ravi Varma and David Castillo. YMR Creations is publishing this film.
As the movie 'Kick' is releasing on September 1st, the film crew met the press for the first time.
Speaking at the event, Nayagan Santhanam said, "Both Naveen Raj and Prashantraj, the producer, found me all the way to Pondicherry and told me the story. I like the Tamil they speak like the story of the film. They started shooting in Chennai as a single phase and broke the pumpkin in Bangkok and completed this film in a single phase. It will be a different film for me than any other film I have acted in so far. The film is based on the concept of love between a girl and a boy, Ego, which guarantees success.
In many hero films, I am a comedian and help the hero move the story along. In this film, brother Ramaiah Annan has accepted that responsibility. Nizam Pakku, which aired on TV many years ago, used to surprise us by changing his face from scene to scene and giving different expressions, just like in commercials.
Mansoor Ali Khan can be said to be a child sir. Just like a young girl is trapped by a King Kong in a Hollywood film, the actor King Kong is trapped by Mansoor Ali Khan in this film. After the film Palace, I have acted with Kowai Sarala along with Akka. In that film, the dialogues are worked out for us as well.
After acting in so many films, I have been given such a role only now.. I am always surrounded by women. From the shooting, the actor called Kaundamani's brother and told him the news and was happy.
Arjun Janya, a famous music composer who has worked with big heroes in Karnataka, has given great songs. When we shot the action scenes in Bangkok, David Castillo master gave me a scene recursion on the first day.
Even though we went to Bangkok, we did not go around the town because everyone was fasting. Don't compare it with DD Returns. This #kick will be different. "In fact, it should be said that this is director Prashanth Raj's film rather than Santhanam's film," said Santhanam.