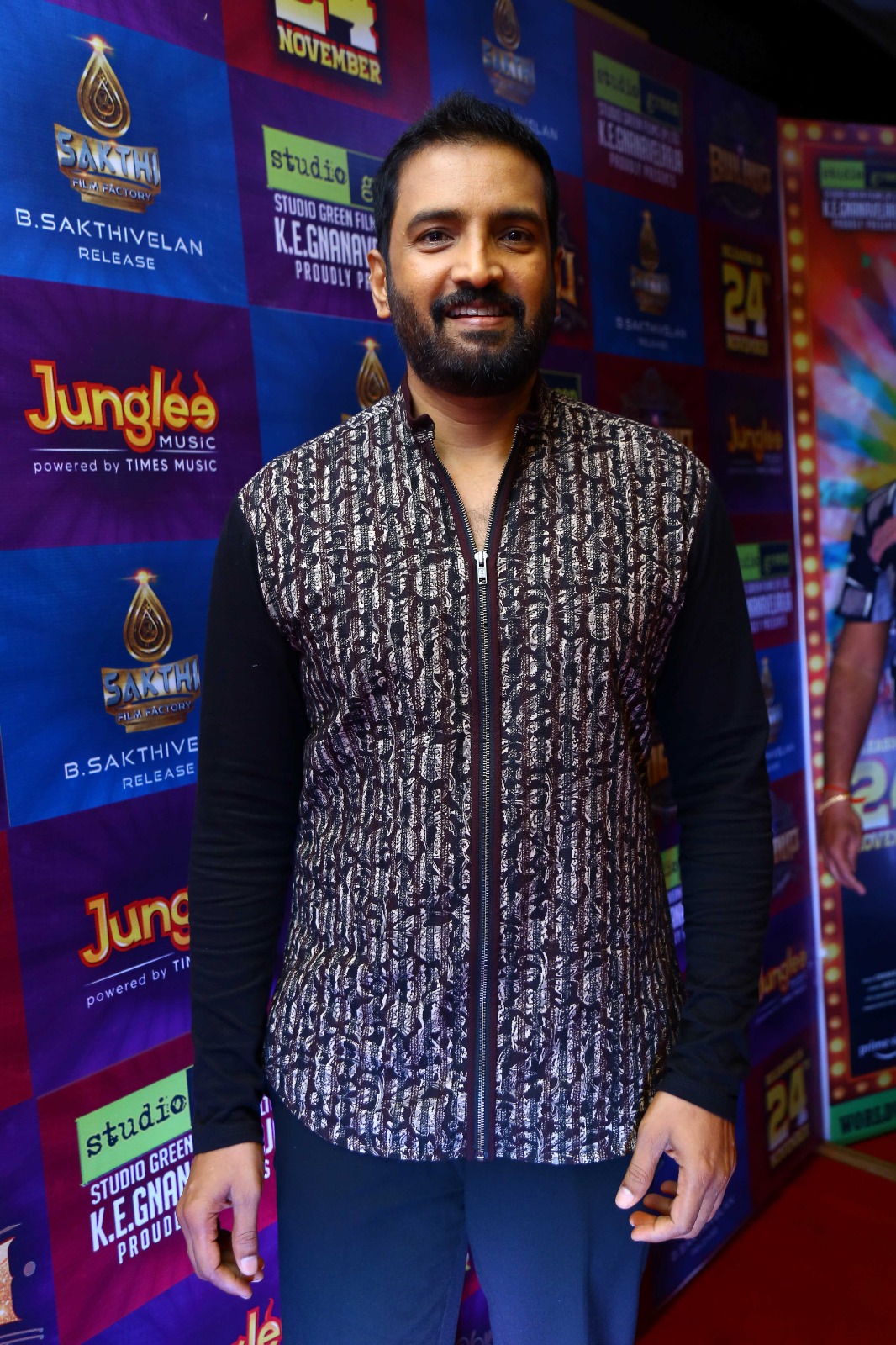 "I want him to rise to the point where Santhanam is paid 30 crores." – Gnanavelraja
"We had more cameras on our shoot than the Bigg Boss house" – Santhanam at "80's Buildup" audio launch
"Director Kalyan will put an omelette on an uneaten egg" – Santhanam in "80's Buildup" audio release
"Santhanam successfully fills the void of lack of heroes for comedy stories" – KS Ravikumar talk at the audio release of "80's Buildup"
Directed by Kalyan and produced by Studio Green Gnanavelraja, Santhanam starrer "80's Buildup" is a movie. Radhika Preethi as the heroine, Aadukalam Naren, Director KS Ravikumar, Mottai Rajendran, Anandraj, Director Sundarrajan, Thangadurai, Swaminathan, Kumki Ashwin, Subashini Kannan, Sangeetha and many others have played the lead roles. Jacob Rathinaraj has done the cinematography for Gibran's music. The trailer and music launch of the film was held in Chennai.
Producer Dhananjayan, who participated in this event, said that I know the director of the film, Kalyan, since 2015. Even though he has done six films in a row, I have registered his mobile number as KSP Kalyan, which means Katha Porom Kalyan. Among the films directed by him, I really like the movie Katha Soll Parom. Similarly, no one will have forgotten that song from the film Jackpot, Kulepakavali. I really like director Kalyan's sense of comedy. It is scary to see the news in the newspapers that he completed the shooting of the film in 15 days and 18 days. Because none of them are real. The fact is that he completed only one particular talkie portion in 15 days. But really the speed of his work amazes me. Can you finish a shoot so fast with a multi camera setup..? That still surprises me. Now Kalyan has completed the 80's build-up film with Santhanam, my and everyone's favorite hero. Whenever Santhanam props up with the ghost, the film is a hit. In the film, he is supporting three ghosts. It's very difficult and challenging to pretend to be something that doesn't exist. I always wonder how Santhanam manages to do this so easily. And movies where Santhanam is in a death house will be huge hits. You will remember the movie A1. I saw the movie at the Palazzo about 5 years ago. It was a movie that even the A center audience enjoyed. I hope the success of 80's Buildup will be like the success of that film. Santhanam's comedy-drenched films never fail. And the film has a huge star cast. Director KS Ravikumar has played a different character. Little revolution leader Anandraj transforms into an attractive maiden with a voluptuous waist. It's as if you want to touch that waist while looking at it. Various comedy actors have also acted. According to the story of the film, the director has made the story different by saying that the hero Santhanam is a Kamal fan and his grandfather is a Rajini fan. The film will hit the screens on November 24. I wish the film director Kalyan and producer Gnanavelraja a huge hit. My best wishes to all the other actors and actresses, technicians and music composer Gibran, lyricists who have acted in the film. My best wishes to Shakti Film Factory Sakthivelan who has acquired the film and Jungle Music Bhaskar who has got the music license. He spoke.
Director Kalyan said, "I would like to thank Studio Green Gnanavelraja for giving me the opportunity to direct this film. As soon as I got out of the director's season tomorrow, I wanted to do a film with a production company, Studio Green. That dream has come true today. Everyone was talking about me finishing the shoot fast. But that is not something that is possible for me personally. It was possible because of the cooperation of all the technicians, actors and actresses who worked with me. My thanks to them. I made this story only for Santhanam sir. I waited for him for almost a year. Various complications arose in between. However, the film is now complete and out. Thanks Santhanam sir for the opportunity. Friends of the press should support this film.." he said.
Actor Swaminathan says, "Everything for us is Santhanam