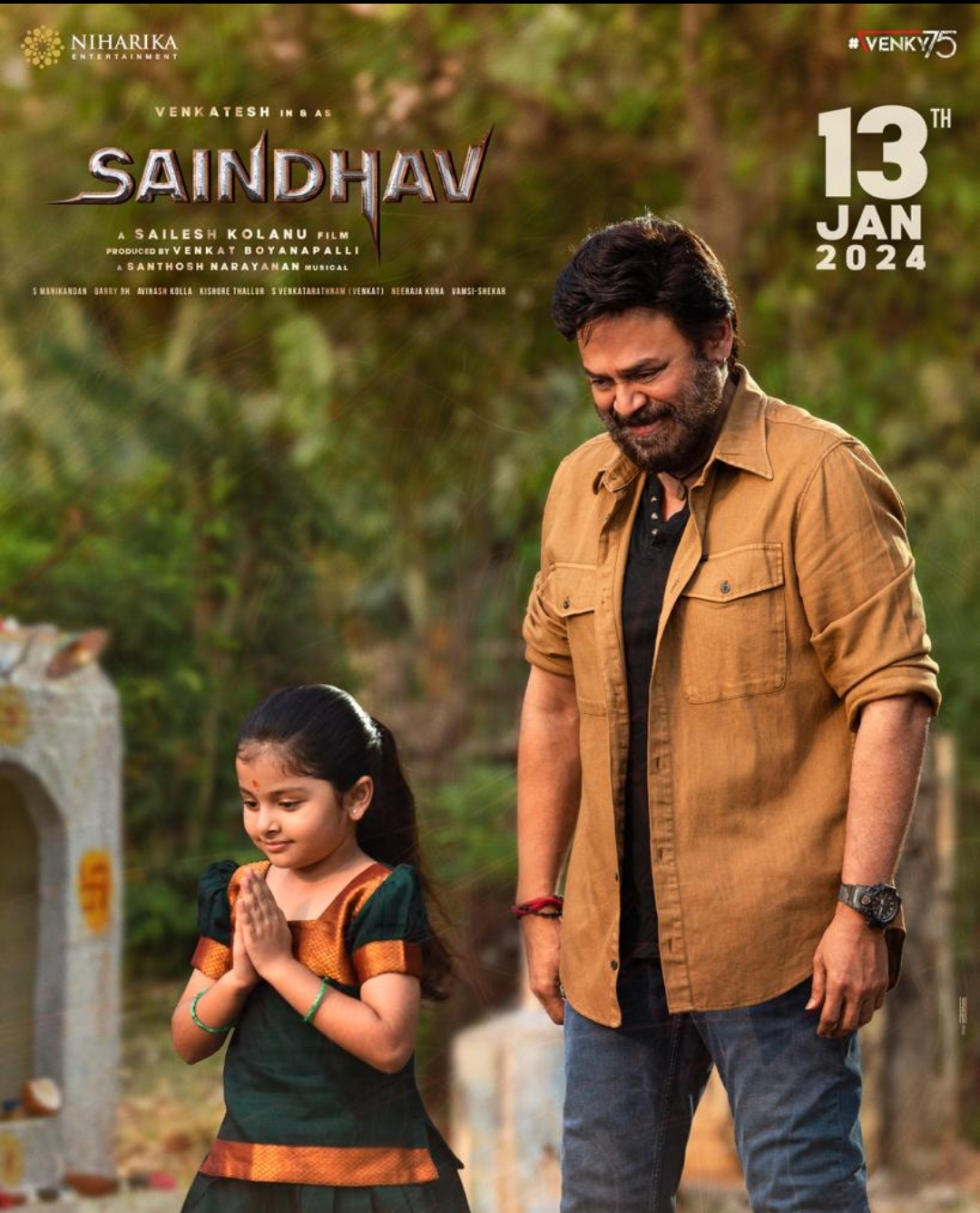 Venkatesh and Arya's epic action film Chaindav is gearing up for Pongal release
Chainthav to release on Pongal
Victory Venkatesh, Sailesh Kolanu, Venkat Poyanapalli, Niharika Entertainments co-production Chaindav is slated to release on January 13 on the occasion of Pongal.
It has already been announced that Victory Venkatesh's character in Saindhav, which is coming up as his 75th film. Sailesh Golanu, who directed Hitverse, is directing the film. Venkat Poyanapalli of Niharika Entertainment has produced the film.
A Pongal release is always auspicious for Venkatesh. And the team has taken this decision to make full use of the long festive holidays.
Earlier, the team had introduced the eight pivotal characters of the film – Venkatesh, Nawazuddin Siddiqui, Arya, Shraddha Srinath, Ruhani Sharma, Andrea Jeremiah, Sara and Jayaprakash.
Chaindhav is shaping up to be an action movie full of action-packed fight scenes. Various leading actors have played very important roles. Arya, who is a leading actor in Tamil cinema, is playing a stylish role in the film. Bollywood's versatile actor Nawazuddin Siddiqui is making his Tollywood debut as Vikas Malik in Saindhav.
Shraddha Srinath is the heroine of the film. He played the role of Manoya. Along with them, Ruhani Sharma plays the role of Dr. Renu and Andrea Jeremiah plays the role of Jasmine.
Santhosh Narayanan has composed the music for this movie and S Manikandan has handled the cinematography. Editing by Gary B.H. Avinash Kolla is the production designer and Kishore Thallur is the co-producer.
Cast: Venkatesh, Arya, Nawazuddin Siddiqui, Shraddha Srinath, Ruhani Sharma, Andrea Jeremiah, Sarah
Technical Team:
Written-Animation: Sailesh Kolanu
Producer: Venkat Poyanapally
Banner: Niharika Entertainment
Music: Santhosh Narayanan
Associate Producer: Kishore Tallur
Cinematographer: S. Manikandan
Cinematography: Gary B.H.
Production Designer: Avinash Kolla
VFX Supervisor: Praveen Kanda
Executive Producer: S. Venkataratnam
Public Relations: Vamsi-Sekhar, Satish Kumar
Ad Designer: Anil and Banu