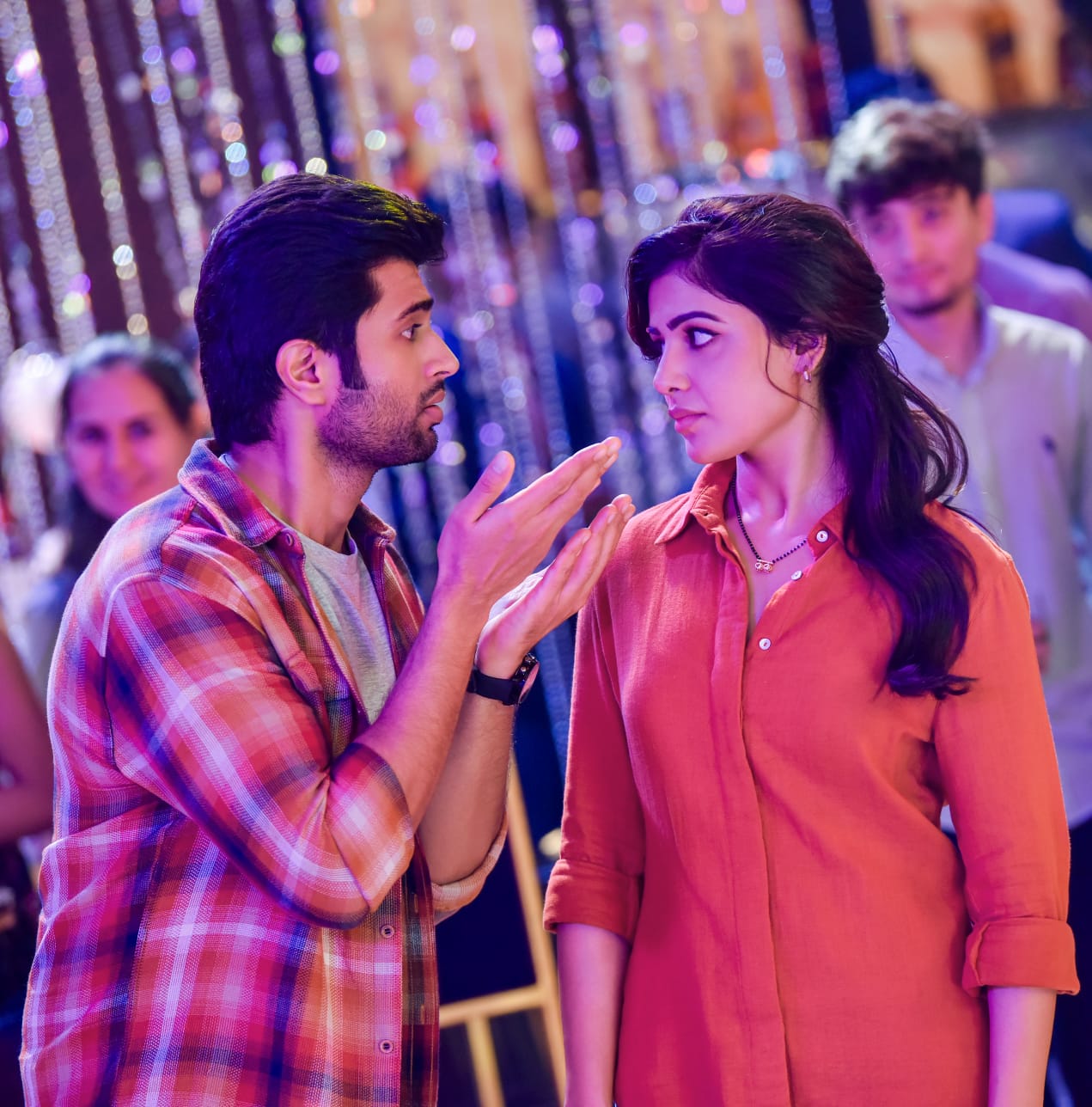 Vijay Deverakonda and Samantha Starrer Kushi Fifth single 'En Ponnamma' is a groovy and fun number
Vijay Deverakonda and Samantha's Kushi, a pan-indian romantic drama directed by Shiva Nirvana will be released in theaters on September 1, 2023, worldwide. The film is already trending due to its romantic & heart touching Songs. The recently organized musical concert was a huge success, it got solid buzz all over India.
Now the film is ready to entertain all the families in just few days. Today makers dropped the 5th single titled 'En Ponnamma'. This energetic fun number is for all the husbands. After continous chartbuster melodies, Hesham scored a groovy tune that just enchants.
The lyrics written by Madhan Karky explains the struggle of Viplav after marraige with Aradhya. Viplav even suggests everyone not to marry. The highly energetic vocals of Vijay Prakash brings chartbuster vibe the song. Vijay Deverakonda kills with the simple yet stunning dance moves.
This fun number is instantly addictive in all languages. Kushi is one of the most anticipated romantic drama and audience are eagerly waiting to experience this film on big screens. Backed by Mythri Movie Makers, Kushi also stars P. Murali Sharma, Jayaram, Sachin Khedakar, Saranya Pradeep, Vennela Kishore, and others.
Actors: Vijay Devarakonda, Samantha, Jayaram, Sachin Khedekar, Murali Sharma, Lakshmi, Ali, Sharanya Pon Vannan, Rohini, Vennela Kishore, Rahul Ramakrishna, Srikanth Iyengar, Sharanya Pradeep etc.
Technical Team:
Makeup: Basha
Costume Designers : Rajesh, Harman Kaur, Pallavi Singh
Art : Uttara Kumar, Chandrika
Fights: Peter Hein
Writing Contribution : Naresh Babu.P
PRO: Yuvraaj
Publicity : Baba Sai
Marketing : First show
Executive Producer : Dinesh Narasimhan
Editor : Prawin Pudi
Production Designer : Jayashree Lakshminarayanan
Music Director : Hesham Abdul Wahab
DI, Sound Mix by Annapurna Studios, VFX Matrix
CEO: Cherry
Director of Photography : G. Murali
Producers: Naveen Yerneni, Ravi Shankar Yalamanchili
Choreography : Shiva Nirvana