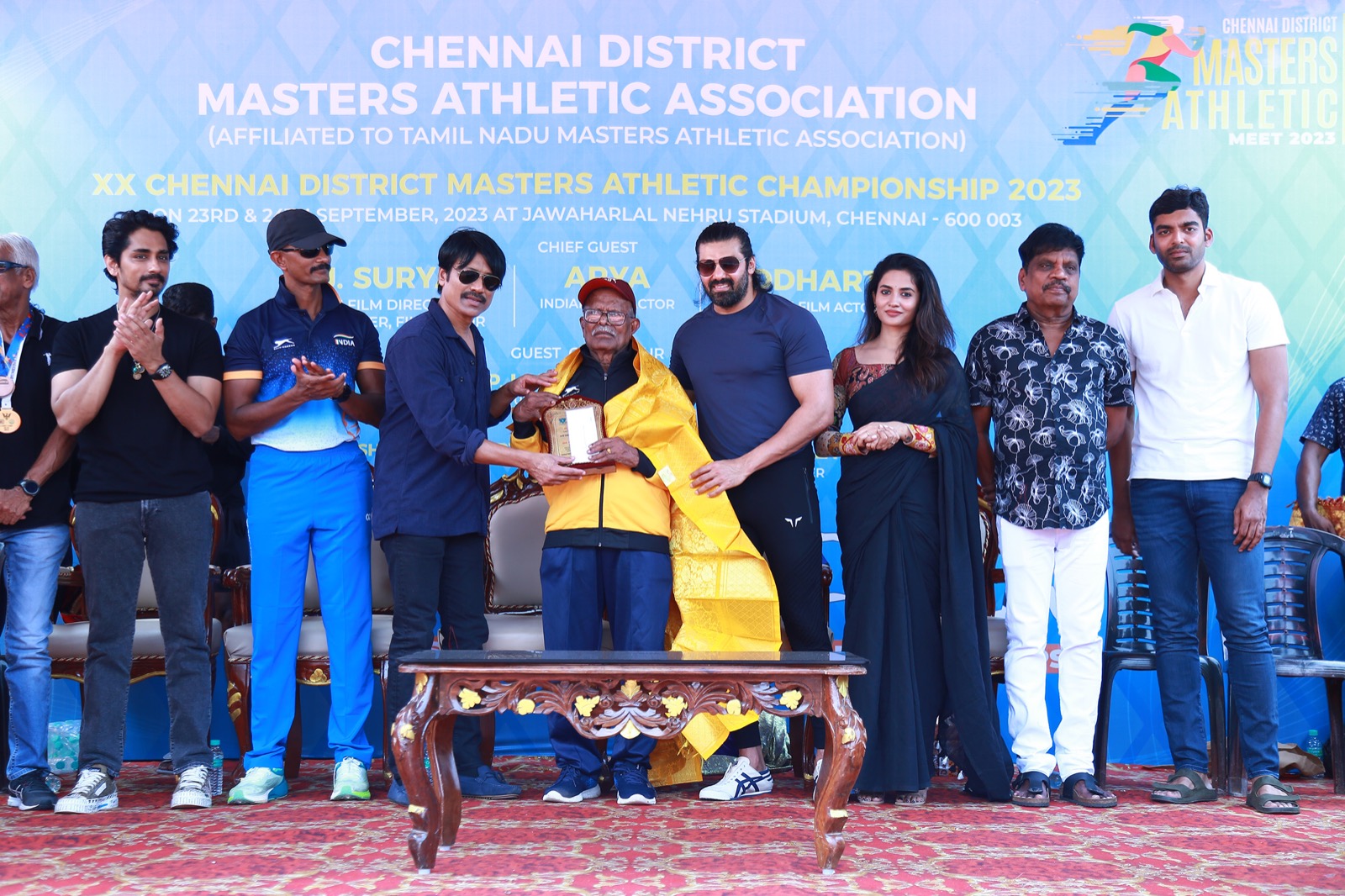 "XX Chennai District Masters Athletic Championship 2023" for men and women above 30 years of age organized by Chennai District Senior Athletic Association was held at Chennai Nehru Sports Stadium (Outdoor Stadium).
The competition was held as per the decision made by the President of Chennai District Senior Athletic Association Mr. M. Senpakamurthy, Secretary Mrs. Rukmani, Treasurer Mrs. Sasikala and other committee members.
On the first day (September 23, 2023) of this competition inaugurated by Mr. Mylvaganan IPS, Mr. MP Lakshmipathy, actor director SJ Surya, actor Arya, actor Siddharth, actress Aishwarya Rajesh, actress Teju Ashwini graced the event by giving prizes to the winners.
Details of Awards
Mr. M. Senpagamurthy came first in 13.6 seconds to win the 60+ Men's 100m race.
John Devasir Memorial Life time Achievement Award – Mr.K.Subramanian (85 +)
Category – High Jump, Triple Jump, Long Jump
World Masters Meet – Australia 216 – 2 Bronze Medal
V.S. Chinnaswamy (85 +)
Asian – Javelin Throw – Second
Daisy Victor Memorial Award – Life Time Achievement Award
Mrs. T.Rukmani Devi – National Record Holder in Pole Vault in 60+
Asian Masters
Gold – Pole Vault 60+
Silver – Hammer Throw – 65+
Bronze – High Jump – 6+
Mrs. Agatha Inba Rajula – Central Excise
100, 200, 400 Mts – Asian Masters Meet – Medalist
Many more track players are participating in this competition which will be held today and tomorrow.