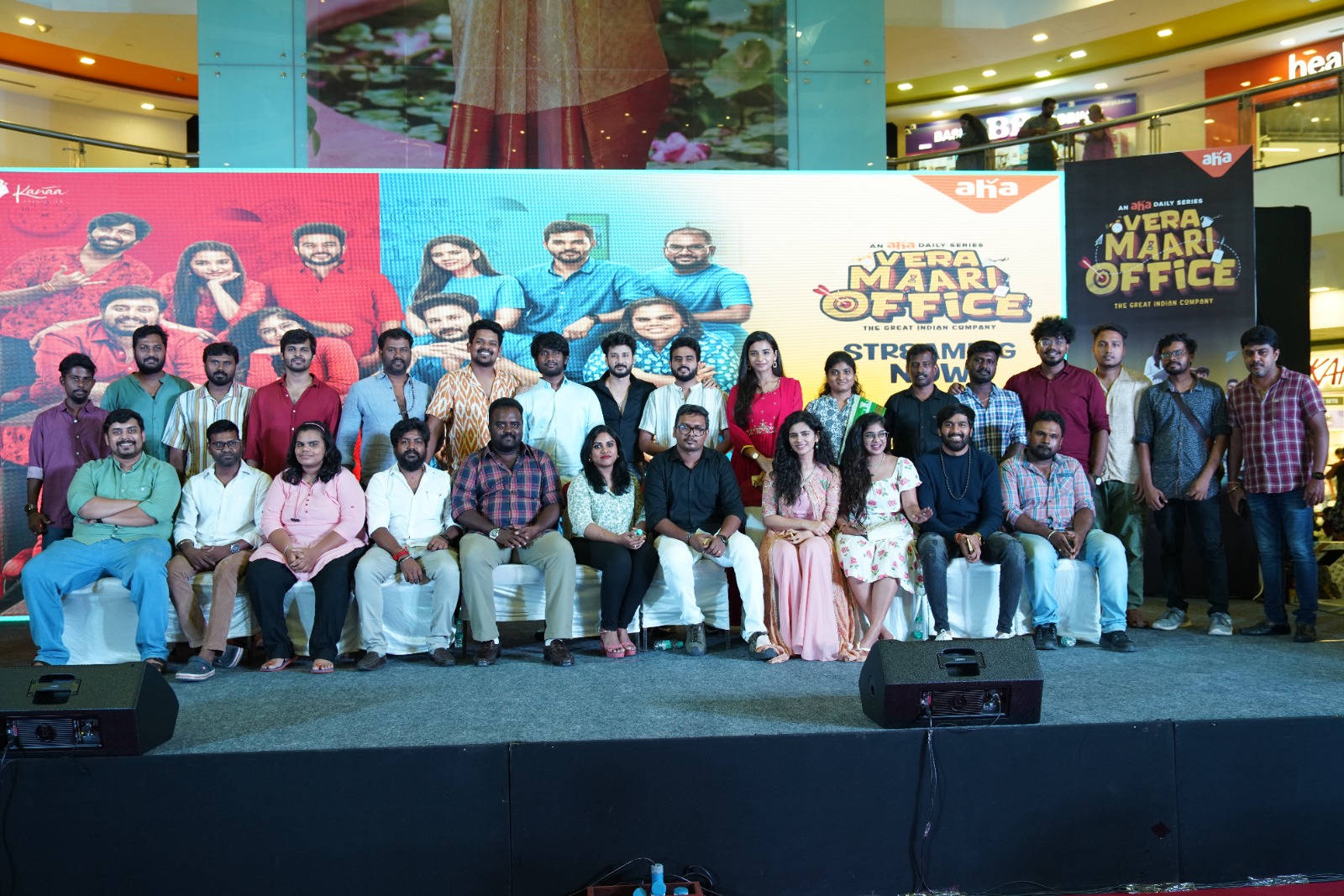 Aha OTT's 'Daily Series' series is "Vera Mari Office". The series has successfully garnered more than fifteen million views in six episodes. An event was held at Nexus Vijaya Mall in Vadapalani, Chennai to celebrate this and bring the series to even more people.
The event was attended by the stars of 'Vera Vari Office' Vishnu Vijay, RJ Vijay, Vickels Vikram, VJ Parvathy, Shyama, Lavanya, VJ Pappu, Soundarya Nanjundan, Kannadasan, Sanjeev along with the director of the series Chidambaram Manivannan and Producer Sivakanth also attended.
Kavita Jelapin, CEO of Aha OTT website, said, "Greetings and thanks to all press and media friends who have come to this event. It is a matter of great pride to launch a new series on the Aha OTD website, "Vera Mari Office". We started this OTT platform with the idea of giving priority to different storylines. All the serials released on Aaha like Pettayakali and Rathashachi have different storylines. While listening to the series "Vera Maari Office" online, it seemed to be new and popular. And while taking this story field, it was hoped that contemporary problems such as current job loss problems, development of start-up companies can also be brought into the story. Like the scene in the teaser, we all have the experience of seeing the workplace as a children's park and the next moment as Jurassic Park. So we hope you all will like this different variable office. Aha OTD is waiting to bring you such unique stories. So everyone become a user of Aha OTT. I am replying by asking you to give the same support to all the serials published on our site as you have given to "Vera Mari Office". Thanks. He spoke.
Following him, Girish from the marketing department of Aha ODT said, "Usually after a series of wins, there are usually celebrations for the success of the series. But this "Alternative Office" has garnered more than 15 million views in just six episodes. So we are holding this event a little early with the intention of bringing this series to more people. When we in the marketing department get artists like this, our job becomes easier. Because they are all known RJs, VJs, and serial actresses in Tamil Nadu. As a result, the popularity of "a different type of office" among the people is immense, he said.
When actor Kannadasan speaks, this is my first stage. I would like to thank director Chidambaram sir, producer Sivakanth sir and Kavita madam for giving me this opportunity. "Different Office" is a lively series. A must watch series for all of you. It will definitely make you happy. My character has a love story. That love is so beautiful. He spoke saying that I request everyone to support this series.
Speaking after him, Selandarya Nanjundan, who acted in films like Aditya Varma and Darbar, said, "I have a lot of stage fright. So I can't talk much. Thanks to everyone who gave me a chance. I hope all the audience will like the series "Different Office". You can definitely relate to a character. My character is a real character. I never talk to girls. I always talk only with bhasas. But actually I am the opposite. I hope you all like my character." He spoke.
Speaking of actress Syama, I have played the role of Syama in this series. Almost I somehow designed the same as my character. Thanks to everyone. He spoke.
When stand up comedian and actor Vickels Vikram speaks, it is heartening that so many people are listening to us. It is the director team that does the great job of pulling us all together. I would like to thank them first. Also, thanks to all the directors, producers and management of Aha ODT who believed in me and gave me a chance. I learned a lot of acting skills from each and every one of them because of acting in "Vera Vari Office". Thanks to VJ Vijay, VJ Pappu etc. doing standup comedy!
A full fledged comedy that would keep the viewers in splits, it looks like!