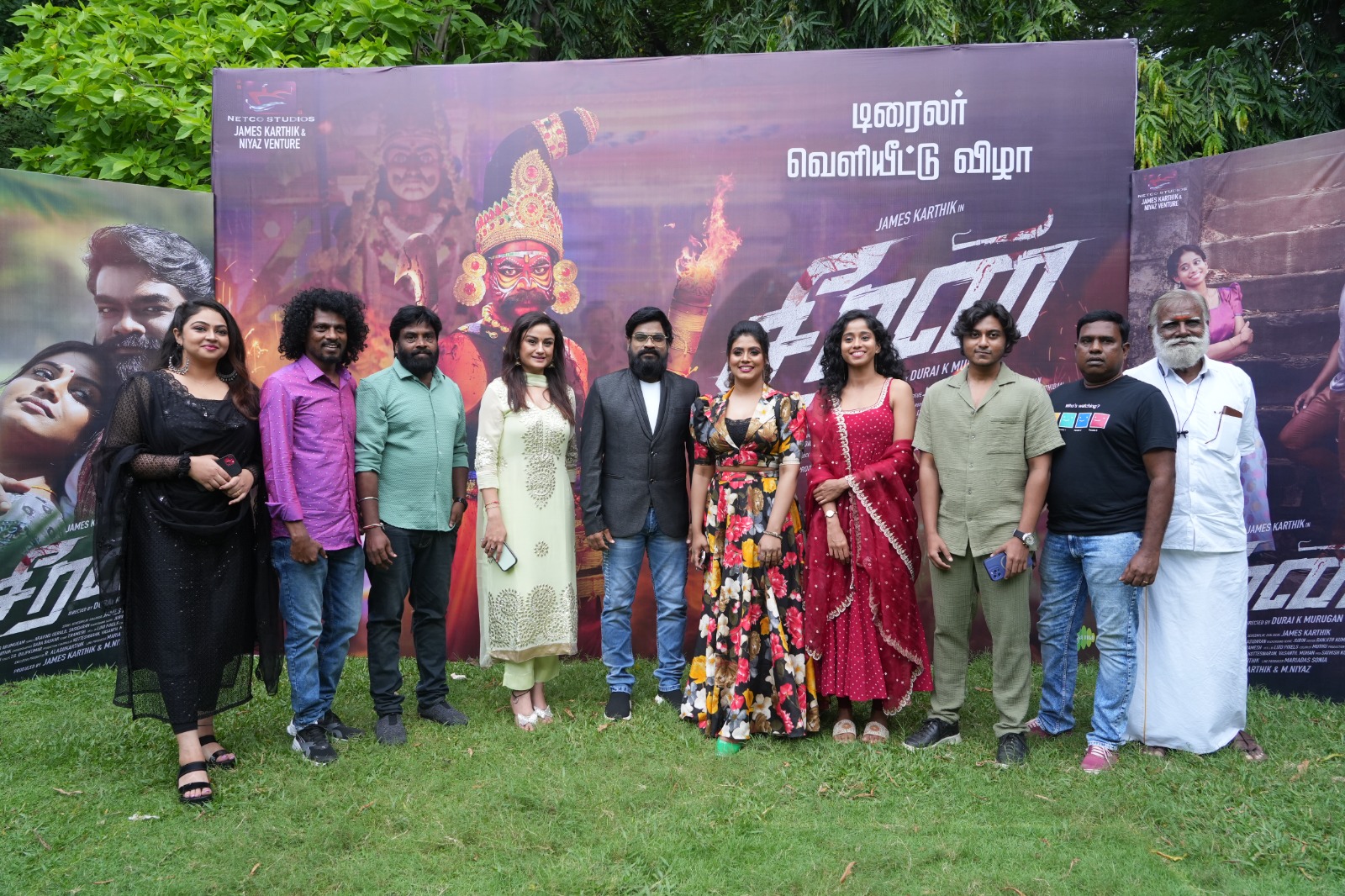 Produced by James Karthik and Nias under Netco Studios, and directed by Durai K Murugan, the associate director of famous director Rajesh M, the commercial film 'Seeran' is a great work of social concern, starring James Karthik, Sonia Aggarwal, Iniya. Aadukalam Naren, Arundhati Nair, Sendrayan, Ajith, Krisha Group, Super Good Subramani, Aryan, Pariyerum Perumal Venkatesh, Pichaikaran Murthy and many others have acted. The film is based on a true incident in the producer's life. All the work of the film has been completed and the work to bring the film to the screens is going on in full swing. The film crew met the press friends today for the trailer release of the film.
In this event..
Producer and protagonist James Karthik said..
This film is the third production of our company, thanks to everyone who came to support us. I learned a lot from this film in terms of production and acting. Thanks to Sonia Aggarwal, Naren and Iniya for agreeing to act in this film. And my thanks to all the actors who acted in the film. The director is my best friend. I want to do many films with him. He and I would have some arguments but that took the film to the next level. I learned many things from him. The director who thinks that the producer should not lose even 1 rupee, as well as the cinematographer has created very good scenes in this film. My thanks to him. The songs are also good. Surely you all will love this movie. We have tried to bring the things that I saw in my childhood in this film. My best wishes and thanks to the entire crew.
Director Durai K Murugan said..
The reason I am here is because of my producer James Karthik, to whom I am deeply grateful. I would like to express my gratitude to the EP of the film, Akash Karthi, who introduced me to the producers. The film is based on an incident in the producer's life. When I heard what he said, I remembered how racist my grandfather was when I was young and got very angry. We have told it emphatically in this film. The film stars Iniya and Sonia Aggarwal in lead roles. This film will surely make them a big name. The protagonist has acted very well in this film. All the actors in the film have done a great job. This film gives a sense of totality and registers a social point. You should bring this picture to people, thank you.
Actress Iniya said,
In this film, I played the role of Poongothai. I lost weight for this film. This is the first time I have acted like this. Protagonist James Karthik has performed well while enacting the song sequences in the film. I expect him to crawl as a talented producer and good actor. I am going to see him and do some production work. The director was very mature and clear about what he wanted. He has made this film so beautifully that even though there are many problems, nothing affects the film. Similarly, the cinematographer has given tremendous effort. My best wishes to all the actors in the film. Also thanks to the technicians who worked on this film.
Actress Sonia Aggarwal said..
This film is made with a social concern. I really liked the story. After the film Kovil, I will play the role of a villager. The producer has done his job very well. And he has shown his excellent performance in his character. This film will definitely get a huge response. The director works fast but creates scenes perfectly. The film has been shot well, the cinematographer is very patient and has shot the scene beautifully. Thanks to all the crew. Working with you has been an unforgettable experience for me. Wish the film a success. Thank you.
Actor Adukalam Naren said..
This is a true story. It was to the point of thinking that this would happen. Appreciation for making such an effort. Not like the first film, the protagonist James Karthik has acted beautifully. The director has come up with this film after many struggles. A hard worker who won't let go until he gets what he wants, he'll go even bigger. You have to take this picture to people. This film will not disappoint anyone, thanks to which this film will make a good point for everyone.
Actress Arundhati Nair said..
It's been a long time since I spoke on stage
I have played a minor role in this film. But it's an important character that will definitely hook you. My thanks to the director for giving me the opportunity.
Actor Sendrayan said,
This movie is very fast director Durai Annan is very close and very exciting  I can't match his speed, he has put a lot of effort for this movie, the producer has acted very nice in this movie, director and cinematographer have a good friendship, they made this movie, thanks to all who gave me a chance in this movie. .
Actor Super Good Subramani said,
I have acted in many films and many characters are close to my heart. But even today, one character that many people talk to me about is the preacher character that I played in Mundasupatti. It gave me a huge identity. I am playing a priest in this film as well. Also I wish this film crew that this film will be a hit.
Actor Ajith said..
This is my first time acting in a village film. It was very difficult for me in the beginning. But the director patiently taught me and made me act. My thanks to him. We have made a film of a real event. We need your support. Thanks to the producer and director for giving me the opportunity.
Music composer AK Sasitharan said..
The film has four songs. My friends and I have composed the songs for this film. All the songs are awesome, I hope you will like them, thanks.
Music composer Jubin said..
Thanks to the producer for giving me an opportunity for this film. Hope you like the background music preview. The film breaks many truths. The director made me sing for the music. The film is very good. Hope you will definitely like it. Congratulations to all the crew. The film will be very realistic and you have to take this film to people thanks.
Editor Ranjith Kumar said..
Thanks to the producer and director for giving me a chance in this film. All the actors in the film have done a great job. The movie has come out well and you all will definitely like it thanks.
Cinematographer Bhaskar said..
Thanks to the producer and director for giving me a chance in this film. The film turned out very well. Thanks everyone for supporting the film.
Fighting coach Ramesh said..
The director of this film is a close friend of mine. This movie cost a lot of money to make. Although it is a small film, the producer has spent a lot of money. It was very helpful to get a good picture. The entire team has put in tremendous effort. The cinematographer has handled the scenes skillfully and you will see that in the film. They did everything I needed in the stunts. You should take this picture and add it to people, thank you.
Actor Aryan said..
Congratulations to producer James and wish you success in many more films. The director is very precise. A job seeker who knows exactly what he needs. He has three great stories in different genres which will soon be released as films. There was a lot of discussion between the cinematographer and the director, but all to the good. It took the film to another level. The movie has a great cast. Everyone has acted well. The fight scenes were also awesome. I hope you will definitely like this movie, thanks.
Poet Karthi said..
I hope that this Seeran film will be a film that is going to reform. Thanks to the producer and director for giving me the opportunity. I have written three songs in this film. Everything turned out well, you will like it. The film has three female leads, all of whom are well-acted. Congratulations to all the crew and thank you.
Actress Krisha Kurup said…
First of all my big thanks to the director, I still remember that I was in Chennai to shoot another film and that's when he told me this story, just like how he told this film in the first place. Thank you for choosing me for this role of Yajini, I am playing an innocent village girl in this film, this is my first time playing such a role, actor Ajith was a strong side, his cooperation was very helpful in the shoot, thanks Ajith a lot, there is a small scene with actress Iniya which is a treat for me. Gave good experience, I learned many things from him, stick
My thanks to the entire film team, the songs have come out beautifully, thanks to cinematographer Bhaskar sir for making me look beautiful, thanks to producer Karthik sir for giving me a chance in this film, I want to give your support to the film thanks.
Pariyerum Perumal Venkatesh said…
So far I have been shown as a demon but in this film I am shown as a loving father. Many thanks to him for that. The director has shot the film very well. Everyone will definitely like the movie. Thanks to everyone.