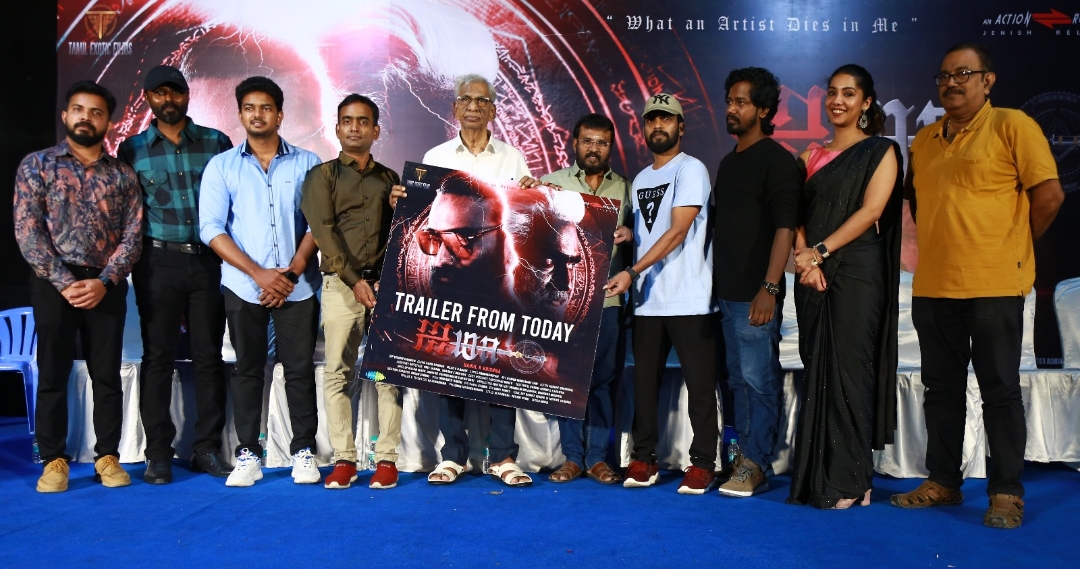 Aima' Movie Trailer Release!
This is the situation for Rajini's 'Jailer': K Rajan talk!
Give a chance to Tamil Nadu workers too: Director Prameradu speech!
A thousand crores of rupees have been crippled by unreleased films: Producer K. Rajan Anguish!
Cinema itself is a fraud: director Prameadu talks!
The trailer launch and press meet of 'Aima' was held in Chennai.
The special guests at the event were Producers and Distributors Association President K. Rajan, Director Prampara, Director Cable Shankar were present.
In this film 'Aima' which is being developed as a survival thriller
Younus, Alvin Juliet, Akhil Prabhakaran, Shaji, Sheera, Megha Malu Manokaran, Shanmugam Ramasamy has produced the film. Debut director Rahul R. Krishna is directing. Cinematography by Vishnu Kannan, Editing by Arun Raghav, Music by KR. Rahul.Songs by Arun Manian. Shanmugam Ramasamy on behalf of Tamil Exotic Films
Producer Shanmugam Ramasamy speaking at the function,
'I was in the IT department. I was interested in cinema. I had a passion for acting. As an actor I can't go to anyone and ask for an opportunity. I don't know how. So I decided to produce a film myself and act in it. That's how this film 'Aima' came into being. I agreed to produce the story because I liked the story told by the director. All the actors and technicians did their job well and cooperated. I learned a lot by making this film. Publishing today is more difficult than making a film. No one comes to watch the film even if they are invited to show it.
This situation should be rectified. The media should support this film," he said.
Jenish of the 'Action Reaction' distribution company, which is releasing this film, said,
"We are on the side of small investment films. Media has never abandoned small investment films and good efforts. We are releasing this film in that hope," he said.
Producer and Distributors Association President K. Rajan speaking,
"Small investment films are keeping the film industry alive. Tens of thousands of workers are living through it. In the last two years, approximately 320 films have been made. Out of them, 100 to 150 films have had audio releases. But only about 70 films have come out with difficulty. Producers have disappeared and the remaining 250 to 300 films are struggling to release.Thus about a thousand crore rupees is stuck in these films.
A film I financed cost 12 crores, but its foreign language rights etc. sold for 6 crores. Even then the film could not be released. This is the situation today. Small investment films should release without difficulty. If it comes out like that, the producer will make the film again. But it is not known if the profit from big films will come back to the cinema. Today the film 'Jailer' has run successfully. Rajinikanth is a big star actor no doubt. However, even he has Mohanlal from Malayalam and Sivarajkumar from Kannada to act. This is how cinema has changed today. Nowadays they come from other states and shoot in Tamil Nadu. I welcome them. I wish this film success."
When director Prameradu speaks,
"I was surprised when there were ten songs in this Aima film. It takes courage. I think they will keep it right in the film.
He said that in this film, when the protagonist speaks, he actually acted in the scene of breaking the glass. The film itself is a work of deception. That's all you have to make believe as real. Can a stabbing scene actually be stabbed? You should not act in dangerous scenes like that. After acting in such dangerous scenes without dope, Ennuiir Dolan Babu lost his 30 years of life and now he is dead. We have to notice this. It can be taken in any way with the current technical facilities. In many films, the scenes are beyond reality. Cinema itself is a work of deception. Even big heroes in cinema don't even take the risk of peddling on the street. There is no need for that. Because facilities have come to that extent. Even slow walking can be taken as running.
Even Tamil movies with big protagonists are set and shot in foreign states. Workers from the respective states are used. Our Tamil Nadu workers will have no chance to participate in it. Please pay attention to our Tamil Nadu workers