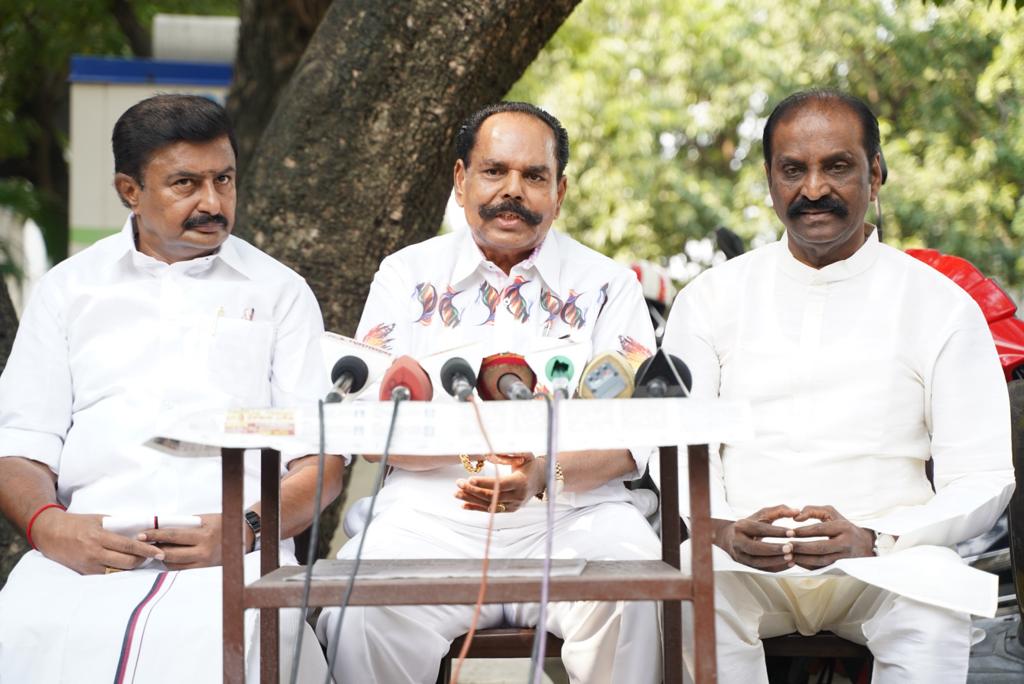 Mega Producer K.T. Kunjumon
Gentleman Film International 's
Gentleman 2 shooting begins in Chennai
Minister Saaminathan inaugurates the shooting
Mega Producer K.T. Kunjumon's grand project "Gentleman 2" is directed by A. Gokul Krishna, features musical score by Oscar winner Music Director M.M. Keeravani and Kavi Perarasu Vairamuthu is penning lyrics.
The shooting of this film commenced this morning (October 9). Thiru, M. P. Saminathan, Honorable Minister for Information & Publicity will inaugurated the shooting at Sathya Studios, by switching on the camera, Dr. Kumar Rajendran, Chairman of Sathya Studios, clapped the board for first shot and Kaviperarasu Vairamuthu said "Action".
Producer K.T.Kunjumon says, "It's a honor to be kick-starting our shooting of "Gentleman-2 " here at Sathya Studios, as I share beautiful memories with it. I had a phenomenal growth in the industry by distributing the movies of MGR and the films that were created by Sathya Studios. So I feel auspicious to have the shooting started here."
The shooting will be continuously held in Chennai for next 26 days followed by other schedules in Hyderabad, Malaysia, Dubai, SriLanka and many exotic locations.
Technical Crew
'
Story: K.T. Kunjumon
Direction: A.Gokul Krishna
DOP: Ajayan Vincent
Music: M.M.Keeravaani,
Lyrics: 'Kavi perarasu ' Vairamuthu,
Art : Thota Tharrani,
Editor: Sathish Suriya,
Sound Engineer : Tapas Nayak,
Stund : Dinesh Kasi,
Choreography: Brindhaa,
Costume Designer: Poornima
Project Designer & Marketing Executive :
C.K. Ajay Kumar,
PRO: Johnson,
Production Controller: Saravana Kumar,
Muruga Poopathi,
Publicity Design: Pavan Sindhu Graphics,
Publicity & Marketing: Movie Bond
Artistes
Chethan ,
Nayanthara Chakravarthy,
Priyaa lal,
Prachika,
Sithara,
Sudharani,
Sri Ranjini,
Sathya Priya,
Suman,
Achutha Kumar,
Mime Gopi,
Badava Gopi,
Pugazh,
Munish Raja,
Radha Ravi,
Prem Kumar,
Imman Annachi,
Vela Ramamoorthi,
Shriram, John Roshan,
R.V.Udhaya Kumar,
K George Vijay Nelson