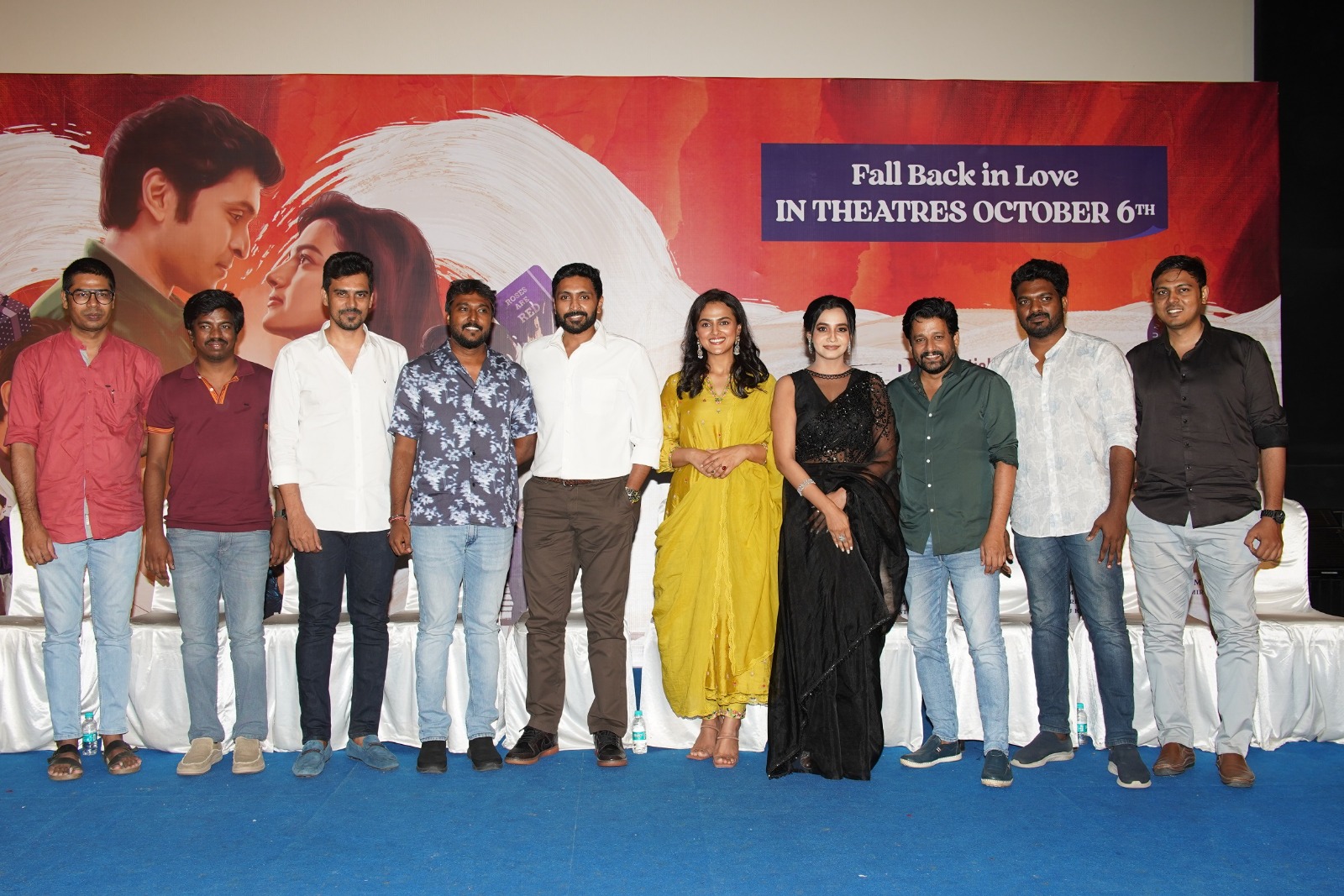 *"A man's arrogance and a woman's arrogance will be beaten" ; Lyricist Karthik Netha *
"What am I Surya? Vikram?" ; Actress Aparnathy took a risk for
"You can ask for the right only from Lord Vikram" ; Tape producer SR Prabhu
"All the actors are given a chance to shine"; Shraddha Sreenath Appreciates Irukapatru Director
"Small films are the backbone of cinema"; Producer SR Prabhu
"The birthday gift I give to my wife is a tight fist" ; Lord Vikram in Double Happiness
"Should I take a knife or not?"; Irugapatru Director Yuvraj Dayalan Open Talk
The upcoming film 'Irukappapattu' is produced by Potential Studio Company, which is producing films with different storylines like Maya, Mahanagaram, Monster, Thanakaran, which will entertain the taste of the fans.
The film is directed by Yuvraj Dayalan, who directed films such as Vadivelu-starrer Thenaliraman and Eli.
Starring Vikram Prabhu, Vidharth, Shree, Shraddha Srinath, Sania Ayyappan, Aparnathy and many others, the film is composed by Justin Prakaran for music, cinematography by Gokul Pinoy, cinematography by Manikanda Balaji and songs by Karthik Netha.
The film is releasing worldwide on October 6. Following this, the crew met the journalists and shared their experiences about the film.
Lyricist Karthik Netha says, "The world today has a 'central family system'. A problem that did not occur during the crowd has now erupted. In modern life husband and wife problems are hellish pain. This 'Irukapattu' is a film that seriously analyzes that problem. This is due to ego in both men and women. I have seen the movie. I was confused in many places. A fear also came while watching the film. Because my married life has just started. When this film is released, the ego of the man and the arrogance of the woman will be given a proper blow.
Editor Manikanda Balaji says, "When things are said in cinema that are good in the script, sometimes it doesn't go down well with the audience. But director Yuvraj has clearly handled it and brought it on screen. I was reluctant to cut the scenes of the actors in the film. Everyone has acted so well. Those who come to see the film as husband and wife, when the film is over, they end their problems and go home: he said.
Cinematographer Gokul Binay said, "The first meeting with director Yuvraj and asking him for the story made me think that he and I would not be a set. But that changed from the second meeting. He is like a child. Vikram Prabhu surprises with cute little expressions. Everyone can easily relate themselves to Vidharth Aparnathy Jodi. Especially Aparnathy has given a lot of hard work in this film, the viewers of the film will shed at least one drop of tears at some point," he said.
Music composer Justin Prabhakaran said, "I wonder if cinematographer Gokul will talk so much.. The film has attracted him so much. I also just got married. I would say this movie is a good teacher example.. but not a propaganda. But when the film is over, everyone will take one thing away for sure."
Actress Aparnathy said, "I was invited to act in this film after watching the film Honey. Director Yuvraj first gave me the script and asked me to read it. After reading it I said it is good. The next minute he told me that I need to gain weight for this film. I started gaining weight thinking that this is normal but even after three months I was not able to gain as much as he said. They almost said that I will not be on set for this film. It was then that Vidart pointed me to a suitable dietician. I followed his advice and gained weight. I always started eating something in the morning. That's why the budget was high. At one point, I did not want to eat at all. What am I Surya? Vikram? To lose weight.. But I took it as a challenge. Vidhartha is the reason why I acted in this film. If I go to the spot with interest thinking that I look like a burger, but will not show it on screen, cinematographer Gokul will show me in a different way. I am honored to act in this film. Surely this film will take me to the next level. That is since the beginning of this film