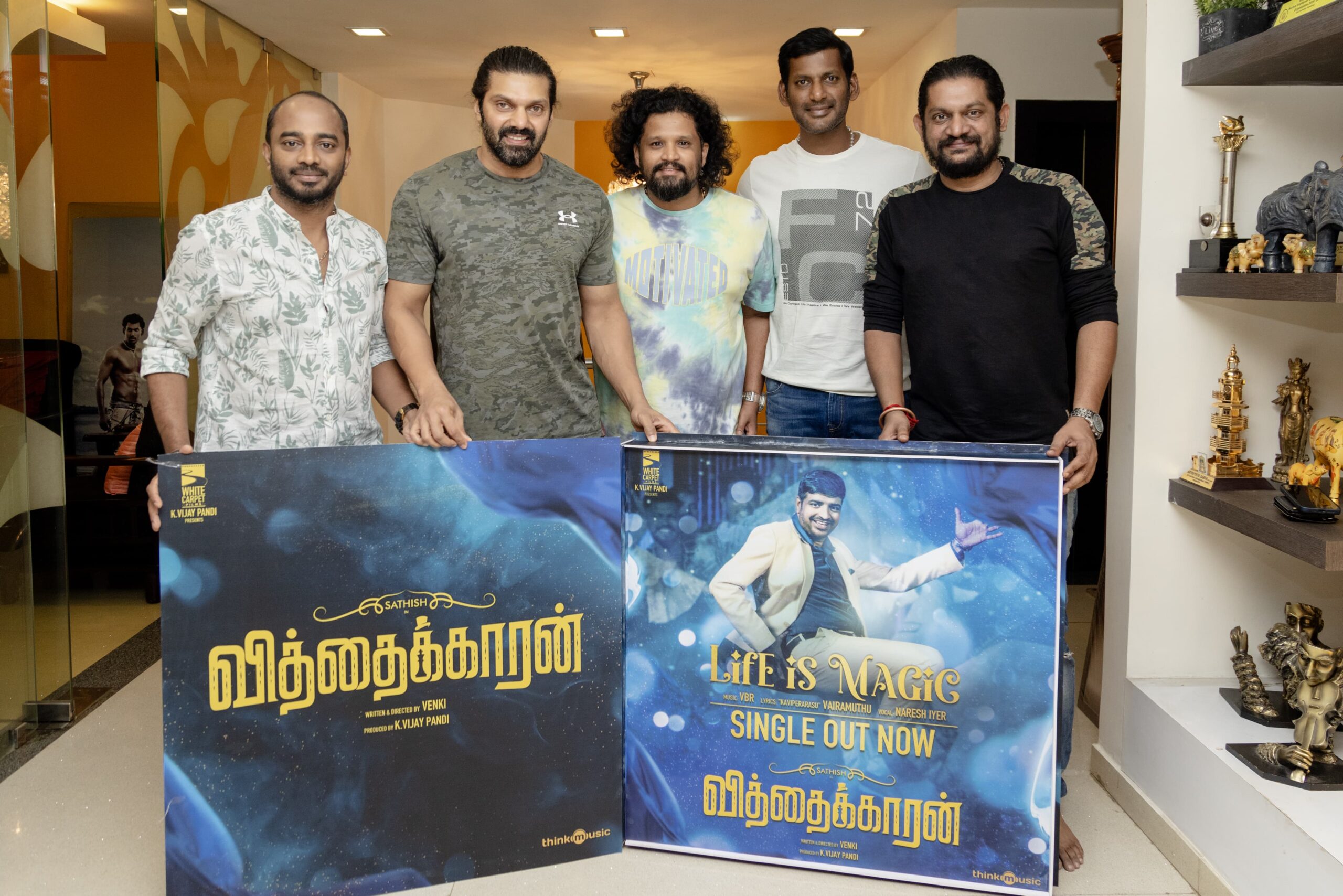 Actors Vishal and Arya released the first single from the film 'Vithaikaaran' – "Life is Magic"!!
"Life Is Magic" Vithaikkaran First Single!!
Sathish starrer, "Vithaikkaaran" in the thrilling finale works !!
Tamil cinema's leading stars Vishal and Arya have released the first single "Life is Magic" from "Vithaikaaran" starring comedian Sathish.
Produced by White Carpet Films and produced by K Vijay Pandey, directed by debutant Venky, Sathish is playing the lead role in a different heist movie "Vithaikaaran". While the teaser of the film, which is based on a black comedy, was released recently and received a lot of response, now the first single of the film "Life is Magic" has been released.
Vishal and Arya, the leading star actors of the Tamil film industry, have released this song together. This song, which has a catchy melody that everyone is humming, is attracting fans.
Debutante director Vengi has directed the film as a different kind of comedy film with a black comedy script and a heist and the events behind it.
Satish, who made his debut as a comedy actor and became a successful hero, has played the lead role in the film. Simran Gupta is playing the heroine. Along with them, Anandraj, Madhusudhanan Rao, Subramania Siva, John Vijay, Ashif Ali, Powell, Japan Kumar, Sams, Saminathan, Marimuthu have played the lead roles.
While the entire shooting of the film has been completed in Chennai and its surrounding areas, the final stage work is currently in full swing. Soon the film team will officially announce the trailer and screen release announcements.
Technical Committee
Producer – K Vijay Pandey
Character direction – Venki
Cinematography – Yuva Karthik
Music – VPR
Editor – Arul E Siddharth
Art Direction – G Durai Raj
Fight Training – Stunner Sam
Public Relations – Satish (AIM)